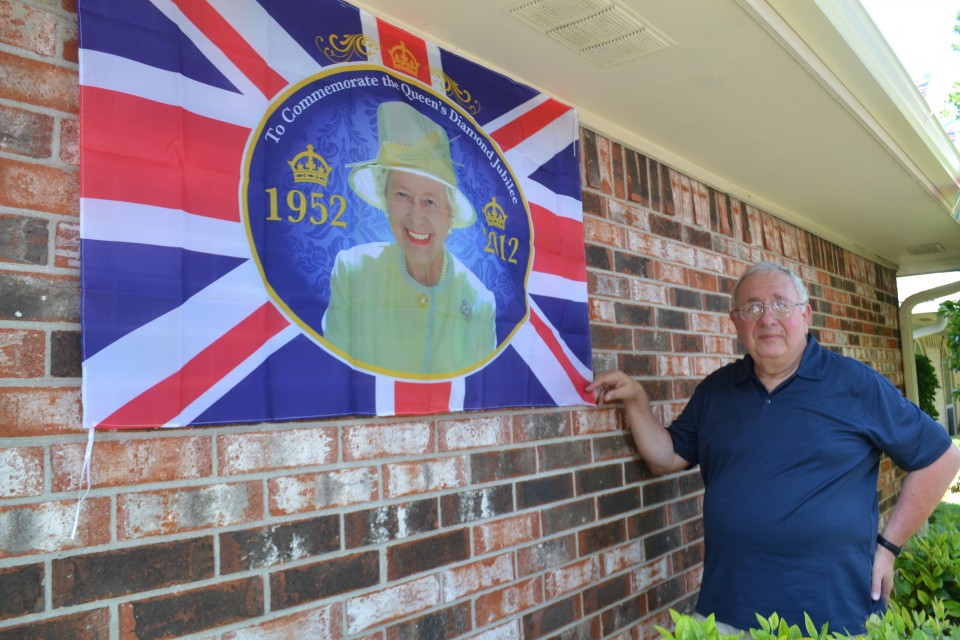 … the party's over. It was so much fun.  I am blessed to have  wonderful friends and neighbors.  The Queen would have been pleased that her friends from across the pond enjoyed fellowship and food in her honor.
Speaking of the food.  It was unbelievably delicious.  Luckily for you and for me, many guest brought their recipes.  I will be sharing the recipes with you in the days to come.  Here are a few examples.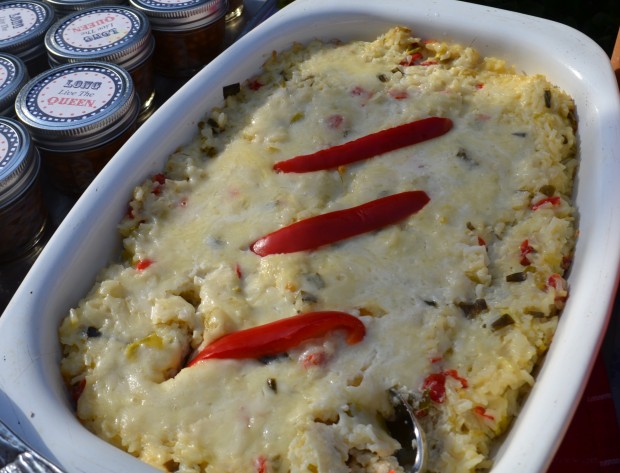 My personal Cheerleader Marsha made a delicious green chili rice.  Isn't it purty!  Listen to this.  The title of the recipe was "The Queen's Jalapeno Rice"  Without a doubt we know this recipe is one of "The Queen's" favorites.  It certainly is good enough to serve "The Queen".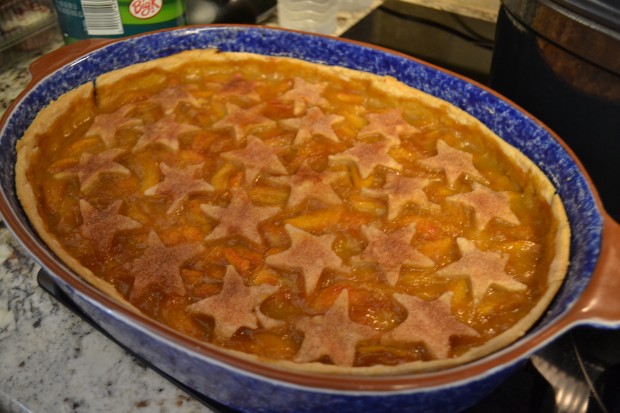 Be still my heart!  Ann's peach cobbler was out of this world.  Ann worked all morning on this peach cobbler made with fresh peaches from her peach tree.  Love the cut-out pastry stars dusted with cinnamon sugar.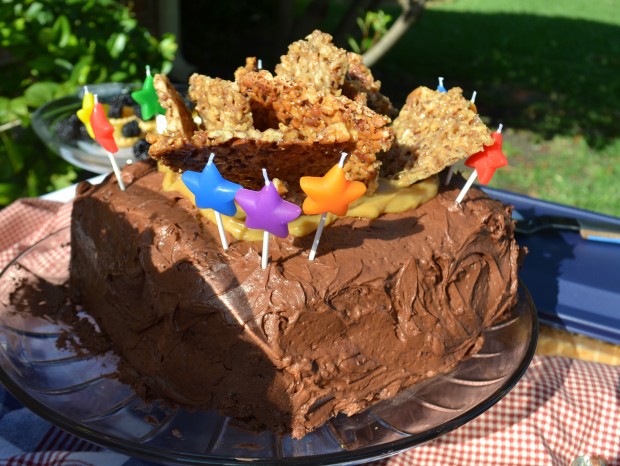 What a fancy cake Nancy brought.  It was loaded with deliciousness.  Just imagine chocolate and caramel with crunchies on the top.  Wow!
I took a few pictures of people's plates as they exited the line.  Can you believe this?   This food was seriously good.
For the decorations, Ever-Lovin' strung pennants and flags. It was festive, and honored Great Britain, Texas, and the Good Ol' USA.
Okay, I have to admit.  Ever-Lovin' said he did not believe decorating with balloons was a great idea.  He was right.  It was windy, and some people were not able to put fork in mouth because shall we say they had balloon in mouth problems.  Live and learn!  No matter it still looked wonderful.  Sorry to sound boastful, but that's how I feel.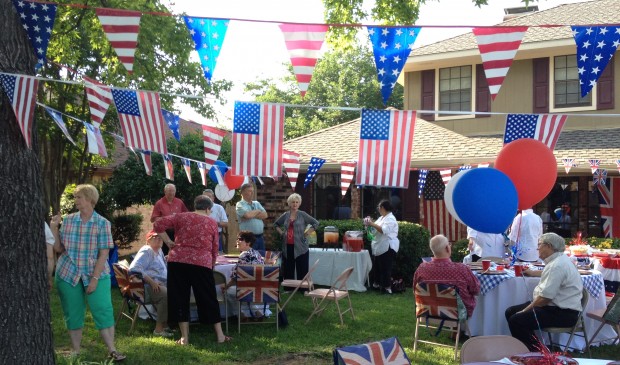 Last week on the blog Celebrations at Home, there was a BBQ post.  I fell in love with it.  Included in the post were free edit-friendly printables, and we were excited to use some of their ideas.  Loved having a welcome table.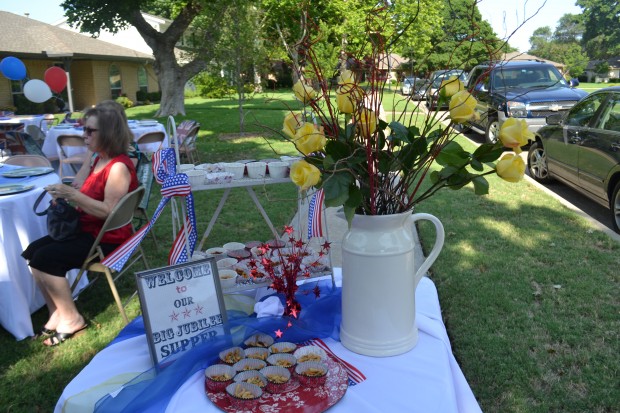 Sturdy cupcake liners and nut cups held munchies – nuts and nut mixes.  The yellow roses were for the Yellow Rose of Texas.
We (really Ben) also use their download to make the inserts for the baked bean jars.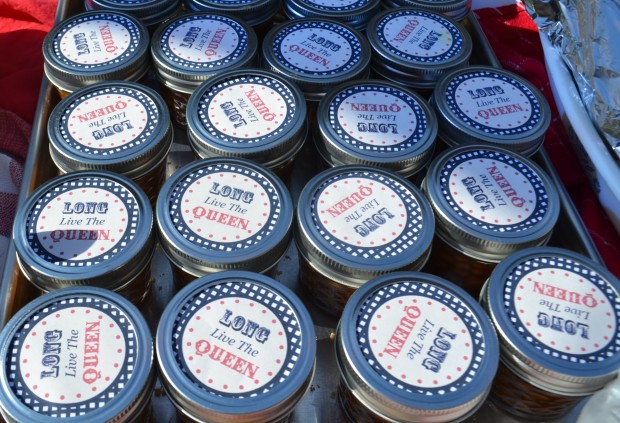 What a good idea friend BB had.  I had planned to tie the Union Jack shopping bags to the chairs when BB suggested we slip them over the back of the chairs.  Worked like a charm.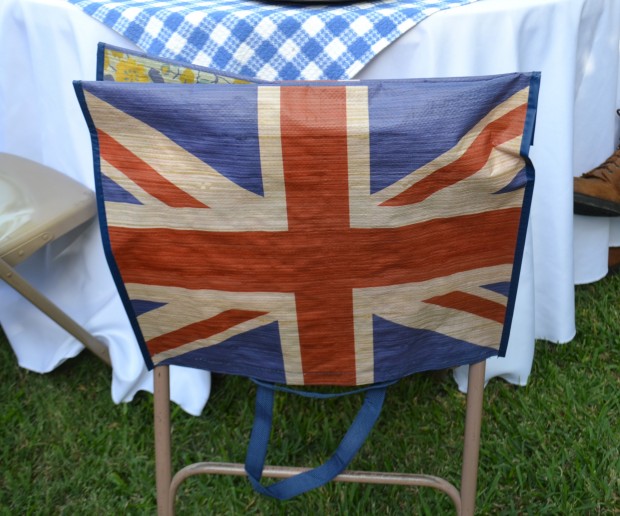 I loved it when Nathan's friends joined the party.  Aren't they cute!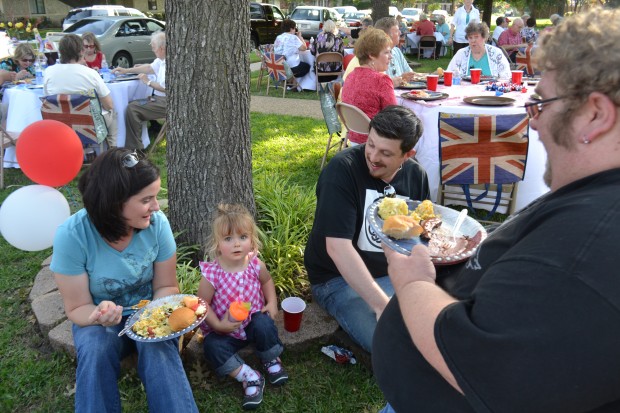 I want to share this picture of Hot Rod.  He is swinging from our neighbors swing.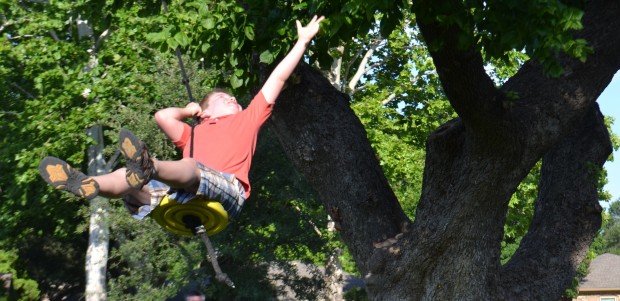 That is how happy I feel at this moment.  I know I am blessed..
Blessings to you and yours.