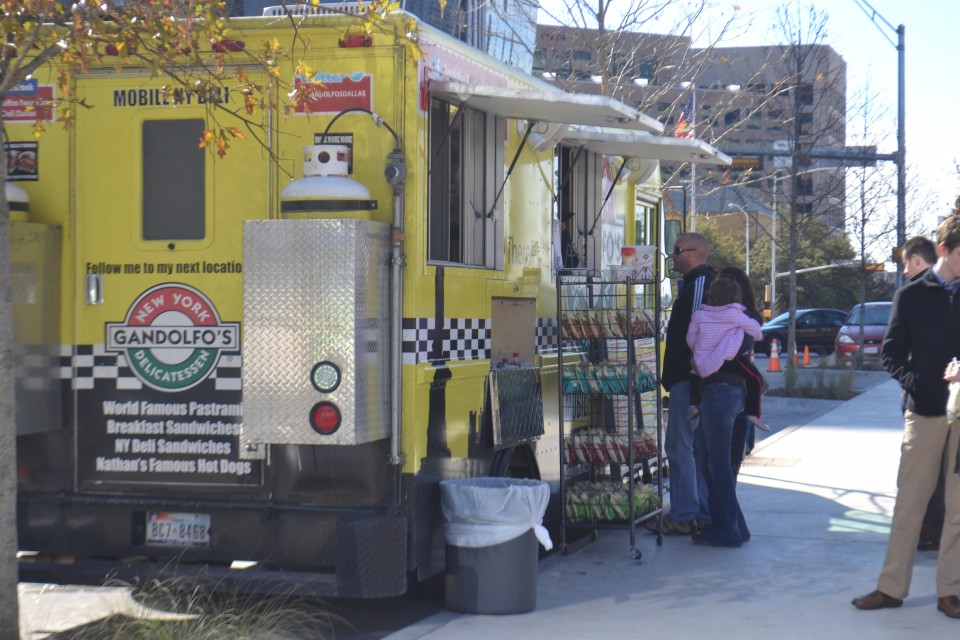 I am fascinated by food trucks.  No longer are they "roach coaches", but many of these trucks serve gourmet food for the people on the street to enjoy.  Perhaps Austin is the "Food Truck Capital" of Texas, but Dallas is certainly joining the trend.
On this day, five gourmet food trucks were parked near the Klyde Warren Park.  You had your choice of  gourmet burgers from Relish Burger, a New York style deli called Gandolfo's Deli, sushi from Crazy Fish, Johnsonville  sausage sandwiches from The Butcher's Son, and ice cream sandwiches from Coolhaus.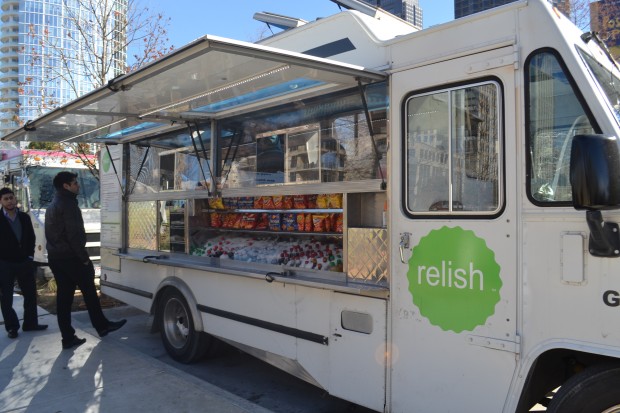 Relish Burgers serves gourmet burgers with the toppings mixed inside the patty.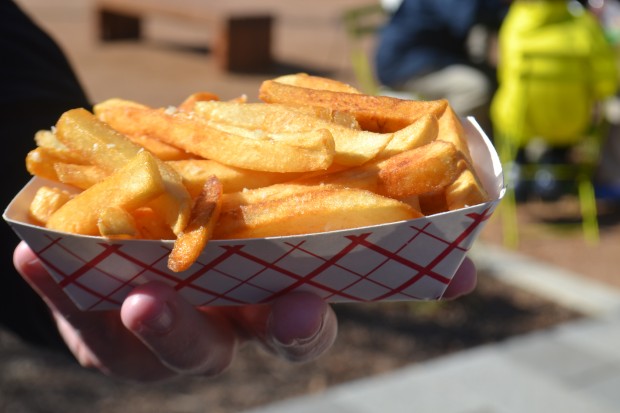 The Truffle Parmesan Fries from Relish Burger were delicious, but they were $2.00 more than regular fries – which were good but not quite as good.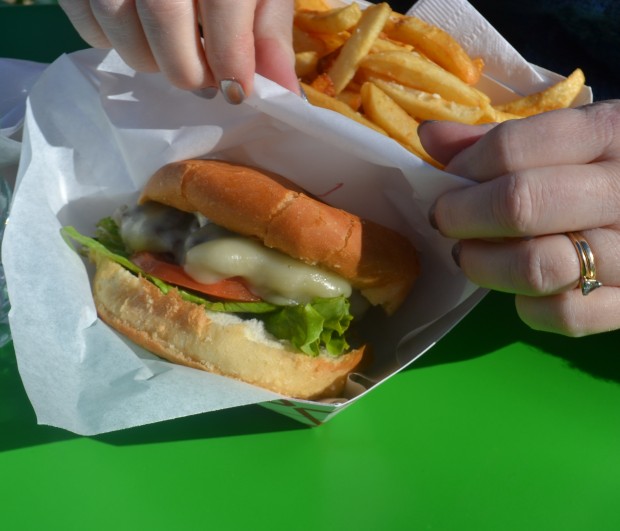 Mikel choose the Mushroom Truffle Burger topped with provolone cheese and tarragon mayonnaise.  She gave it rave reviews.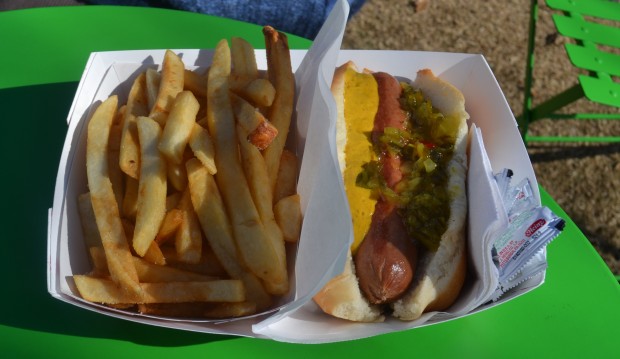 My choice was also from Relish Burger.  This is the hotdog with spicy mustard and house made relish.  Delish!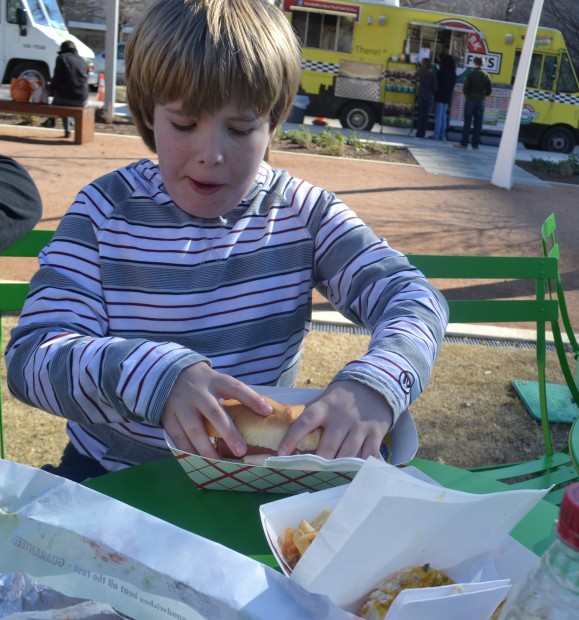 That is one big hot dog for Hot Rod to handle.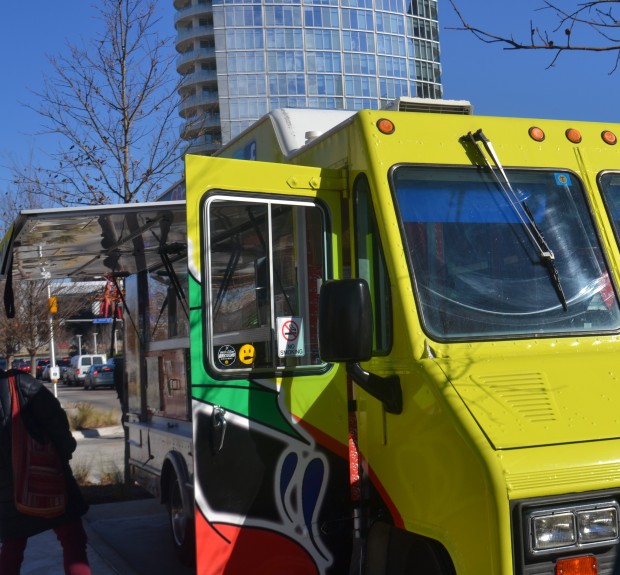 There weren't any takers in our group for sushi from the Crazy Fish food truck.  From what I read on their website, the sushi is anything but traditional.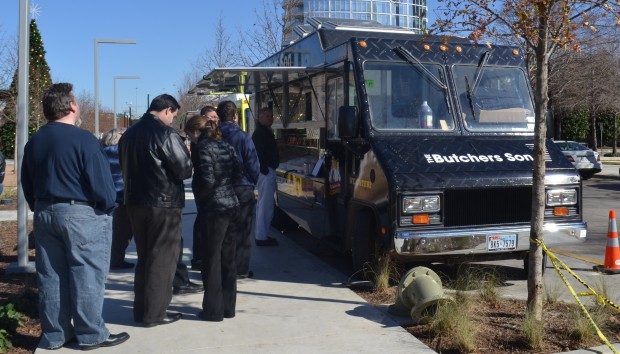 Number One Son chose the Cajun Yankee sandwich from The Butcher's Son.  They specialize in sandwiches made from Johnsonville sausages.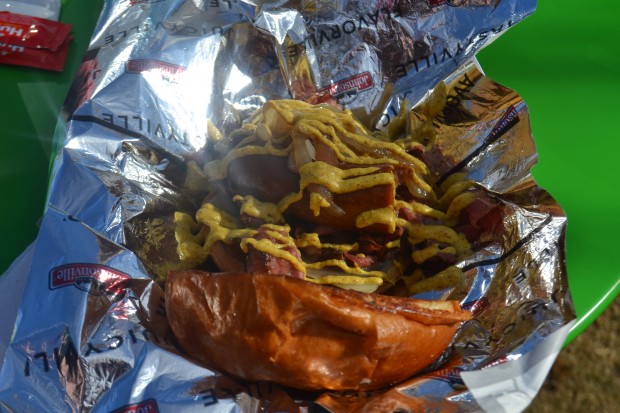 Number One Son would order the Cajun Yankee sandwich again.  It had pastrami, Andouille sausage, caramelized onions, Swiss cheese, and spicy mustard.  It did look and smell divine.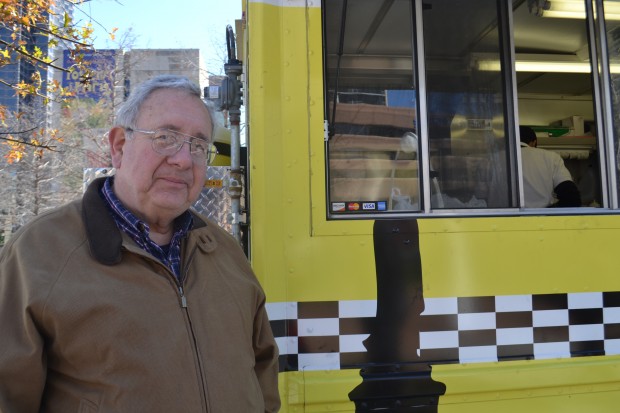 Ever-Lovin's choice was Gandolfo's Deli.  This is a New York style deli with fantastic sandwiches, but Ever-Lovin' did have to wait and wait for his order.  The people in the truck were very friendly, but….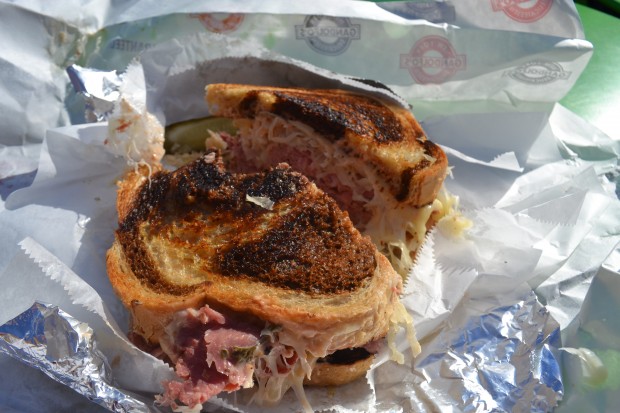 I do think his Rockefeller Reuben was worth the wait.  Be Still My Heart.  It was beyond delicious.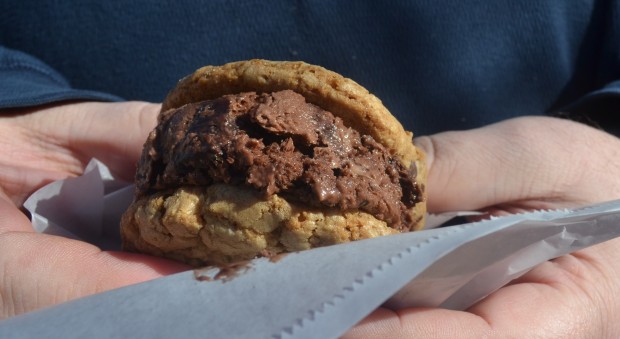 In the interest of research, we did try the Coolhaus ice cream sandwiches.  You choose your cookies and then choose your ice cream filling from some of the strangest sounding flavors you can imagine – candied bacon and coffee oreo just to name a couple.  Your flavor combinations appear to be endless.  The cookies and the ice cream were fantastic although the ice cream was messy even on this chilly January day.
What fun we had eating "gourmet" from the food trucks.  I think there are other trucks around town, and I am looking forward to more lunches from these meals on wheels.
Blessings to you and yours,
FYI:  Fast casual restaurants (which include food trucks) have passed fast food chains (like McDonald's) in the number of units sold.  Food trucks are a less expensive alternative to starting a restaurant – maybe even three times less expensive.  And if the first location you choose is not good for your business, you can easily move to another location.