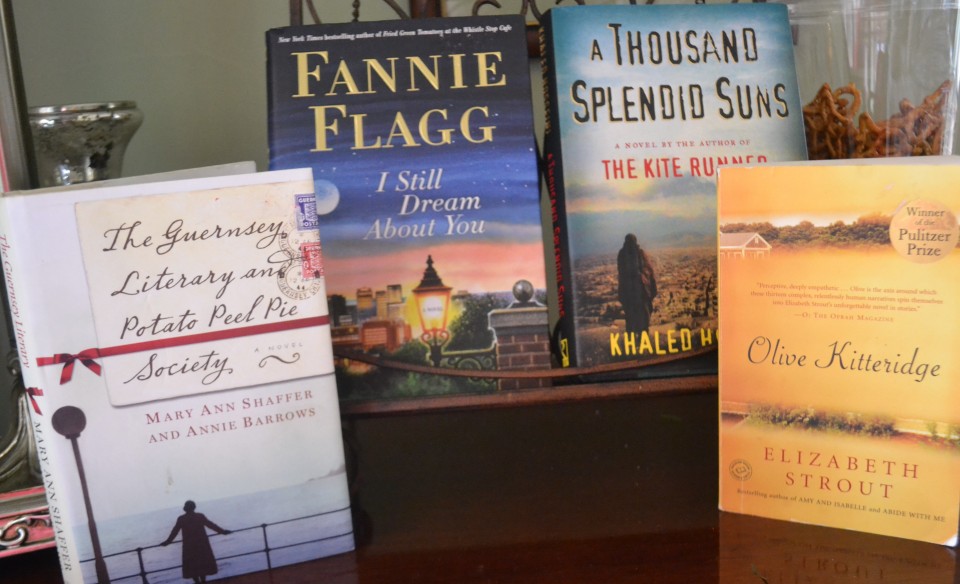 One of the things I like to do with Jorene (my dear friend from Andrews) is to go to Barnes and Noble across the street from Bass Hall in Fort Worth.  After the symphony practice, we go to the bookstore,  get Starbucks coffee and a treat (This time it was a delicious "rustic apple tart".), and talk. (and talk and talk)  Then we wonder the bookstore, and Jorene points out good books to read.  She is so smart and well read.  As a former high school librarian and an avid reader, her enthusiasm  for reading is contagious.
Jorene had pointed out good reads to me once before, but I didn't write them down.  When I went to the bookstore, I could not remember anything – frustration.  This time I took notes, and on Sunday after breakfast, Ever-Lovin' stopped by Half Price Books, and I went shopping.  I found three of her suggestions – The Guernsey Literary and Potato Peel Pie Society, Olive Kitteridge, and A Thousand Splendid Suns.  Then bought a Fanny Flagg book – I Still Dream About You – because I have enjoyed her books in the past.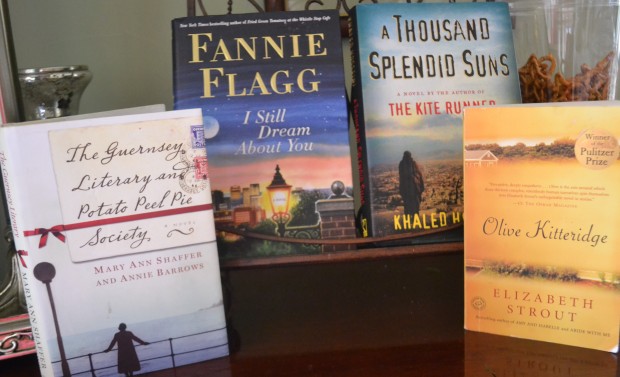 Now I realize that many of you may have read these (As my daddy would say, I am usually a day late and a dollar short), but just in case you haven't, I thought I would share Jorene's recommendations.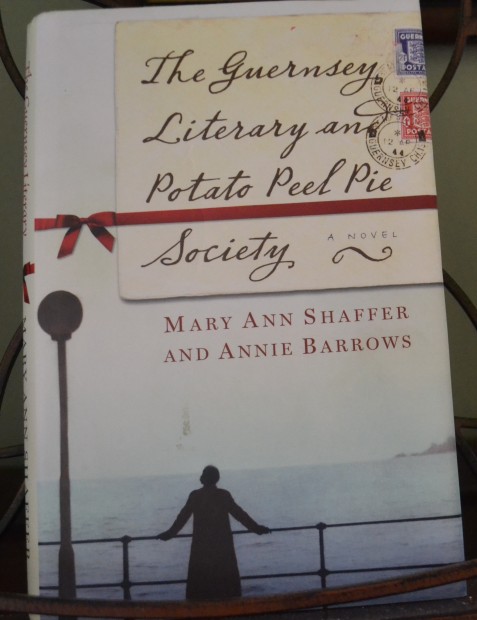 Jorene spoke so highly of The Guernsey Literary and Potato Peel Pie Society by Mary Ann Shaffer and Annie Barrows that I could not wait to read it. The name of the book intrigued me.   I finished it today, and I liked it.  I loved it.  The story is set on the British Island of Guernsey in 1946. Juliet Aston is a writer looking for her next book subject.
A man discovered her name and address on a flyleaf of a secondhand book by Charles Lamb.  He wrote Juliet hoping she could find him other books by this author.  Juliet began corresponding with him and the other members of The Guernsey Literary and Potato Peel Pie Society.  She learned of their life during the Natzi occupation of the island, and the idea for her book was born.  A series of letters tells the story of these intriguing people, and the effect World War Two had on their lives.  The book is funny and at the same time sad, but it has so much hope.  Highly recommended.
Loved this quote:  "That's what I love about reading: one tiny thing will interest you in a book, and that tiny thing will lead you on to another book, and another bit there will lead you on to a third book. It's geometrically progressive – all with no end in sight, and for no other reason than sheer enjoyment."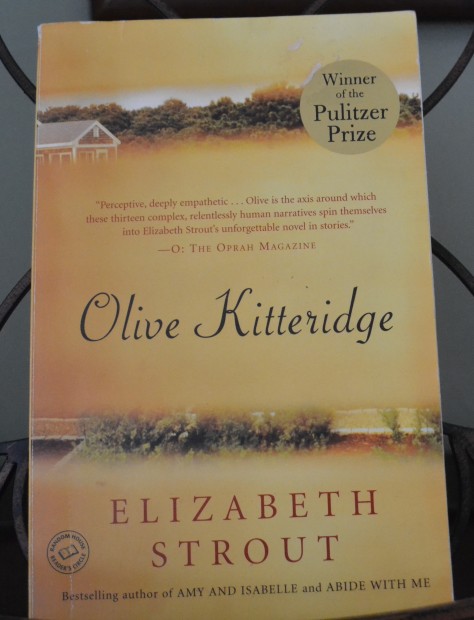 The next book I am looking forward to reading is Olive Kitteridge by Elizabeth Strout.  I can only relate to you information on given on the book.  Olive Kitteridge is a retired school teacher (I can already relate.) who finds change difficult. (sounds familiar)  Reviewers mention:  "Love and acceptance are the underlying themes…." (Rocky Mountain News)  "Funny, wicked, and remorseful, Miss Kitteridge is a compelling life force, a red-blooded original." (San Francisco Chronicle)  "Stoup animates the ordinary with astonishing force. (The New Yorker)   Olive Kitteridge won a Pulitzer Prize.  (Hope it isn't too high brow for me.)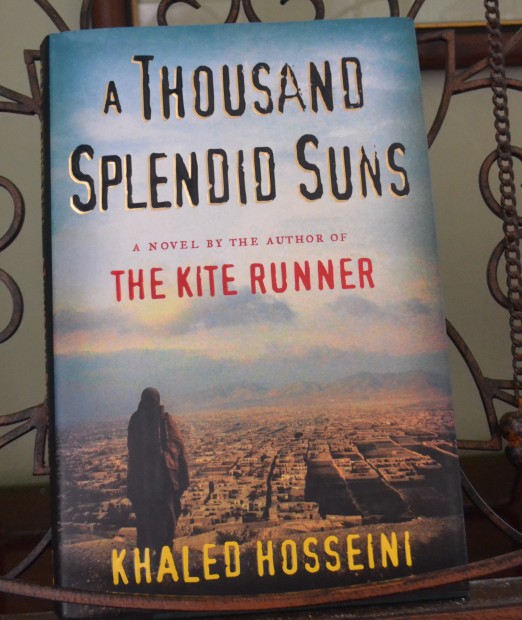 After I bought A Thousand Splendid Suns by Khaled Hosseini, I remembered Jorene suggested I get the audio version of this book.  You might want to remember that.  Khaled Hosseini also wrote The Kite Runner which I have read.  The Kite Runner is a good but intense book. Parts of it continue to haunt me.  Jorene says A Thousand Splendid Suns is better than The Kite Runner.  The book cover also suggests this is another sad tale of Afghanistan during the last thirty years – you know it is going to be gut wrenching.  I might have to work up to reading this.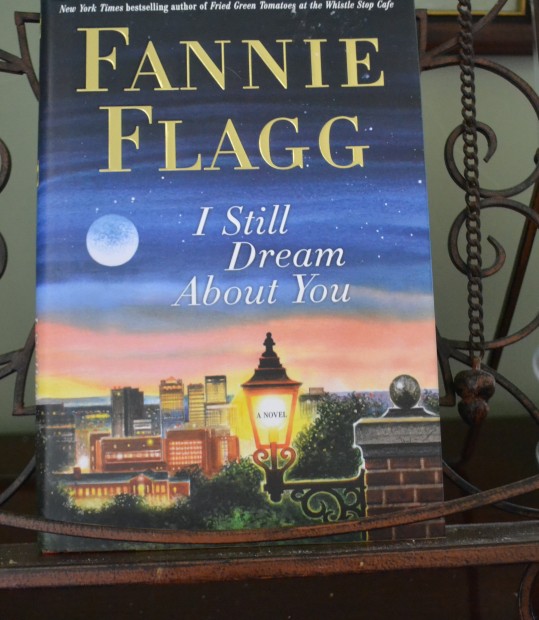 I bought I Still Dream About You by Fannie Flagg because I have enjoyed her books and Southern wit in the past. When I got home and looked online, I discovered that perhaps this isn't her best work.  Planning suicide just doesn't strike me as something to laugh about.  We will see.
Any other suggestions are welcome.  I have been in a reading mood lately.
Blessings to your and yours,
I have more suggestions from Jorene, and I will share them later.
Thank you Jorene.