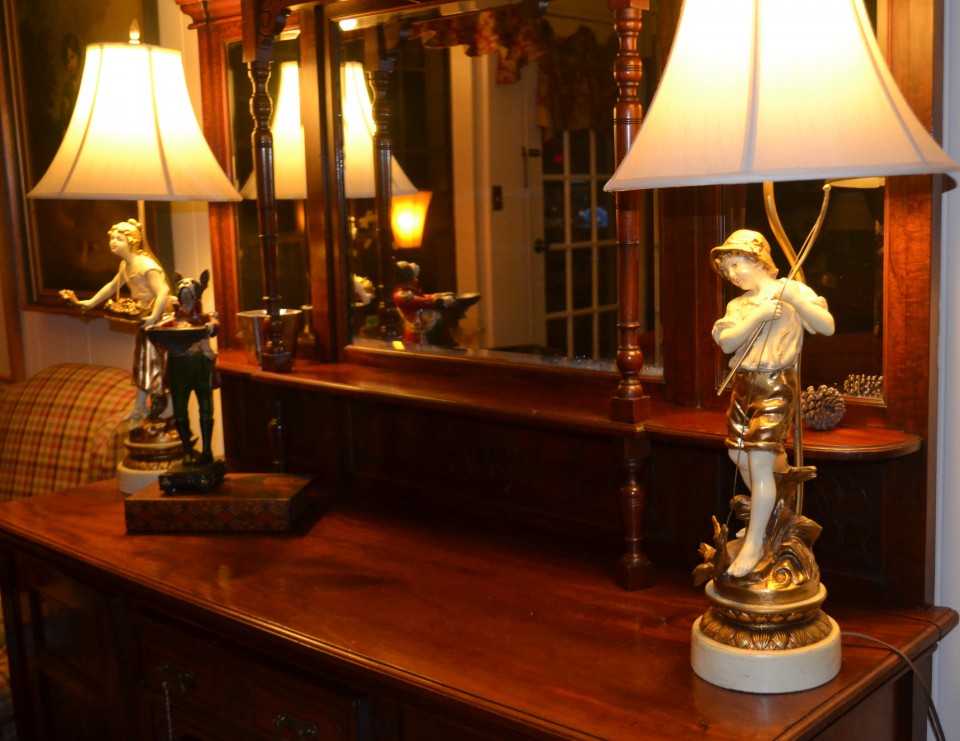 Oh Where, Oh where
Has my platter gone?
Oh where, oh where can it be?
It is oval and brown and goes on the shelf.
Oh where, oh where can it be?
(To the tune of OhWhere, Has My Little Dog Gone.  Please humor me and pretend it works.)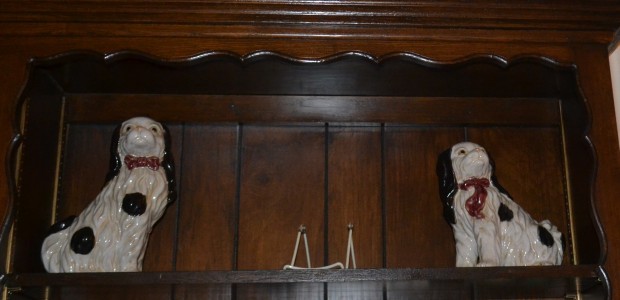 Even the dogs on the shelf appear to be looking for the lost platter.  The sad thing is, it is not just my platter that is missing – there are more items missing,   And to make matters worse, I am not 100% sure what more is.  I thought I was the only person wandering around their house searching for missing decor and was pretty bummed.   But in the last 24 hours two dear friends have confessed to the same problem (And they are the organized types.).  We so carefully put things in "safe spots" while decorating for Christmas, and now that Christmas decor is stashed and stowed in the closet, treasures are missing.  If you are like us, I just want you to know you are not alone.  Do you think there is a self-help group for us?  At this point, all I know to do is to rely on a Higher Power.  (If you do not have this problem, please do not judge us too harshly – "There, but for the grace of God…")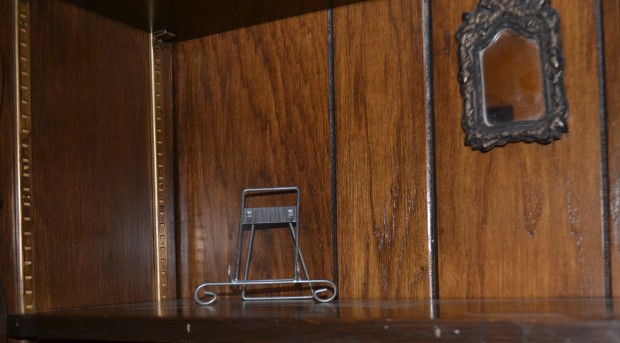 Tell me please.  What went on this plate rack on the second shelf?  For the life of me, I can not remember.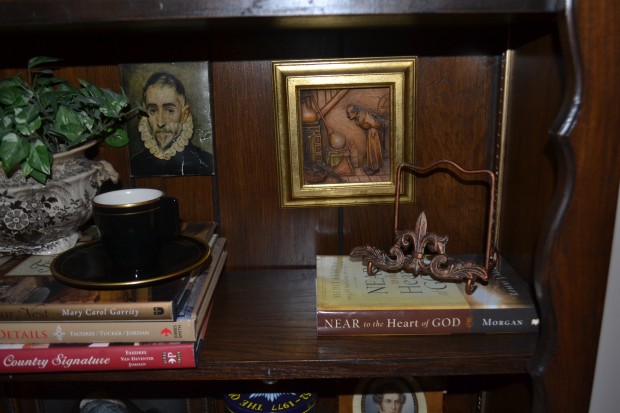 I know what goes here.  It is a reproduction plate of Lincoln's White House china.  It has an eagle on it, and I know it is somewhere safe because I like it.  Where?? is the question.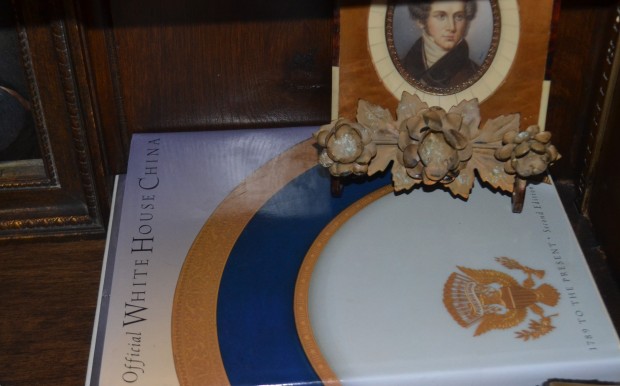 Something sat here.  Maybe a cup and saucer.  Who knows?  One encouraging fact is that most of the missing items were from this section of the built-in.  Gives me hope.  Perhaps they are together.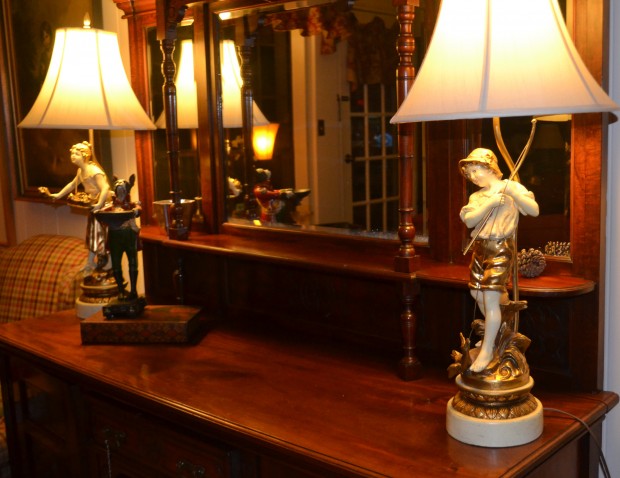 Look at the buffet.  It is bare.  (Pity there would be a bare space in this house.- just kidding)  What goes here?  I do not expect you to know when I can not remember what goes in my own home.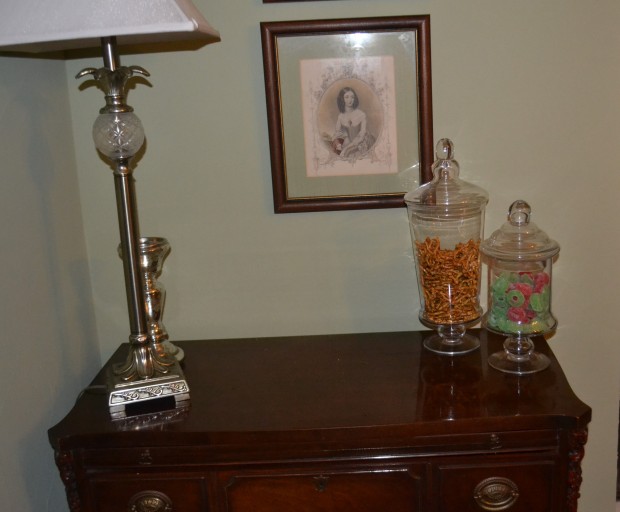 Now I know what was on the side table in the dining room – the tea set.  I used the tea set in the breakfast room during Christmas, and after Christmas I moved it to the chocolate table.  The rose bowls that were on the chocolate table are now in our bed room.  Shouldn't I have something that does not have a home to put here?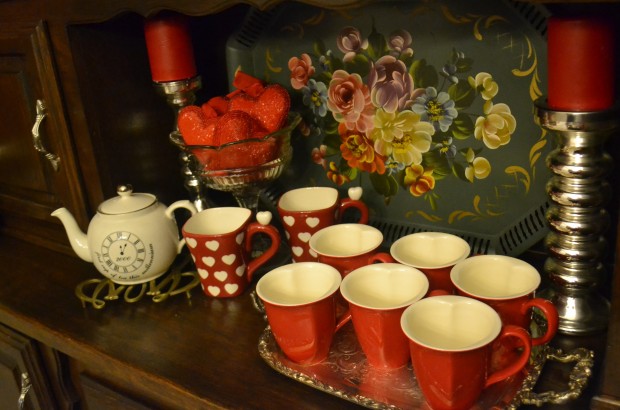 While putting Christmas away, I found some Valentine decor.  On the hutch in the breakfast room, I made a little Valentine vignette.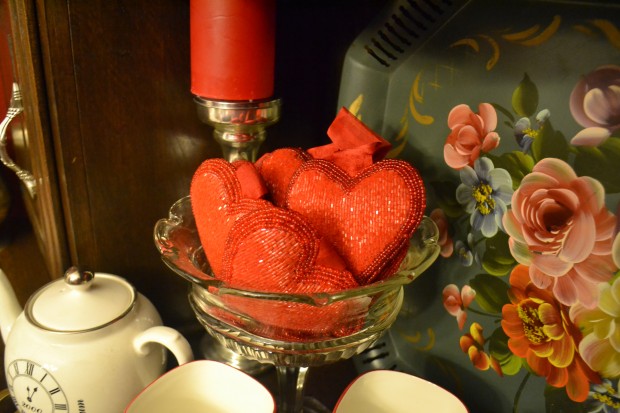 Are these not the cutest beaded hearts?  I found then at The Christmas Tree Shops on Monday.  Truthfully, I could not wait to use them.  Once I saw these little hearts, I was in the mood for Valentine's Day.
Then I got to thinking.  Where is the rest of my Valentine decor?  My puzzler is hurting.
Enough.  I have been wanting to declutter.  This is my opportunity.  But, it would be nice to find my platter and the Lincoln plate.
Blessings to you and yours.
 Note to self:  Next year take pictures before you begin.  Love,