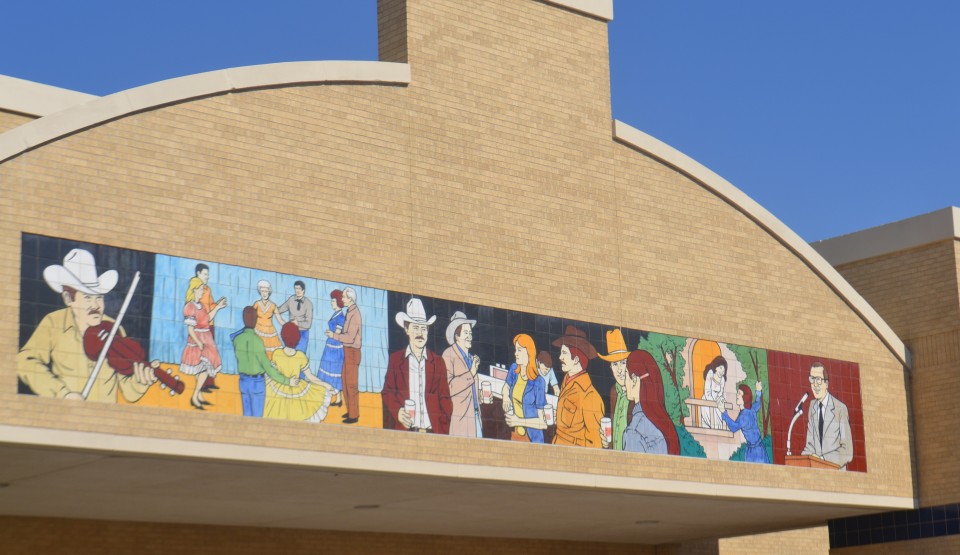 Never had been.  Always wanted to go.  Didn't know what to expect.  Wasn't what I expected.  (That makes no sense, but it is how I feel.)
Bad news.  There wasn't a rodeo on the day we went to the Ft. Worth Stock Show and Rodeo.  Boo-hoo.  Honestly, I wanted to cry.  Check the schedules carefully.  I am begging/pleading/plotting to get back to Ft. Worth to see the rodeo.  The Stock Show will never be the same on any given day, so we might as well go.
The Ft. Worth Stock Show -2013: (http://www.fwssr.com/ticketbrochure/)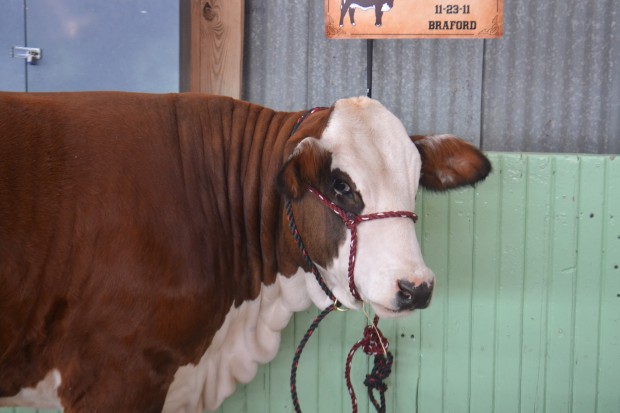 To be this up close and personal with cattle is (What word should I use?) cool, fantastic, unbelievable, stinky, wonderful, stupendous, satisfying or …?   How beautiful is this animal?  (Okay, I will admit my ignorance.  I do not know what type of cow, steer, or bull this is.  I did not take a picture of its "naughty bits."  No matter.   I like it.  I love it.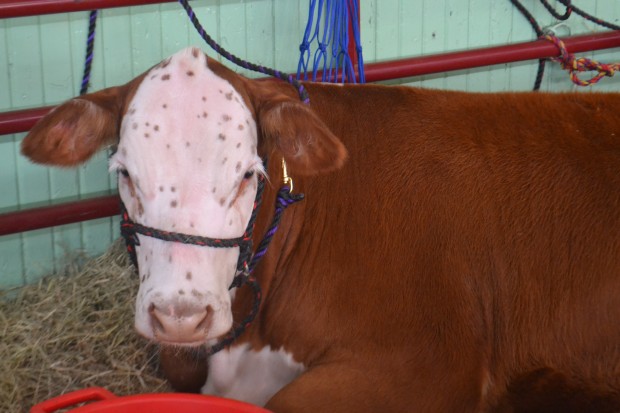 Good morning Freckles.  Love your spots.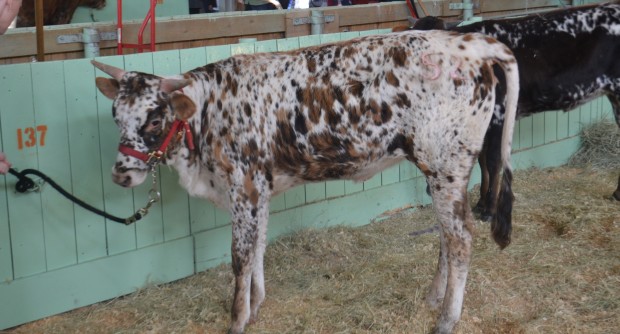 Longhorn calves.  There were many different colors and patterns.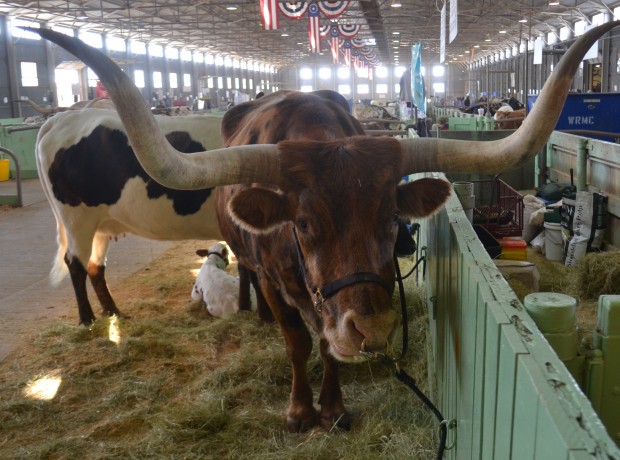 Sweet Mother of Pearl.  What long horns you have.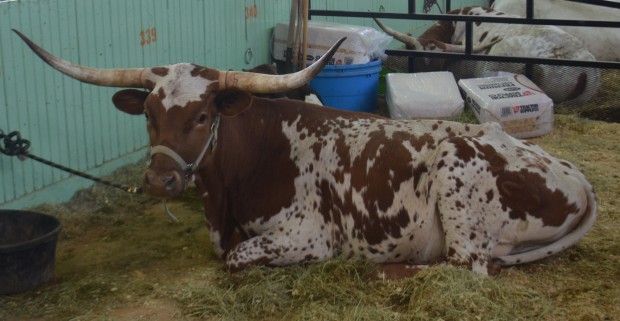 If I had a ranch, this longhorn could live there.  It is so beautiful.
In the Texas State Historical Society's Online Handbook,  (http://www.tshaonline.org/handbook/online/articles/atl02) they had this to say about longhorn cattle.
In 1927 the Texas longhorn was saved from probable extinction by Will C. Barnes and other Forest Service men, when they collected a small herd of breeding stock in South Texas for the Wichita Mountains Wildlife Refuge in Oklahoma. A few years later J. Frank Dobie, with the help of former range inspector Graves Peeler and financial support from oilman Sid W. Richardson, gathered small herds for Texas state parks. After the wildlife-refuge herd had increased to several hundred, the Forest Service held annual sales of surplus animals. Cowmen at first purchased them as curiosities, then rediscovered the longhorn's longevity, resistance to disease, fertility, ease of calving, and ability to thrive on marginal pastures. Its growing popularity in beef herds was spurred by a diet-conscious population's desire for lean beef.  Check out the Texas Historical Website for more information.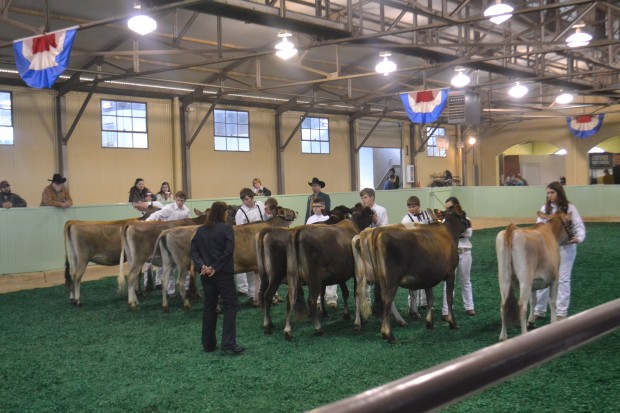 Next we went into the Cattle Arena where they were having the Junior Shows of dairy cattle.  The young people have to wear white pants and shirts while showing their cattle.  Not everyone looks good in white pants and white shirts.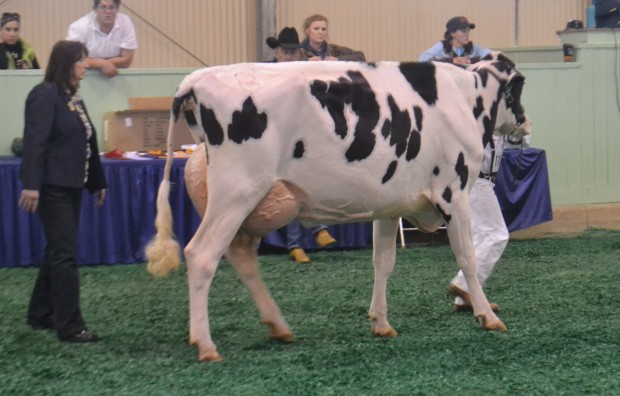 In the afternoon, they were showing Holsteins.  Be still my heart!  (I realize I am out of my element in talking about this, so please forgive me.)  Even the judge made mention of the "fully developed bag" of this cow.  Of course she won.  Don't big bosoms always impress.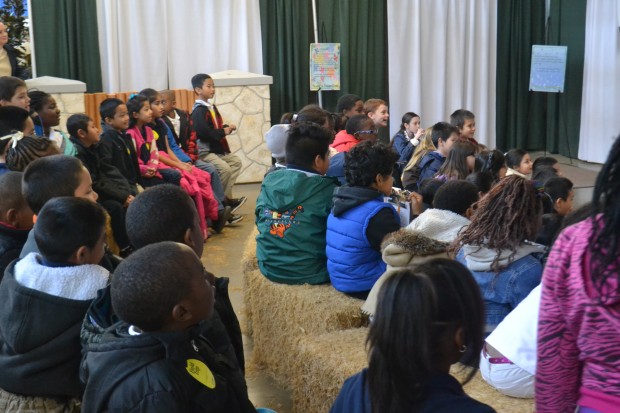 There were school field trip groups galore at The Stock Show.
We actually saw them milking a cow.  Just look at that little boy holding on the the ledge.  It was interesting.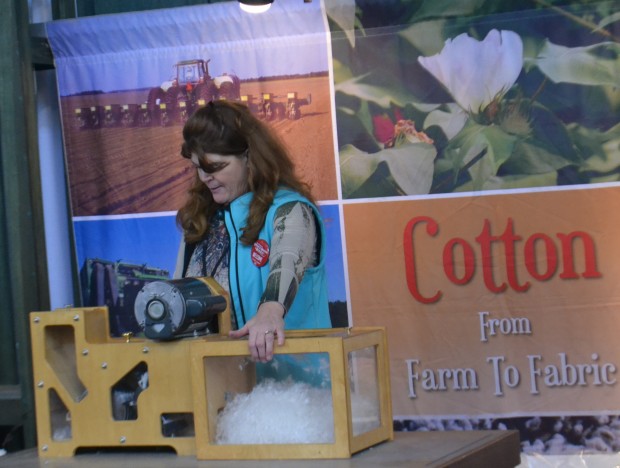 "Miss Cotton" demonstrated ginning cotton.  Some children did not know that cotton material came from cotton plants.  Live and learn.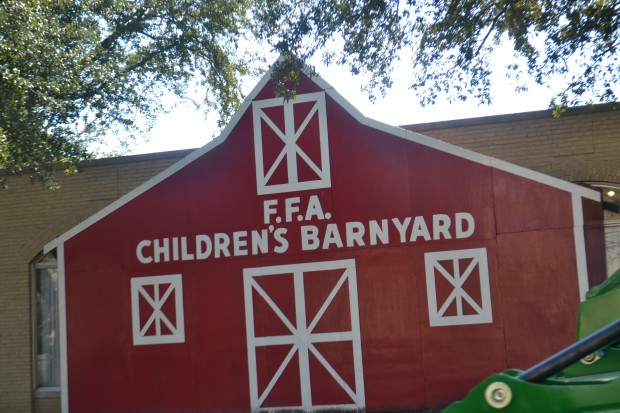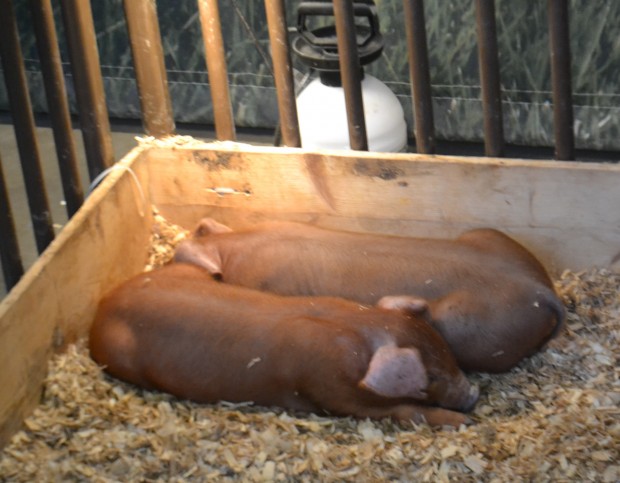 The Children's Barnyard had cute baby animals.  Piglets were trying to stay warm.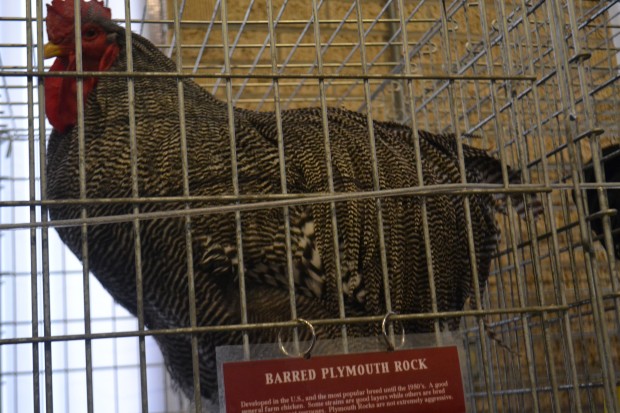 Be Still My Heart!  There were the most interesting chickens in the cages.  Loved, loved, loved the feathers on this huge Barred Plymouth Rock rooster.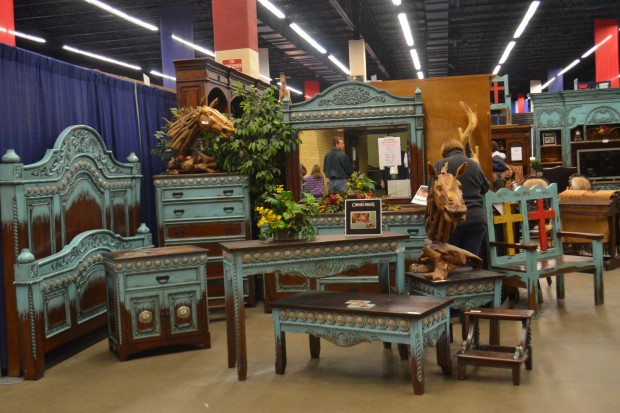 There was plenty of items to entice one to part with their money.  Love the turquoise color on this ranch style furniture.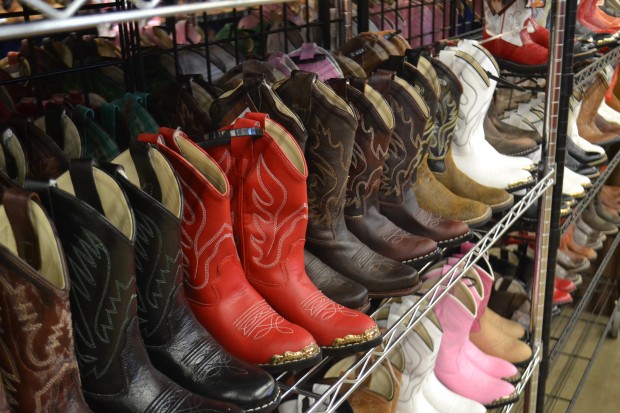 Be still my heart.  So many choices.  From custom made boots to boots for babies, there were boots for everyone.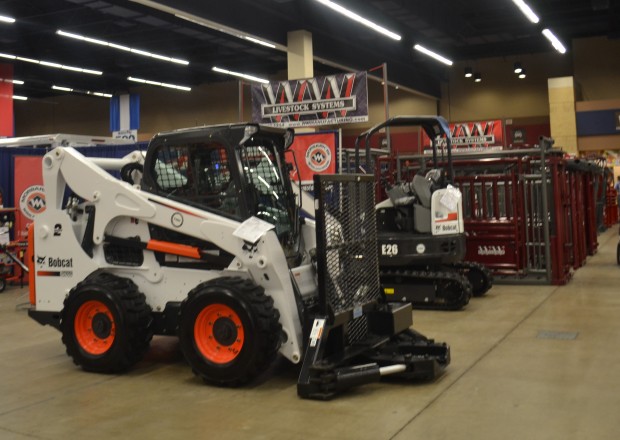 I do not know about you, but it is not every day I see farm equipment for sale.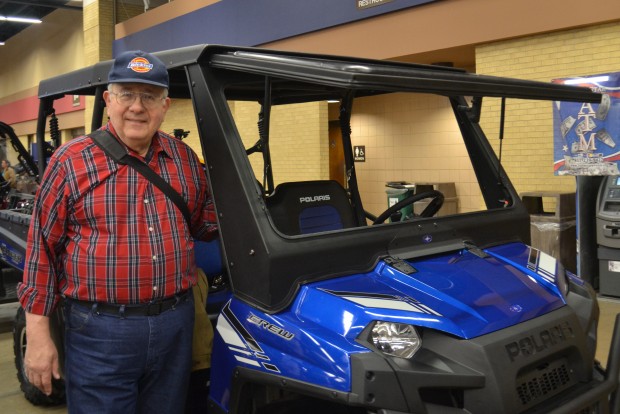 This All Terrain Vehicle got Ever-Lovin's attention.  Now if we just had a pasture.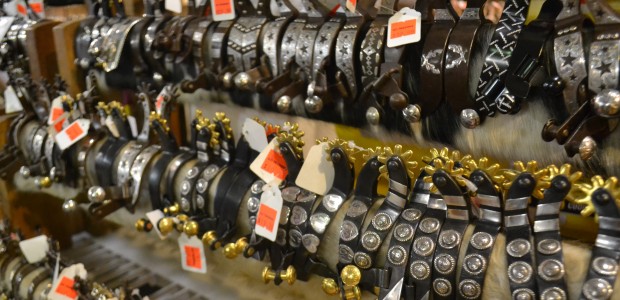 This entire booth was filled with spurs.  There were two or three halls filled with exhibits of things to buy – leather goods, purses, and jewelry were some of my favorites.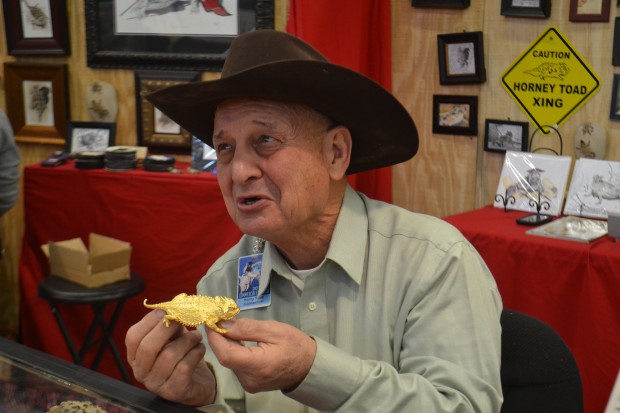 The "Horney Toad Man" was a character.  Doesn't everyone need a horney toad belt buckle?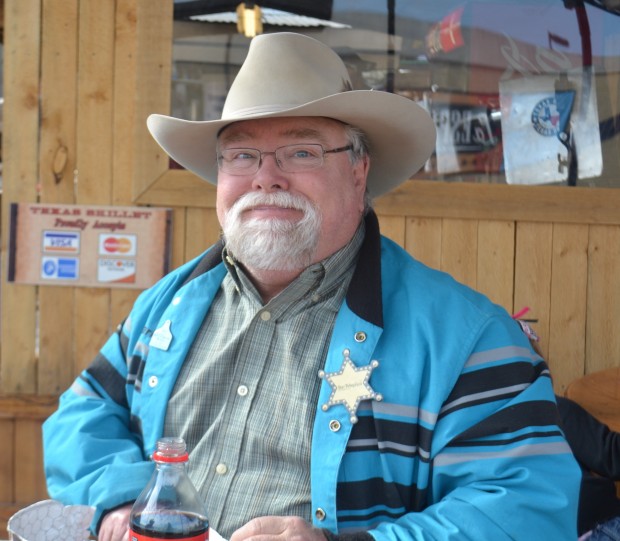 As you would expect, there are plenty of people to watch.
Love this family decked-out for the show.  Too cute!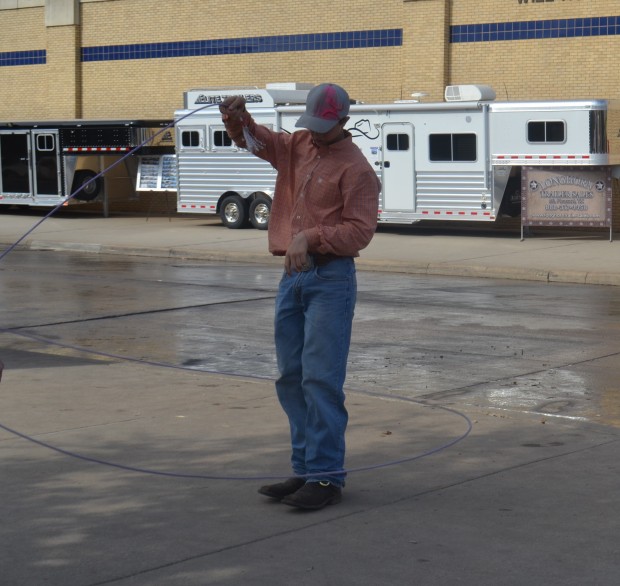 How cool is this!  This young man was showing off his roping tricks.  Maybe he will be the next Will Rogers.
Ft. Worth – Cowtown – Where the West Begins – and the home of The Ft. Worth Stock Show and Rodeo.  What surprised me the most was that most of the people there were simply going about business.  I did not see "Rhinestone Cowboys" or "Urban Cowboys." (Maybe it would be different on the weekends.)  Do not get me wrong.  These cowboys looked good (real good) in their Wranglers, but they appeared rather quiet and reserved.  It was a wonderful day, and as I mentioned before, maybe I will get to go back.  Do go if you can.
Blessings to you and yours,