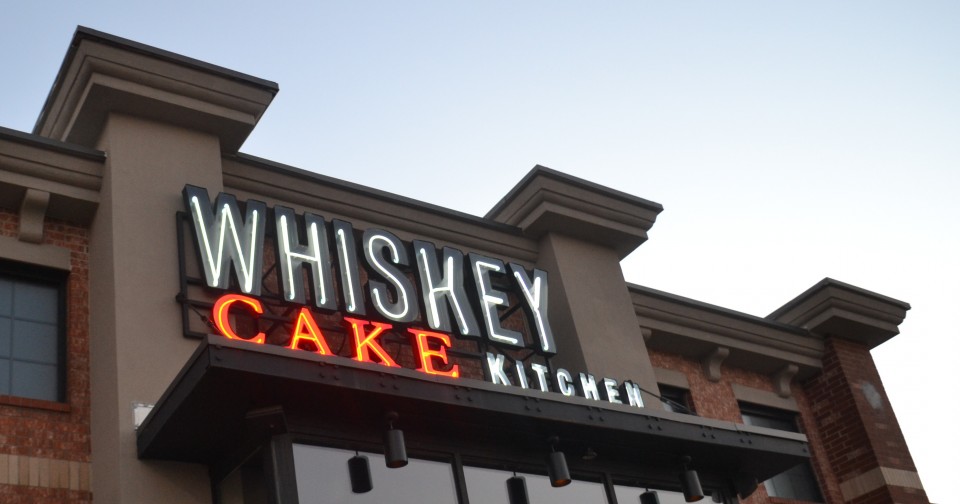 This is so much fun.  Friends give me suggestions of good places to eat.  Then Ever-Lovin' and I "have to" go out to eat so I will have something to blog about.  Do I have a good life or what?
While at the First Monday Trades Days in Canton, sweet friend Nancy from Brentfield ask if I had ever eaten at Whiskey Cake?  No-o-o-o-o.  Never heard of it.  How can I live and regularly eat in this town, and not hear about famous restaurants?  (It is the rut syndrome.  Major efforts are being made to change that.)  Back to Whiskey Cake –  Sweet Nancy raved and raved about their food, and insisted we save room for the whiskey cake.  "Get there early," she warned.  "It is always busy, and there are long waits."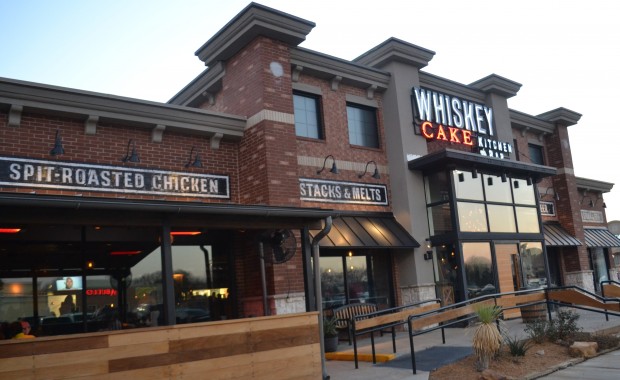 Ever-Lovin' and I planned our visit.  Like other ol' folks we can eat a good breakfast, skip lunch, and then eat an early supper.  (Where I am from, you call the evening meal supper, but call it dinner if you like.  It doesn't matter to me.)  We arrived at Whiskey Cake about 4:30 pm on a Saturday afternoon.  The restaurant was full of diners, but they did have a booth for us.  Yea!  Our plan worked.  Sweet Mother of Pearl.  I am here to tell you that by the time we left (before 5:30 pm) the line was out the door and wrapped around the corner of the building.  This is one popular place, and I can understand why.  The decor is industrial chic and the food is very good.  Whisky Cake is a farm to kitchen restaurant, and the fresh ingredients work their magic.  No wonder the lines are so long.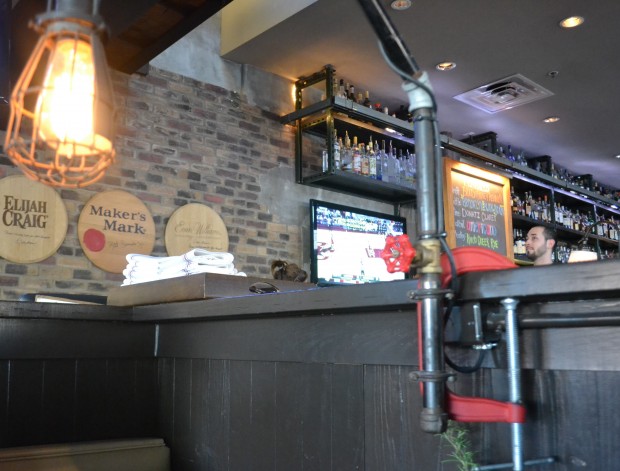 Goodness gracious. Look at this lamp.  They used a shop light, pipes, and attached it with a clamp.  Very industrial and masculine.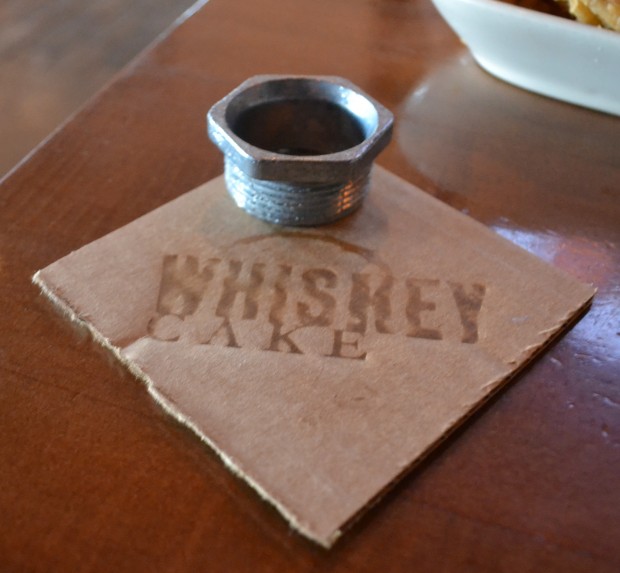 Napkin rings were bushings, and the coasters were stamped pieces of cardboard.  Wouldn't this be a great idea for a party for any special male in your life?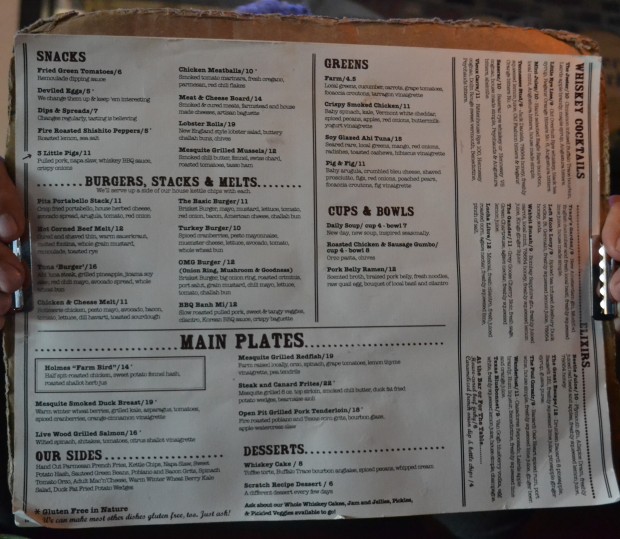 Paper menus were also clamped to pieces of cardboard.  All food at Whisky Cake is slow cooked from scratch.  There is not a microwave in the house.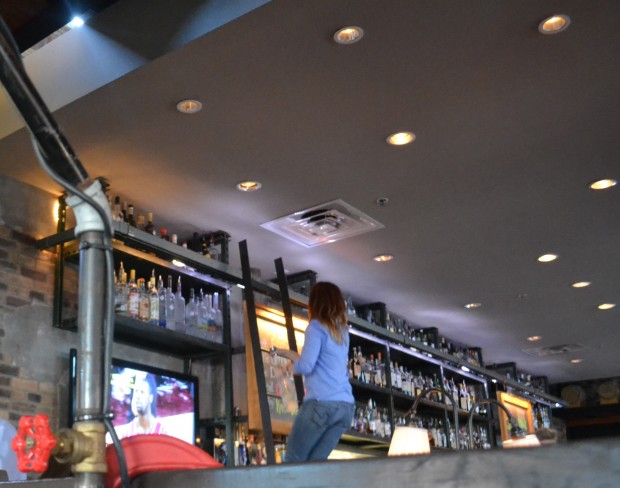 The bar offerings are substantial.  Several times we noticed pretty lady climbing the ladder for supplies.  (I decided not to make any more comments, but I am sure you can fill in the blanks.)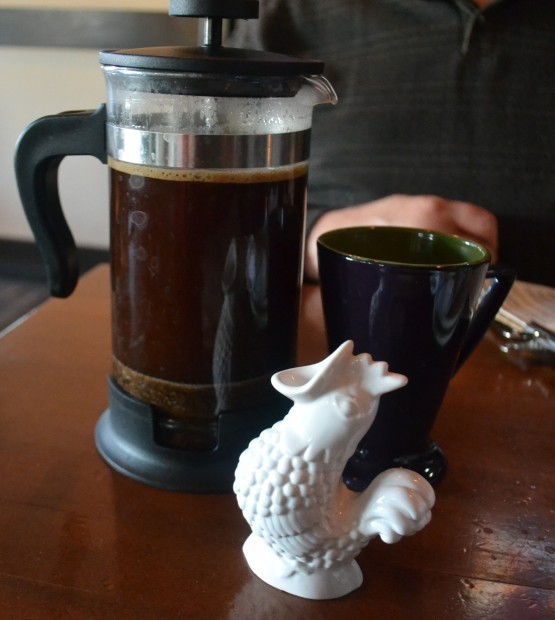 Be still my heart.  French press coffee.  What a nice touch.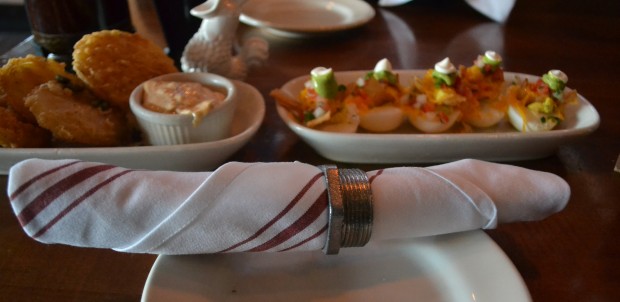 See how cute the napkins are.  I liked them.  I loved them.  We ordered appetizers because I love fried green tomatoes, and Ever-Lovin' loves deviled eggs.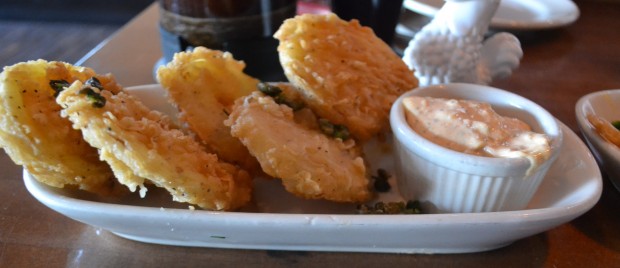 Fried green tomatoes.  Yummy!  The crust was light and crunchy, and the remoulade sauce was delicious.  I would order these again.

To us, the deviled eggs were just okay.  Ever-Lovin' probably prefers traditional style deviled eggs.  It was almost like they tried too hard.  Maybe it was that I liked the fried green tomatoes so much better.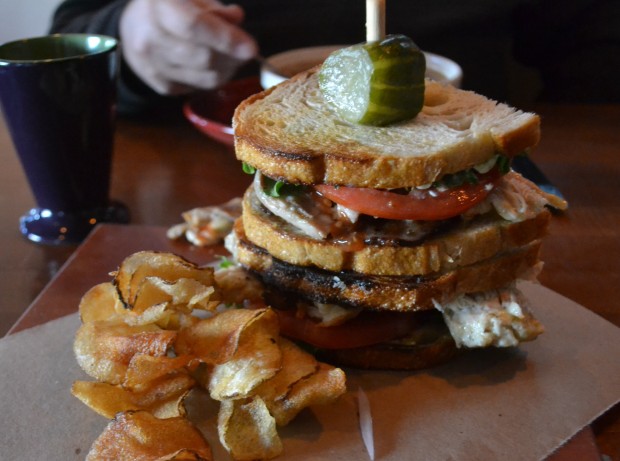 The sandwiches (served on parchment paper) are called stacks because they stack the two halves.  This was the Chicken and Cheese Melt.  Imagine this:  Rotisserie chicken, pesto mayo, bacon, avocado, lettuce, tomato, dill havarti cheese, on toasted sourdough bread. Majorly delicious.  See that pickle on the top of the stack.  I was so thankful Ever-Lovin' shared it with me.  To add a special touch, Whisky Cake serves their house made kettle chips with each burger or sandwich.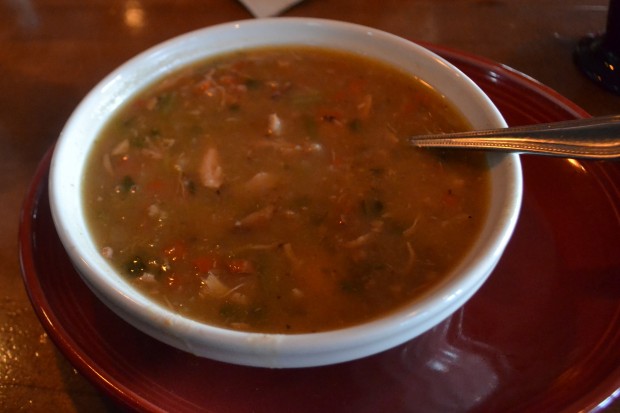 This was my bowl of Roasted Chicken and Sausage gumbo.  Very tasty.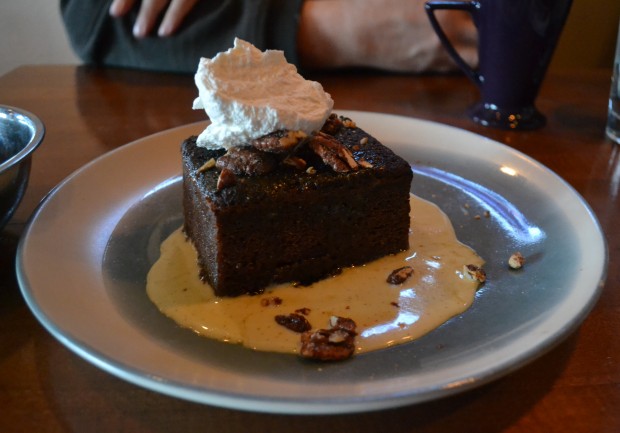 You have heard, "Life is short, eat dessert first."  Good advice especially at Whiskey Cake.  Unbelievable delicious.  Whisky cake is a toffee torte, with Buffalo Trace bourbon anglaise, spiced pecans, and whipped cream.  Excellent!
Whisky Cake is located in Plano on the west side of the North Dallas Tollway just north of Parker Road (3601 Dallas Parkway).  I know we are planning to return.
Blessings to you and yours,
Thank you Sweet Nancy for the tip.  We loved Whisky Cake.