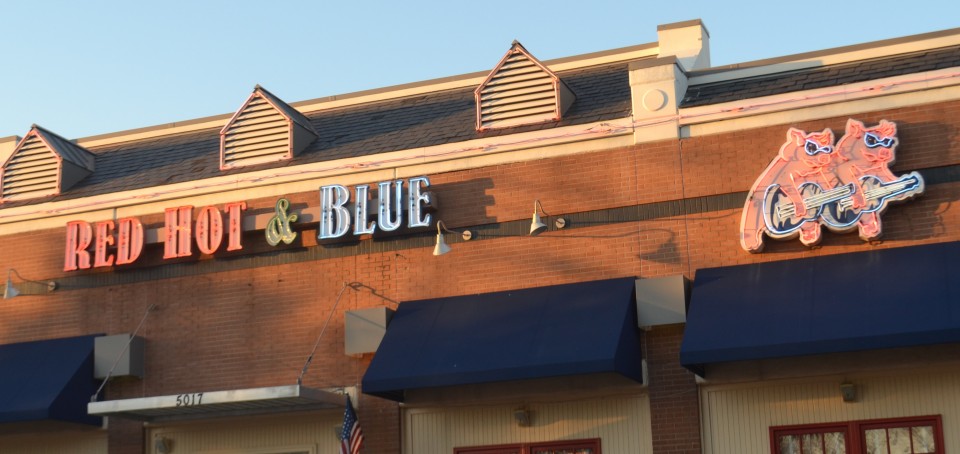 Red Hot and Blue (http://www.rhnb.com) - Not the most romantic restaurant to visit for a Valentine's date, but we liked it.  As Ever-Lovin' pointed out – "Red Hot does sound like love to me."  (Whatever floats his boat.)  And we did have a coupon.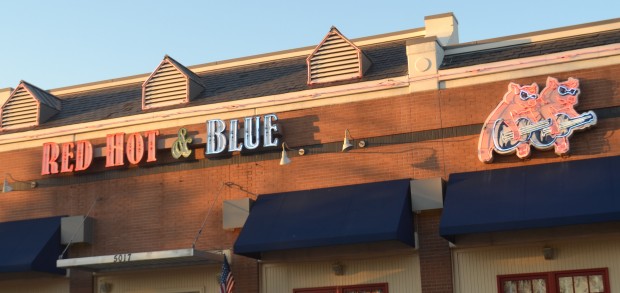 This is Memphis style barbecue, with blues and jazz memorabilia throughout the restaurant.  (But the "wet ribs" are St. Louis style ribs.  Just in case you want to know.)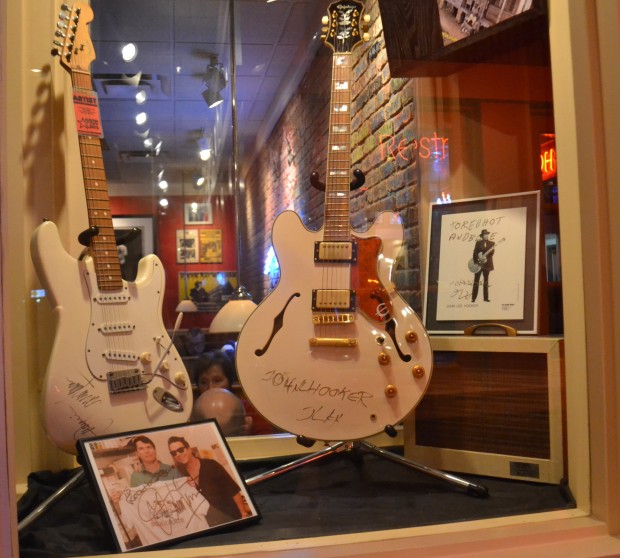 There are guitars from people I do not know, but others will.
And there are posters of jazz greats with Blue Dog.  How I would love to hear Pete Fountain play the clarinet.  True story.  I played the clarinet in the school band.  It was not until my freshman year that I heard a Pete Fountain record (yes, vinyl).   Until then, I had not the faintest idea what sound a clarinet was suppose to make.  Before that, I think my clarinet sounded like distressed elephants.  After that it probably wasn't much better, but at least I knew better.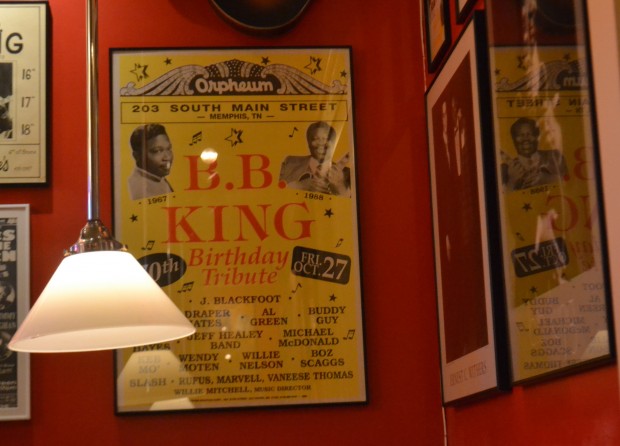 For a casual restaurant, Red Hot and Blue's decor is fantastic.
It was interesting to read on their website of how these restaurants began.
In the late 1980's three Southerners and a transplanted Yankee longed for authentic southern barbeque and the great blues music they all loved. Unable to find that winning combination anywhere in the Washington, DC area they decided the only way to get it done was to open a restaurant of their own.
That first Red Hot & Blue restaurant was conceived and opened its doors to rave reviews in Arlington, VA just a few short miles from our nations capital where three of the founders worked on Capital Hill. One of the original investor/founders was then-U.S. Rep. Don Sundquist of Memphis, who served 12 years in the House of Representatives and eight years as governor of Tennessee. Another original investor was the late Lee Atwater, a blues musician and legendary political figure who managed George H.W. Bush's successful race for the presidency and served as chairman of the Republican National Committee. It was just a group of friends who wanted to eat good barbeque, listen to some good rhythm and blue tunes and make new friends in the process; they were successful beyond their wildest imagination.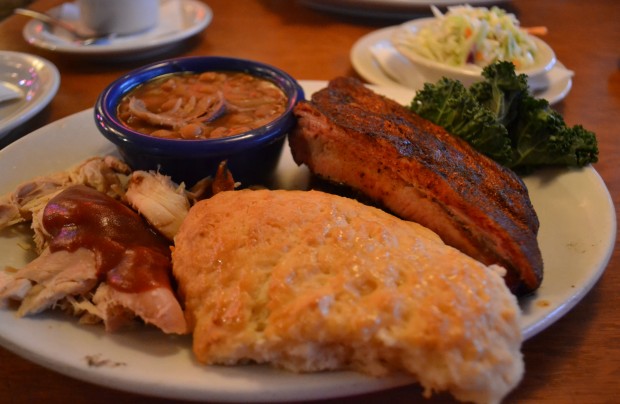 Usually I get the Ribwich dinner.  You get a pulled pork sandwich with cold slaw on the sandwich, and two ribs.  Since it was Valentine's Day, I splurged and got the Lonestar Delta Double plate.  I had my choice of two meats.  My favorite is the Memphis style dry ribs.  The meat literally falls off the bones, and the taste is smoky wonderful.  I personally do not like a lot of sauce, covering up the flavor of the meat.  I was also trying to be "good" and got the pulled chicken.  It was okay, but just dry ribs would have been fine with me.  The beans were very good, but the cold slaw was tasteless.  Ever-Lovin' thought it needed sugar, and I thought some spices and vinegar would have helped.  The biscuits are sweet.  They are almost like eating cake, and you can save them for dessert.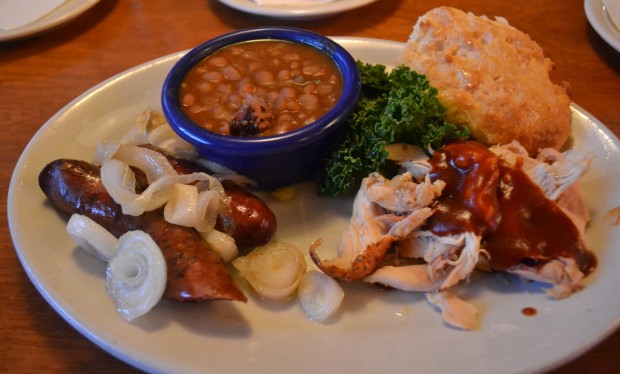 Ever-Lovin's plate was the pulled chicken and sausage.  The sausage was spicy but not too spicy.  He liked it.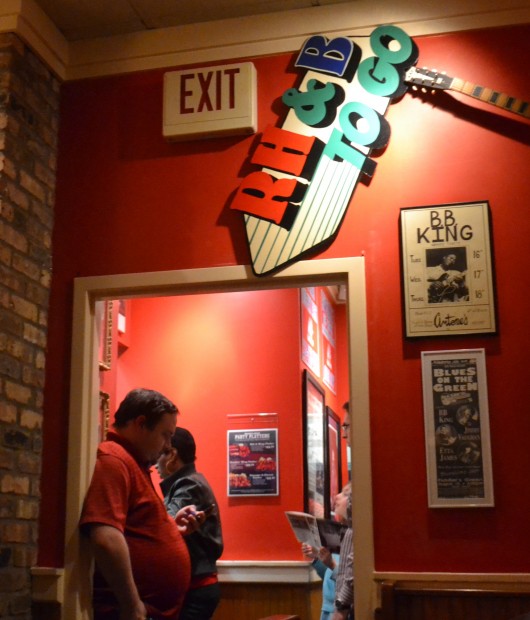 The To-Go business was amazing.  I could observe the T0-Go counter from our booth.  It was very busy the entire time we were eating.  What a good meal to take home.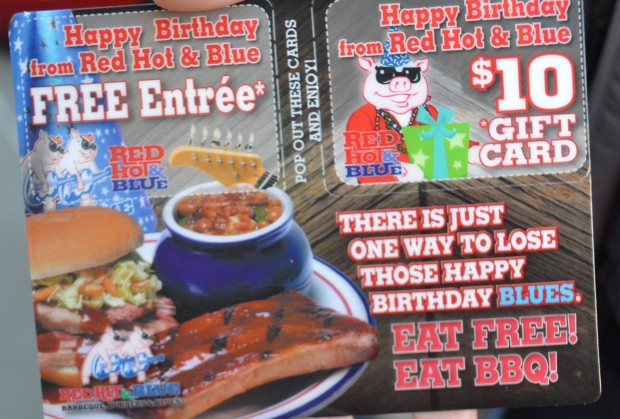 As I mentioned, we had birthday gift cards from Red Hot and Blue.  Their RHB Club is fantastic.  If you sign up, throughout the year you get free food, coupons, and birthday gifts.  Generally it is $10.00 off your meal.  You also receive notices about their promotions.  Right now they are celebrating their 25th Anniversary.  You can get an appetizer or dessert with two entrees for $25.00.  Customers at the To-Go counter were also using coupons.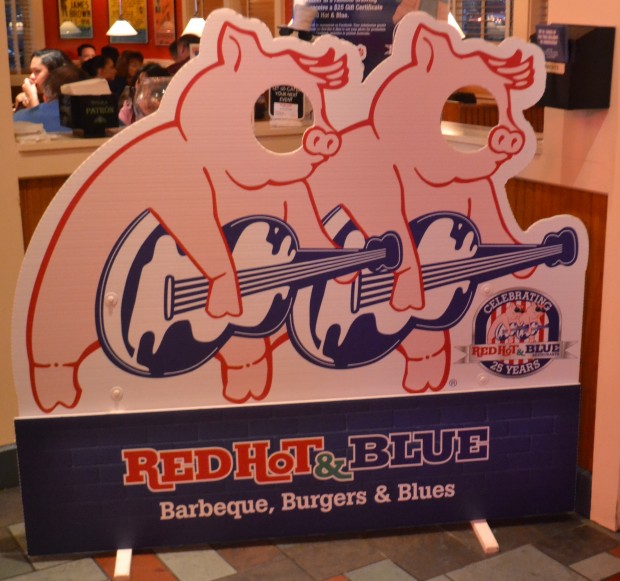 The Blues Pigs crack me up.  I guess we missed our chance for a photo.  Maybe next time.
We dined at the Plano Parkway at Preston Road location, but we also like the Red Hot and Blue near Walnut Hill and Central Expressway.  The atmosphere is fun, and the food is delicious.
Blessings to you and yours,