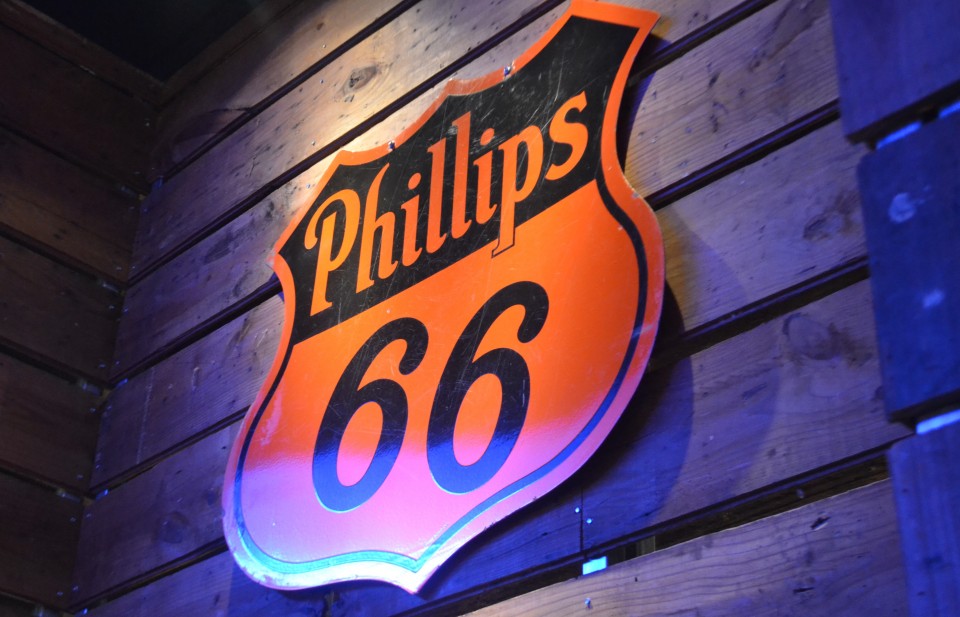 I read about Stampede 66 before it opened.
I read about Stampede 66 when it opened.
I read the reviews for Stampede 66 after it opened.
I so wanted to dine at Stampede 66.
So I gathered a group of friends, and made reservations at Stampede 66.
You see, Stephan Pyles grew up in Big Springs, Texas.  His parents had a restaurant in the Phillips 66 truck stop.  (That is why the restaurant is called Stampede 66.)
Stampede 66 is Stephan Pyles restaurant to honor his roots in Big Springs, Texas which is only 60 miles from my hometown – Andrews, Texas.  We went to Big Springs, Texas all the time.    Since I feel like I have a connection to Stephan Pyles and his roots, there was no doubt I needed to make the pilgrimage to 1717 McKinney Street (at Akard) in uptown Dallas, and pay homage to the land that I love.  Let it be known that the Big Skies of West Texas have been known to make me bawl-eyed.
I loved going to Stampede 66.  The decor is called cowboy chic, and it is wonderful.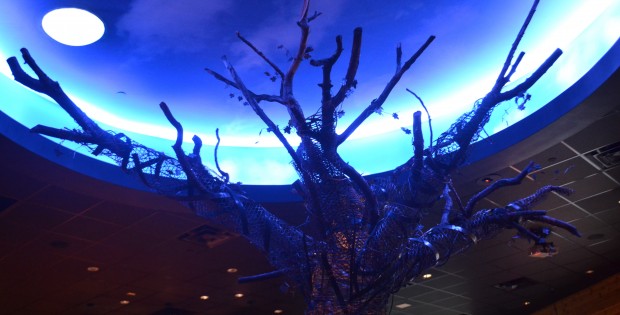 There is a tree in the middle of the restaurant, and you feel like you are under the moonlit sky.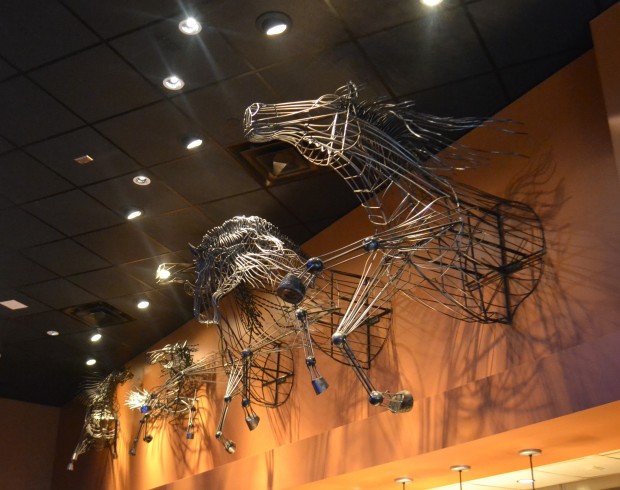 Wire horses stampede over the bar.  I like them.  I love them.  I think I read that these wire sculptures are over 60 inches tall.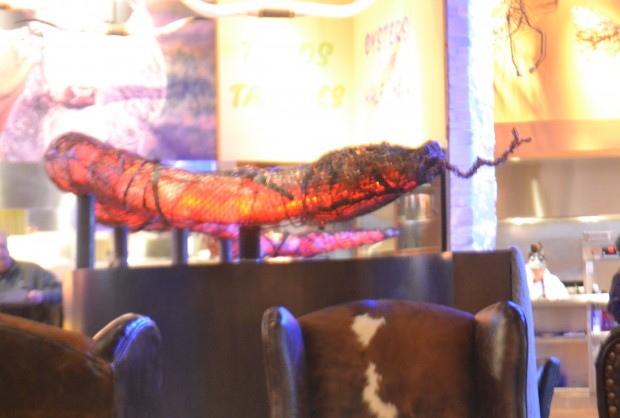 Sneaky Snake is an illuminated sculpture.  What fun!  Does remind me of West Texas.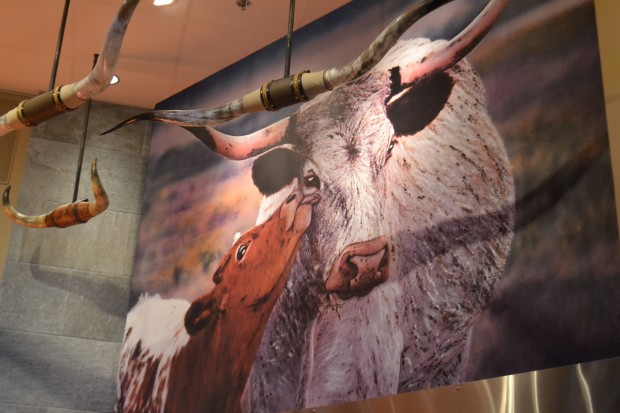 There are big murals of  "little doggies" and longhorns hanging from the ceiling.  Nice!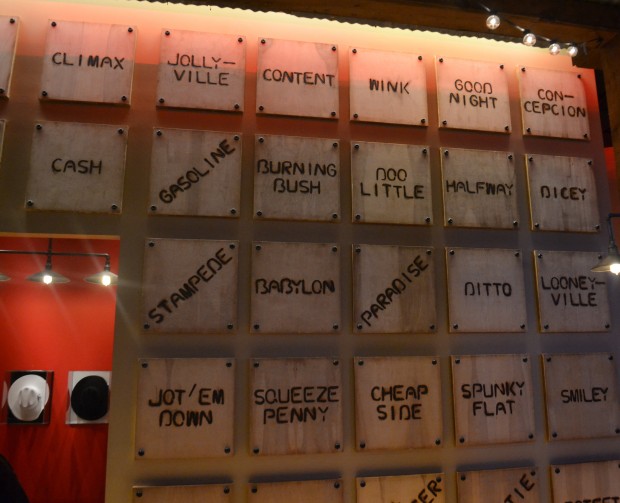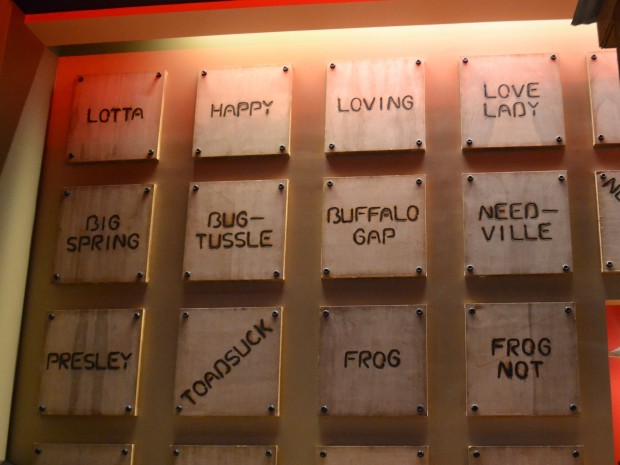 These are real names of Texas towns that adorn one wall.  Too funny.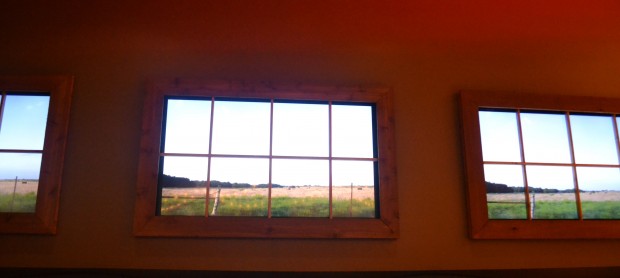 On the back wall are three large screens showing the Big Skies of  West Texas.  (I do love it.)  Ever-so-often the cowboys and cattle saunter by.  One poor cow was branded at least three times while we had lunch.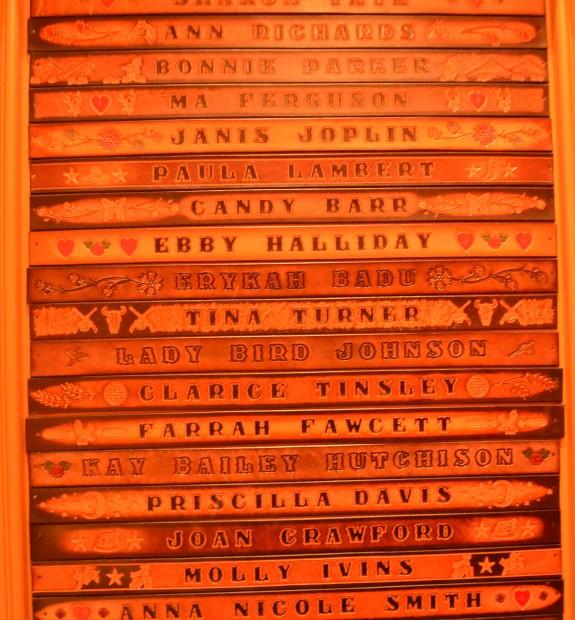 The doors of the bathrooms are inset with tooled leather belts of famous or infamous Texans.  I am not going to tell you the surprise behind these doors.  You will have to see for yourself.
But we did come to eat, and eat we did.  The food would make Stephan Pyles' mother proud.
Here is a sampling of food we tried.  Fried Green Tomatoes with Mozzarella and Salad.  John and Pat declared it delicious.  I want to order this next time.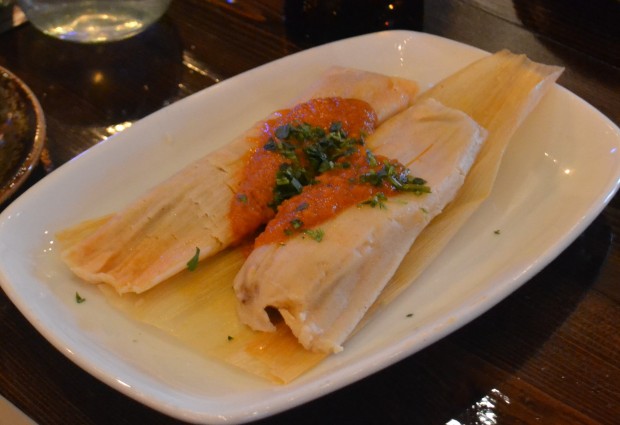 Tamales were excellent.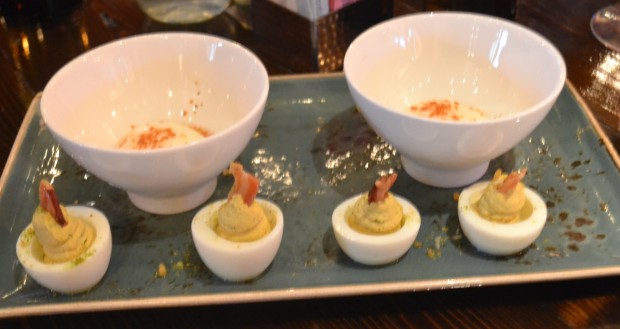 Deviled and pickled eggs – ( I love the platter and Ann and Bob loved the eggs.)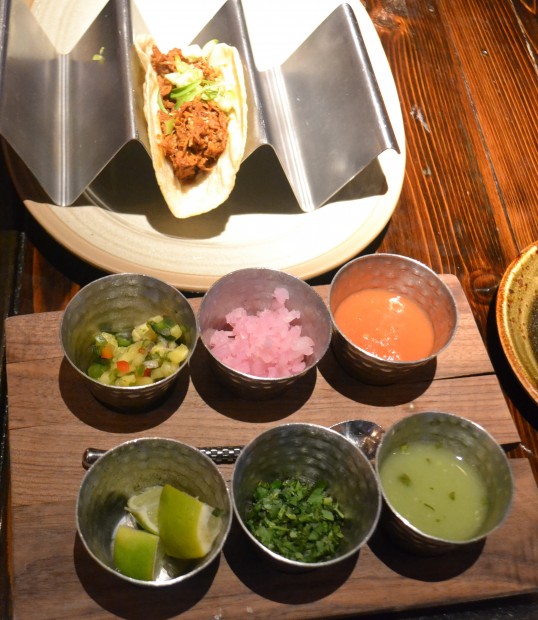 Tacos are great.  Look at all the garnishes you get with the tacos.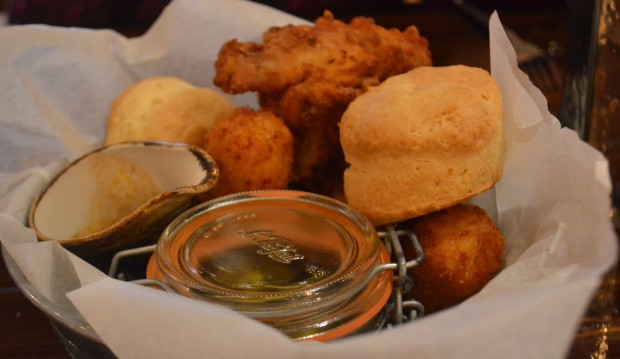 Ever-Lovin got the fried chicken with the mashed potato tots.  Chicken was very good – tender and moist with a crunchy crust.  The potato tots were what amazed me.  They fry mashed potatoes.  Inside they were creamy and delicious.  The jar of pickled okra was a nice touch.  Beware, there are some hot peppers in the okra.  You can't miss with buttermilk biscuits.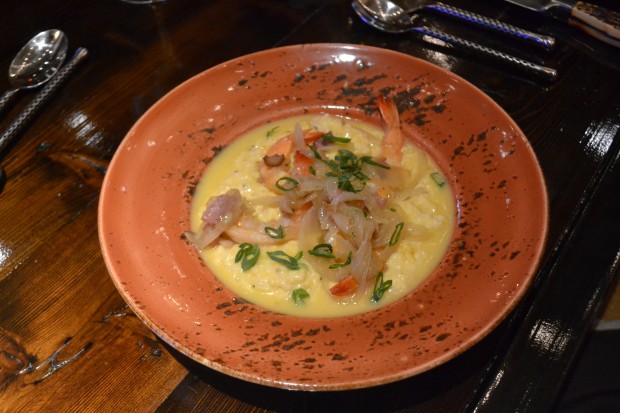 My Shrimp and Grits did not disappoint.  This dish was bursting with flavor.  There were coarsely ground grits, shrimp, sauce, herbs, and onions.  Yummy!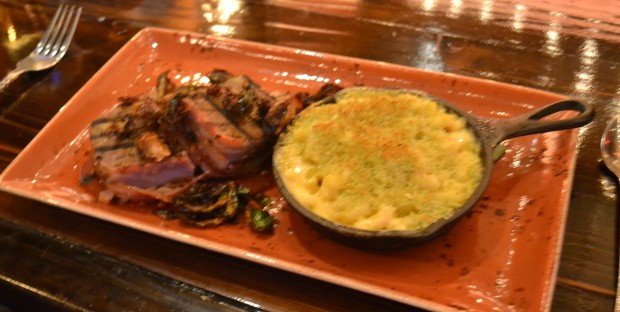 Sheila and John and Pat proclaimed the Venison Meatloaf good, but the star of this selection was the Mac N' Cheese.  (Love that it was served in a little iron skillet.)  Sweet Mother of Pearl.  I just had a little bite, and now I want more.  (I wonder if you can order a pan of the Mac N' Cheese?  It would make a meal.)
Of course, we tried the sweets.  The Butterscotch Pudding was delicious as was our Cranberry cobbler.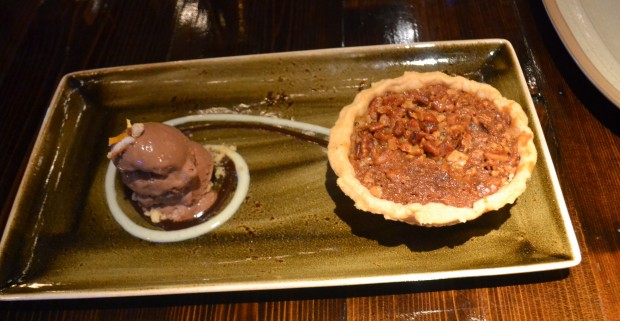 But, I had a taste of Sheila's Black Bottom "Bama" Pecan Pie and Whiskey Butter.  Be still my heart!  Next time I might eat dessert first.
Stampede 66 celebrates Texas, and every Texan should enjoy this dining experience.  All of your out-of-town guests will love it.
Blessings to you and yours,
Yea!  I have gone to Stampede 66, and I am looking forward to going again.