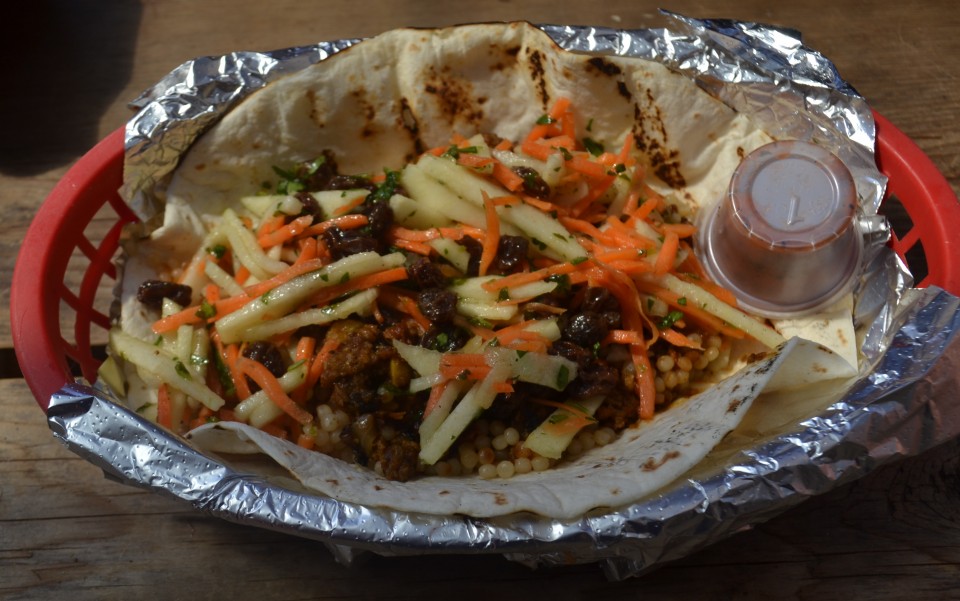 Thank you Amy!  While at Buckner the Mrs. called her foodie daughter Amy for dining suggestions. (We are always looking forward to our next meal.)   Where could we eat in East Dallas after our shift of sorting shoes?  Amy came up with a winner.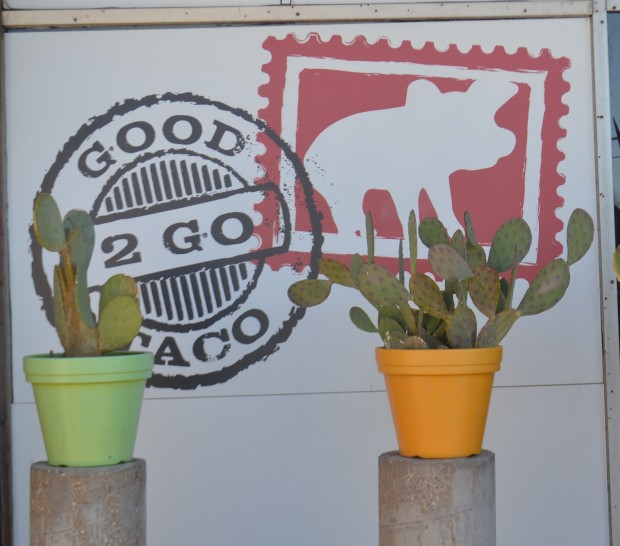 I had heard about Good 2 Go Taco (The name is on several list of "bests" – Texas Monthly, and Dallas Eater's Essential 38 yo mention two), but I had no idea where it was, or what it would be like.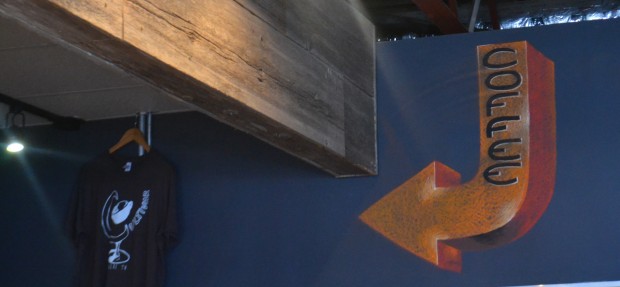 There was a line out the door when we arrived, but it moved quickly.  On the left as we entered the restaurant, was a coffee shop – I think it is called Cultivar Coffee.  Smelled good.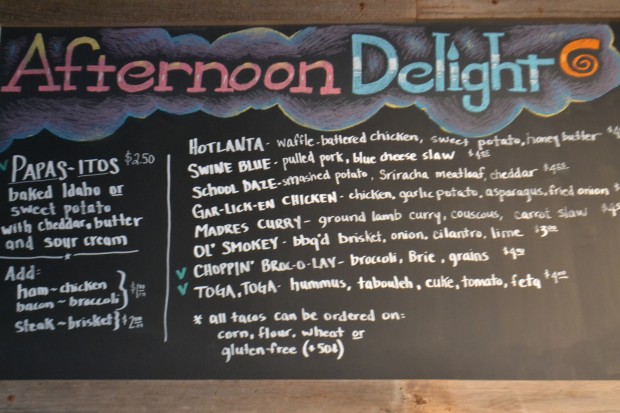 Sweet Mother of Pearl.  This is the list of gourmet (my word) delicious tacos offered.  Cute names, and the most expensive taco is just $4.50.  It is a great deal for fresh farm to table food.  Good 2 Go Taco is known for using local sustainable ingredients, and that is a good thing.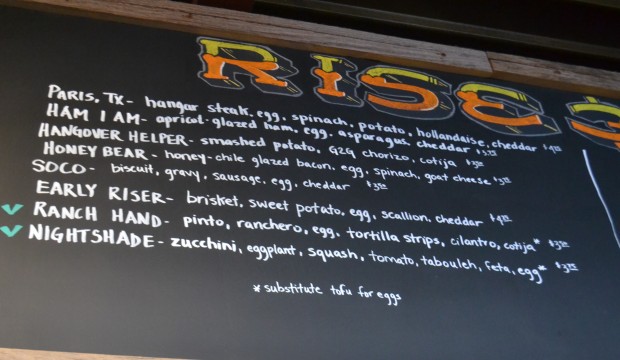 There is also a Rise and Shine breakfast taco menu.  Makes me want to go back in the morning.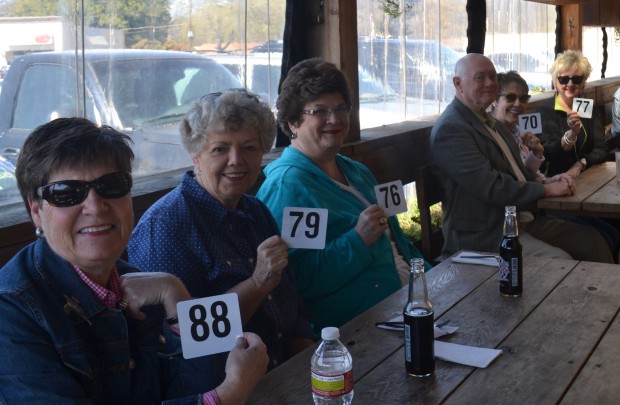 Seating is limited inside Good 2 Go Taco, so we sat on a long bench on the patio.  What a great looking group of friends.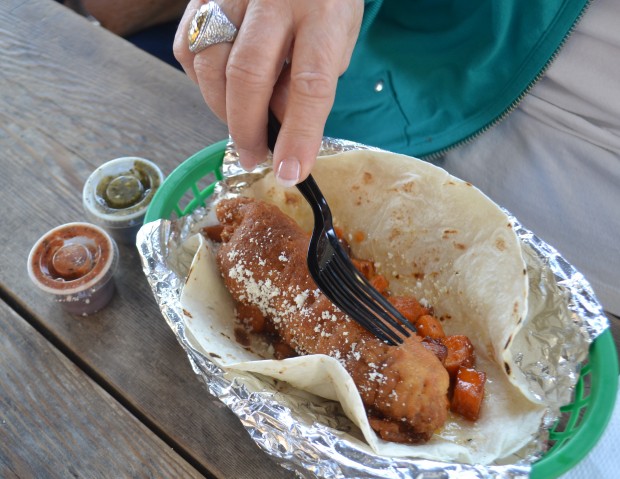 Friend BB ordered the Hotlanta.  She loved the waffle-battered fried chicken with sweet potatoes.
Then there was another menu board (sorry no picture), and some of the gang ordered migas, a salad, a wrap and a burrito.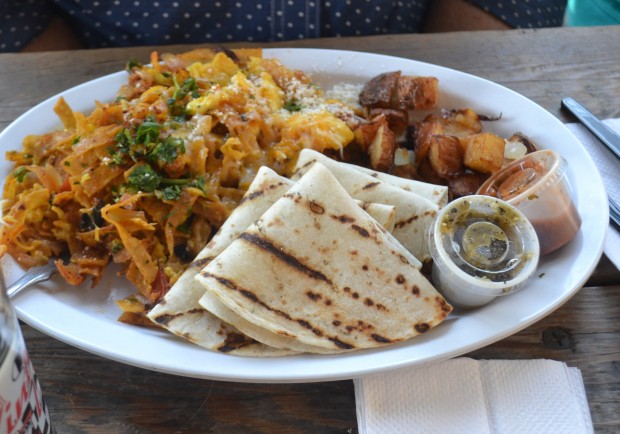 The migas looked good.  The Mister is an authority on migas, and he proclaimed them a-okay – as did Carolyn.   I do want to try them.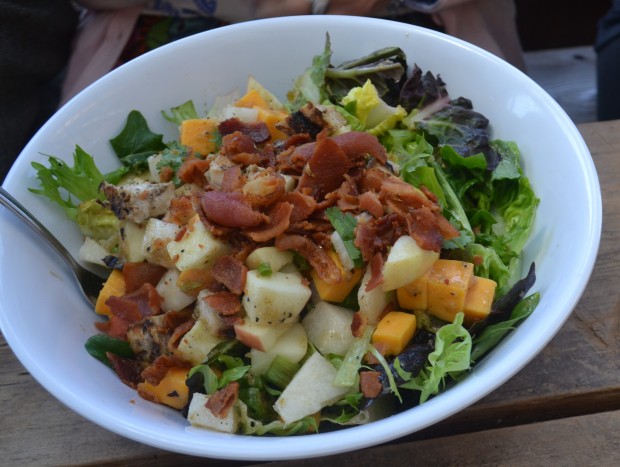 Isn't The Mrs.' salad pretty?  It was given two thumbs up.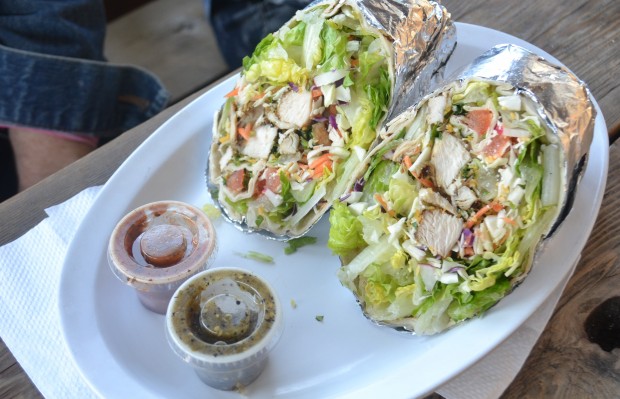 This wrap was a healthy choice.  Linda asked for the sauce to be left off, thus her wrap was a little dry.  (No fault of Good 2 Go Taco, but you might remember to order sauce.)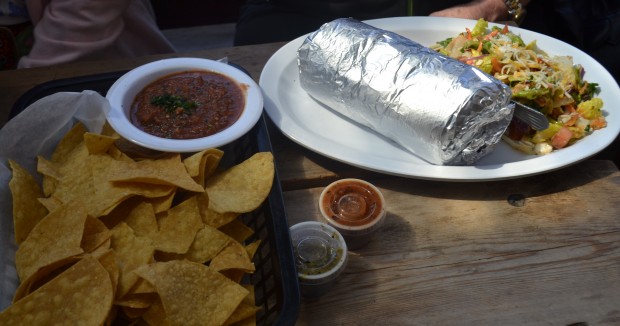 The burrito was huge, and it came with a salad.  Mrs. Ralph said it was very good, and she would love to return to Good 2 Go Taco.  I think the chips and hot sauce were a side order.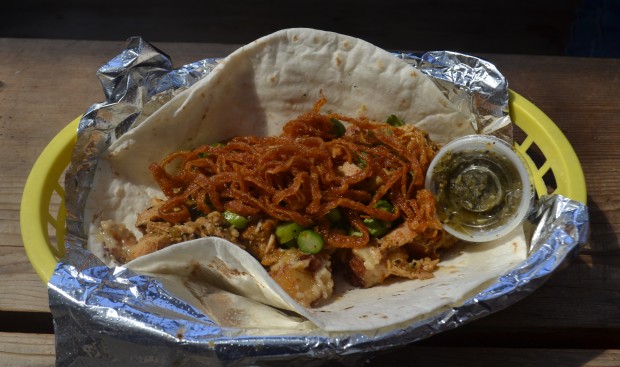 Gar – lick – en Chicken was my choice.  I ordered it because it had asparagus and French fried onions.  Just sounded good.  I liked it.  I loved it.  I would order it again.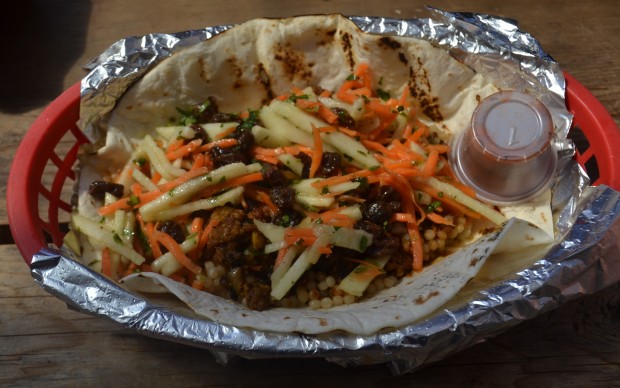 But….  Ever-Lovin's Madres Curry Taco with ground lamb, couscous, and carrot slaw was beyond impressive.   Have you ever imagined a curry taco?  You are in for a wonderful meal if you order this.
Good 2 Go Taco began in a Green Spot fuel station.  In an interview with Merritt Martin of Eater Dallas, (click HERE to read the interview.) chefs Jeana Johnson and Colleen O'Hare of Good 2 Go Taco mentioned that they had worked in some high-end restaurants, and knew their friends could not afford to eat in those restaurants.  They set about to provide fresh delicious food at reasonable prices.  WOW!  How cool is that?  What we get is fantastic flavorful food at prices we can afford.
Blessings to you and yours,
You will find Good 2 Go Taco in a short strip of restaurants at the intersection of Peavy and Garland Roads in Dallas.
Thank you Amy!  I liked it.  I loved it.