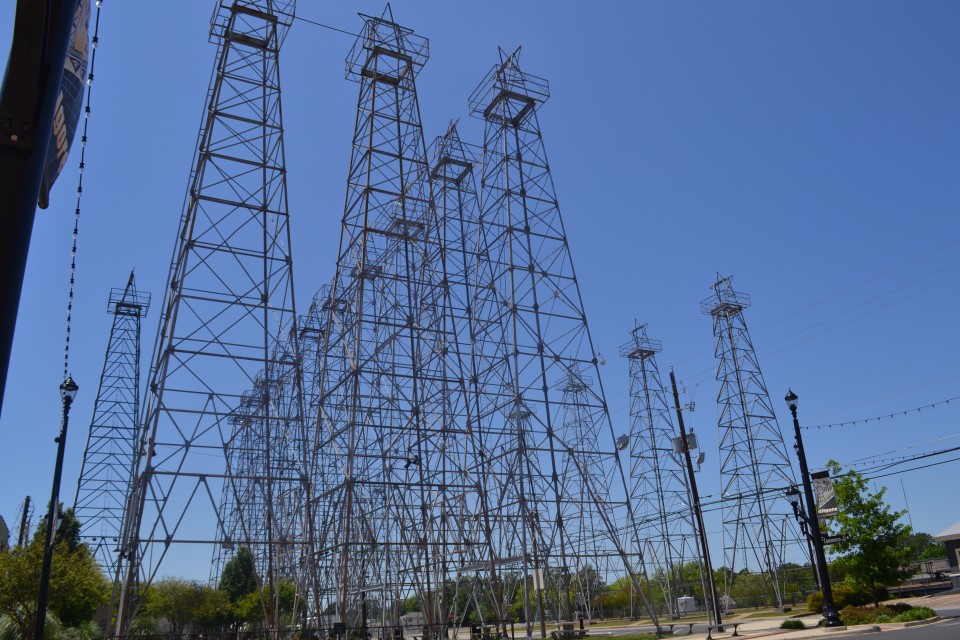 Kilgore, Texas was the first stop on our East Texas tour.  I had heard about Kilgore, Texas. – Kilgore Rangerettes, oil wells –I guess that was about it.  But, while reading information about East Texas towns, Kilgore seemed to be a place to visit, and I am glad we did.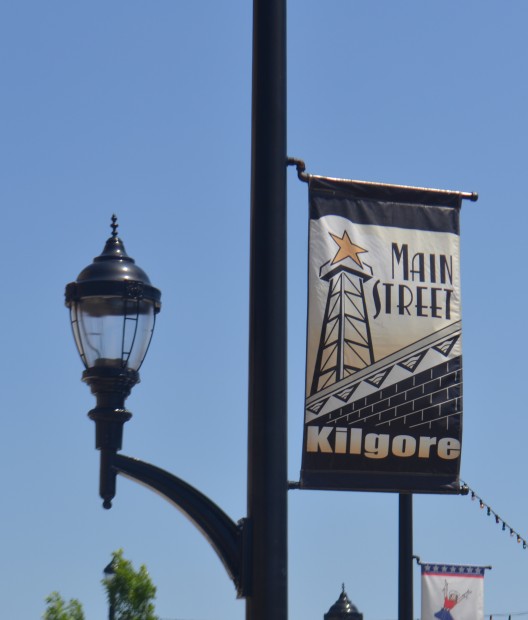 My hometown – Andrews, Texas – is an oil field town, but it was nothing like the wells that once lined the streets of downtown Kilgore.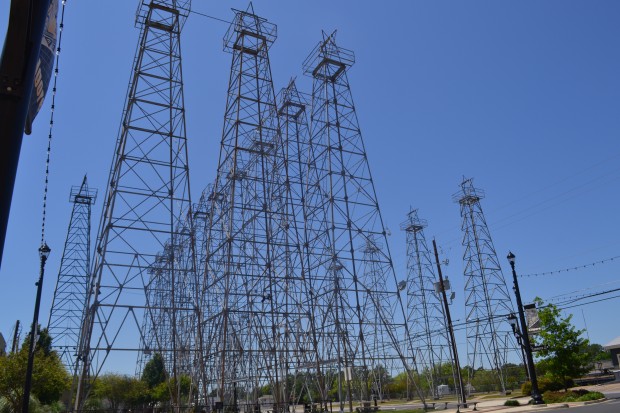 These are derricks that  replicate The World's Richest Acre.
The Historical Marker explains it well.  It was "the greatest concentration of oil wells in the history of the world."  Oil derricks in Kilgore were drilled before well-spacing rules were established.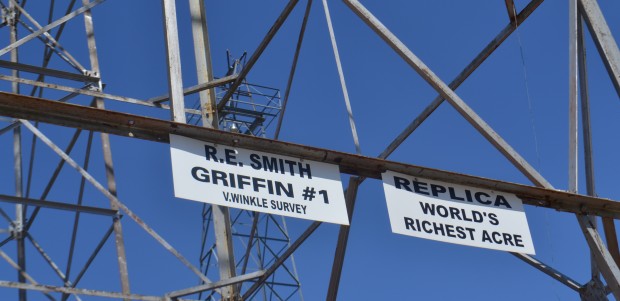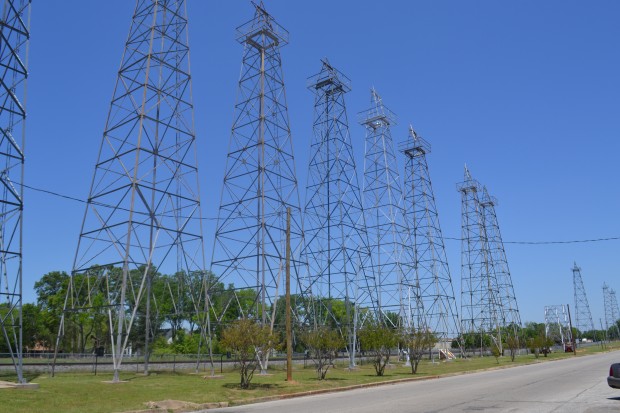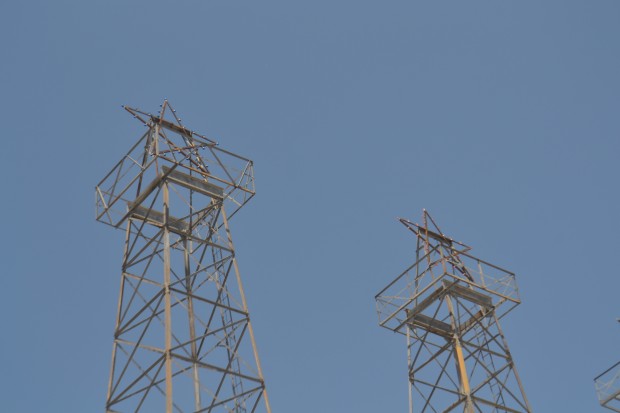 At Christmas time the derricks and the stars atop the derricks are lit.  I bet it is a pretty sight.

A poster inside a store window illustrates the derricks lit at Christmas.  Might be worth a trip.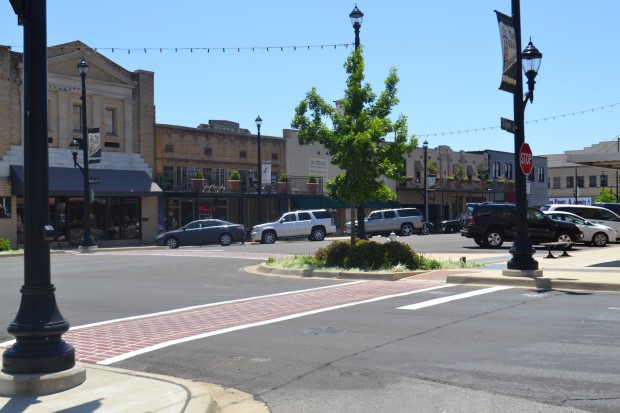 The shopping area downtown was not huge, but see how neat and pretty the downtown area is.  As usual, many of the stores were closed on Monday, so….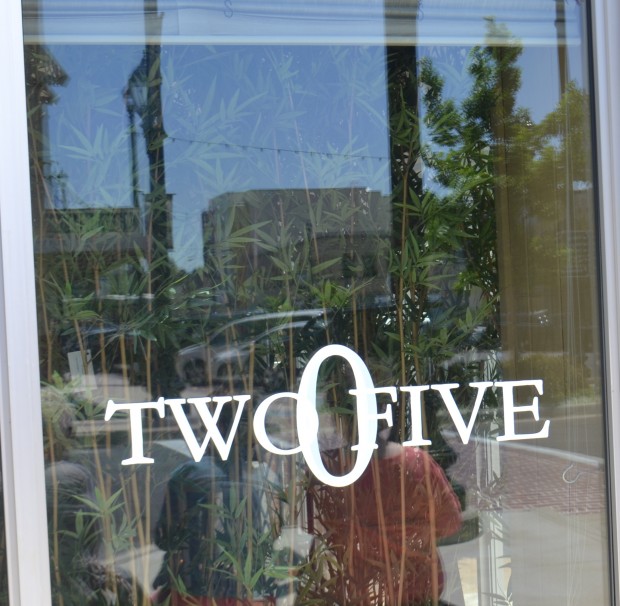 One store we loved was TwoOFive.  It would rival any Dallas design shop.  I bet there are people in East Texas with oil money that can afford the beautiful items for sale in this shop.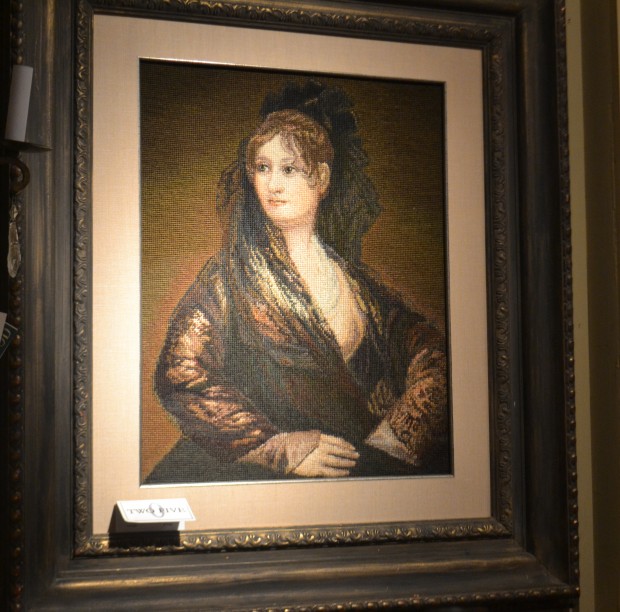 This is a needlepoint picture.  Yes!  This picture is needlepoint.  How long would it take to create this?  I am impressed.  It caught our eye because I have a painting of this lady.  My painting was a copy painted in 1969 by an amateur artist.  The original painting – Portrait of Doña Isabel de Porcel is by Goya and it is in the collection of the National Gallery.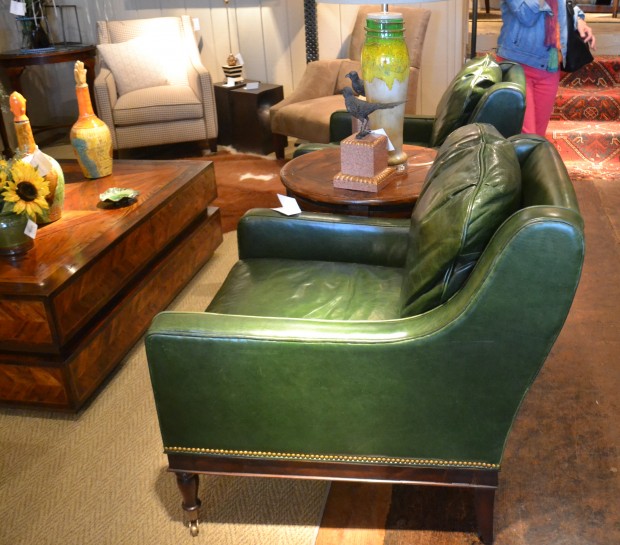 The pair of emerald green chairs are fantastic.  I like them.  I love them.  I am here to tell you – this design shop has beautiful beautiful merchandise.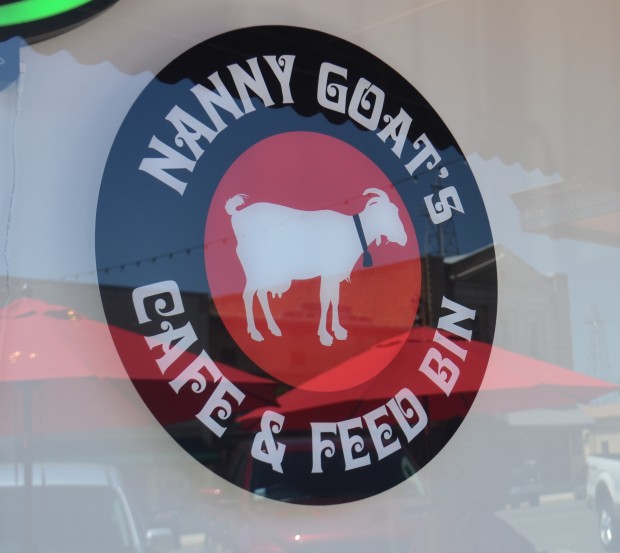 Lunchtime brought us to Nanny Goat's Cafe and Feed Bin.  What a cute name?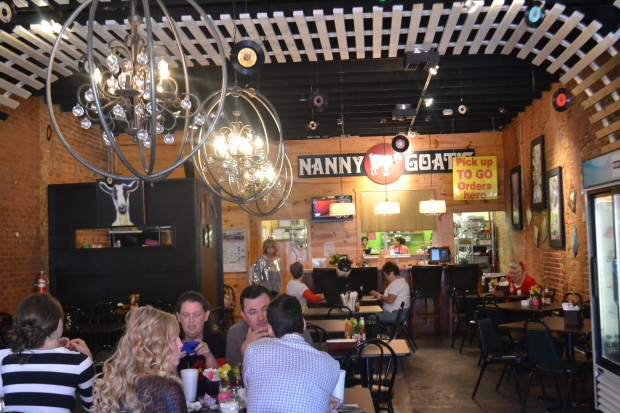 Be still my heart.  The decor inside the restaurant was beyond charming.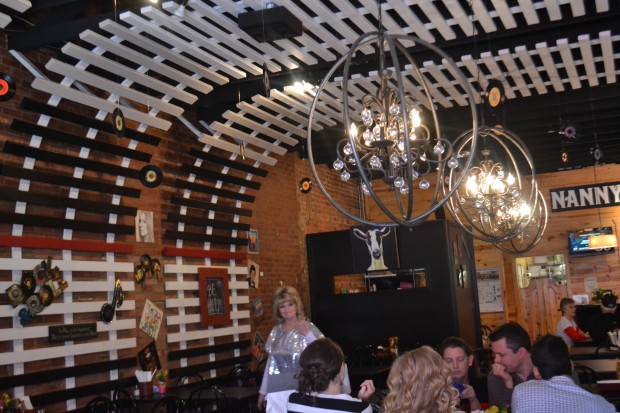 Somebody went to a lot of trouble to create the ceiling.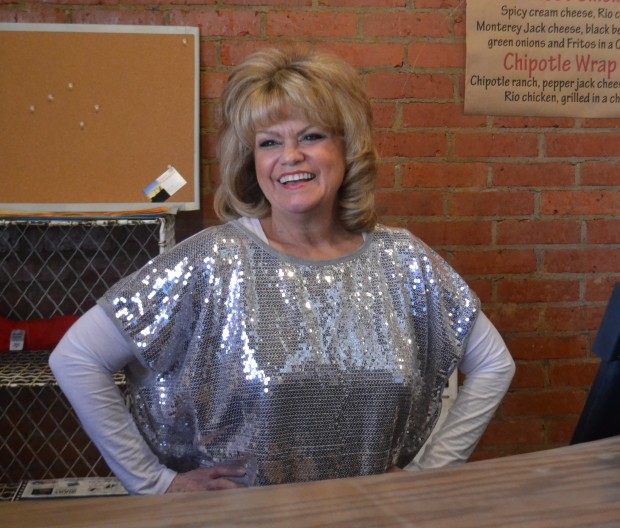 Owner Nancy is as bright and sparkly as her blouse.  Reminded us of a Dolly Parton.  We felt like long time friends while visiting with Nancy.
The Nanny Goat portrait was hung that morning.  They were so proud.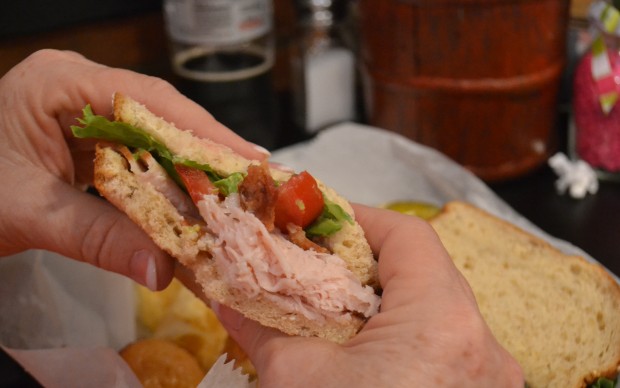 Let it be known – the food at Nanny Goat's is good.  The ingredients are fresh and well prepared.  You can get a whole sandwich and chips.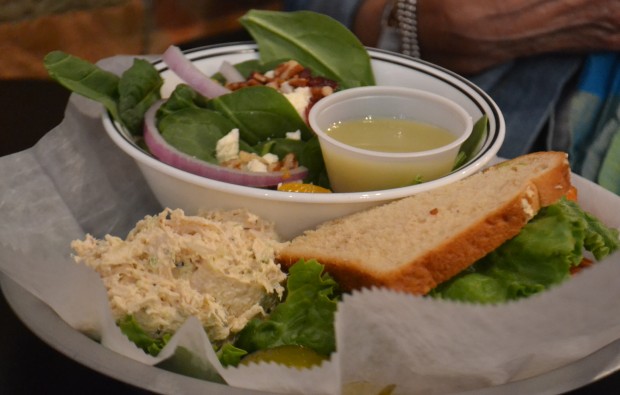 This was a half-sandwich with a salad and a side of chicken salad. (I think that is what it was.)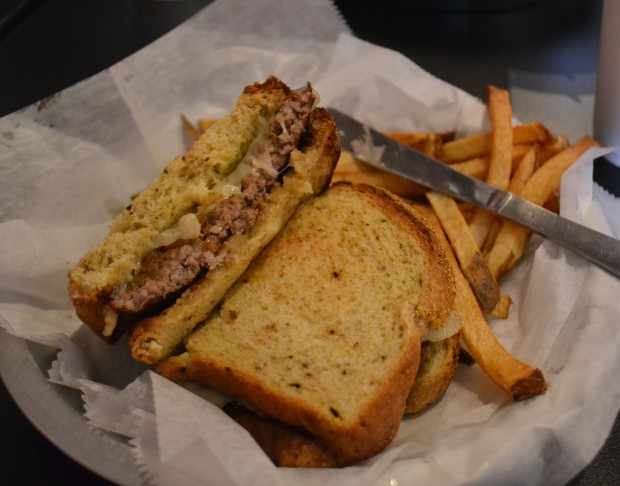 The special of the day was a patty melt  with fries.  It was huge, and I liked it.
Another combo was soup, salad, and a half sandwich.  As you can see, you get ample food to eat.  I would return to Nanny Goat's.  The atmosphere is fun and inviting, and the food is delicious.  Recently they have opened a second location in Longview, Texas.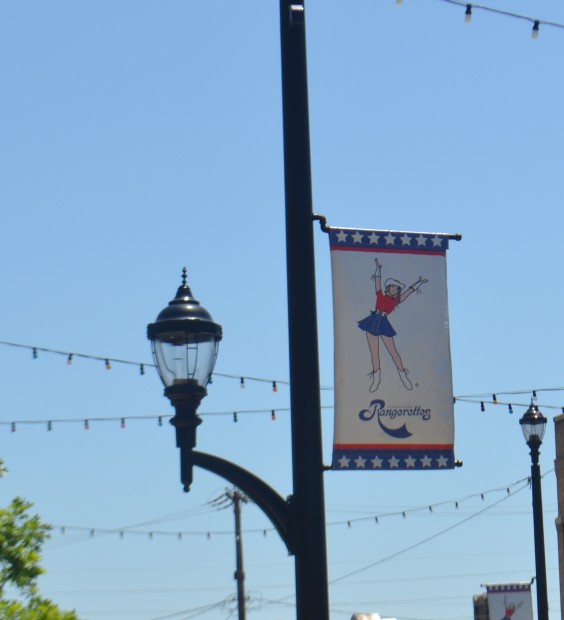 Kilgore College is the home of the famous dance team, the Kilgore Rangerettes.  It is amazing that a small town like Kilgore can boast of a world famous dance team.  I think someone mentioned a Rangerette Museum on campus.  That might be something to see.  During the summer, Kilgore College is also home to the Texas Shakespeare Festival.  Click HERE to learn more.  Sounds fantastic to me.
It is not that far to East Texas, and I for one want to go back.
Blessings to you and yours,
FYI:  Van Cliburn lived in Kilgore from the age of eight.  The auditorium on the campus of Kilgore College bears his name.