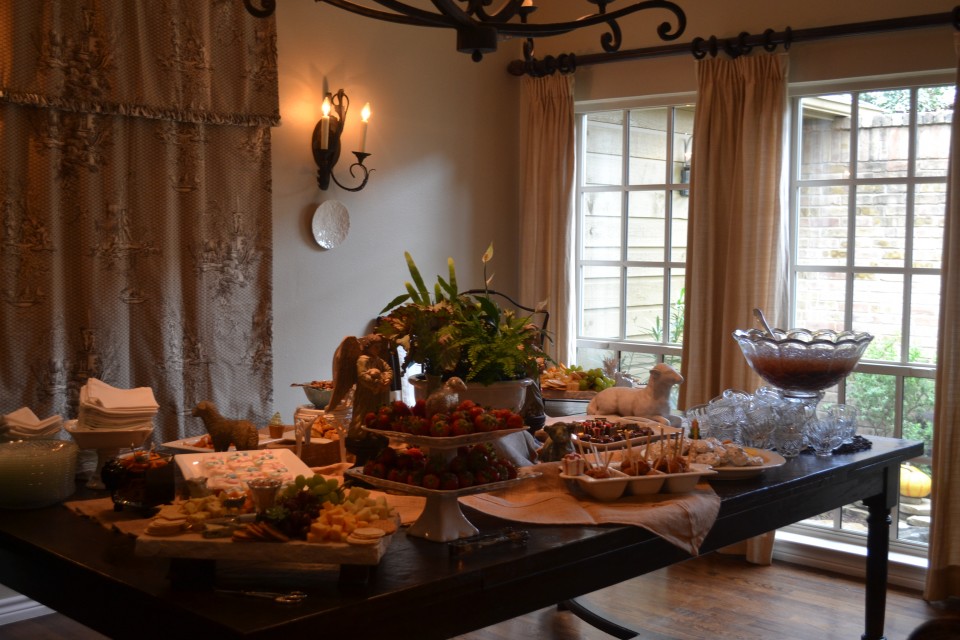 Yes, there was food.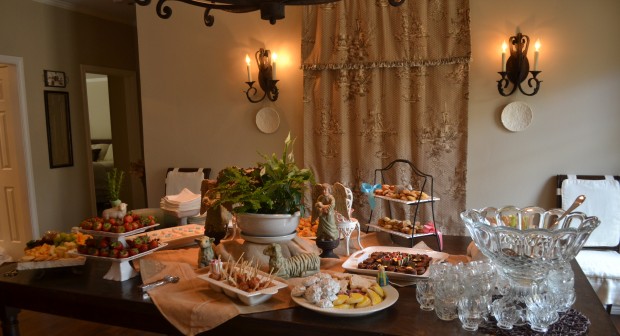 Probably you would be correct to say, "There was too much food.  You really do NOT need all that much food."  But….  How do I explain this to you.
A skimpy table can not be abided.
Running out of food at a party is a not a good thing – Just ask Jesus's mother.
Sharing food and having fellowship with friends is a good thing.
Another reason we had an abundance of food is selfish.  Some of us enjoy cooking.  A party gives us an excuse to make and serve goodies we have been longing to make.  Some of you who do not cook will NOT understand this, and that is okay.  We can still be friends.
For those of you who enjoy having a menu, here goes.
SAVORIES: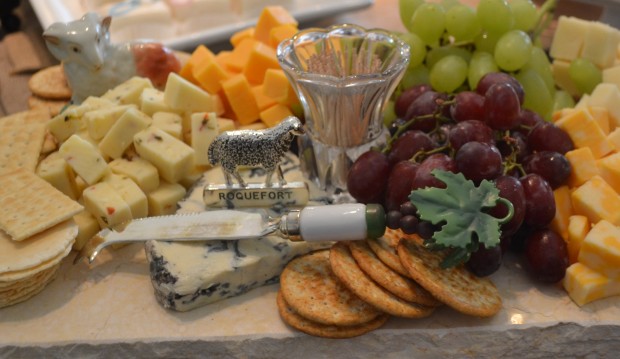 Two Cheese Boards were overflowing with cheese, crackers and grapes.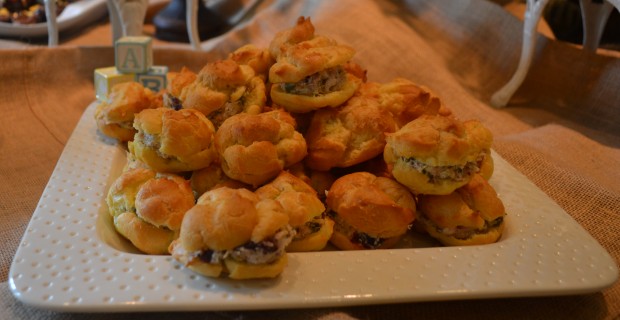 Cream Puffs filled with Pineapple Cranberry Pecan Chicken Salad made me happy.  True confession.  This recipe started with a mix (The Resident Chef) that contained seasonings and pecans.  If I must say so myself, the chicken salad filling was delicious.  It worked well in the cream puffs because it was not runny or too mayonnaisy (Is that a word?).  Click HERE for the cream puff recipe.  The cream puffs were made small – about a teaspoon of dough for each puff.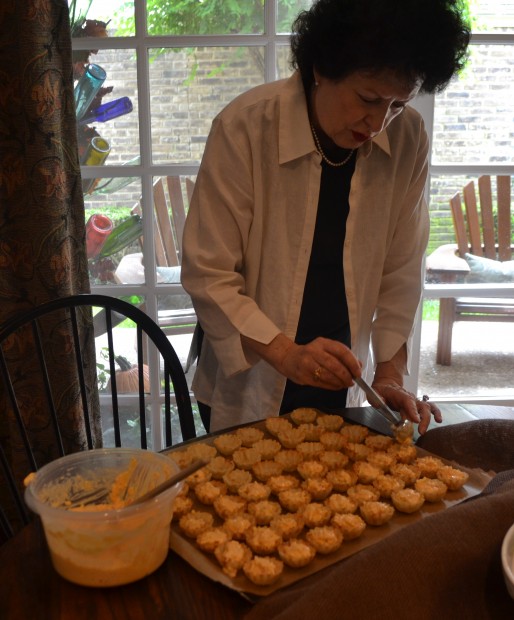 Be still my heart.  Everyone was raving about The Queen of Everything's Pimento Cheese Tarts.  They are a crowd pleaser.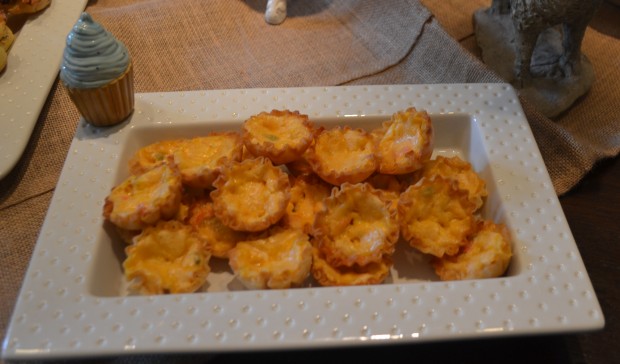 It never fails.  No matter how many of these little cheese tarts she makes, at the end of the party they are always all gone.  Yes, G-O-N-E.  Not a scrap is left on the platter.  That is because they are lip-smacking G-O-O-D.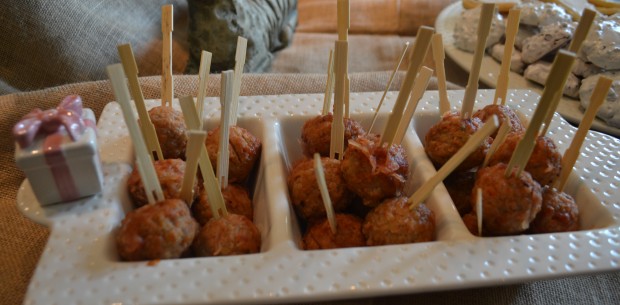 The  Polly DuPont Meat Balls are another favorite.  Yummy and easy to make.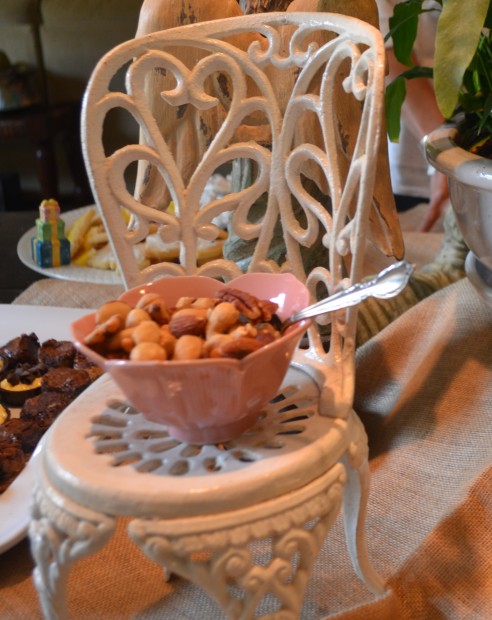 It is important to have the Mixed Nuts – I make an effort not to be rude and pick out all the cashews.  .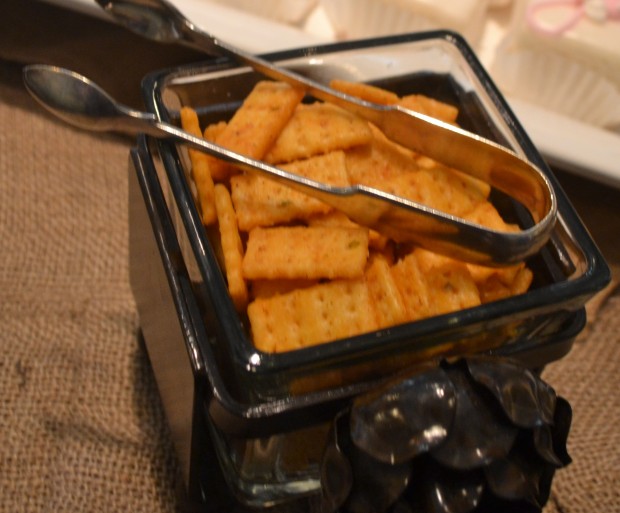 Spicy Crackers added a touch of heat – Just trying to give choices.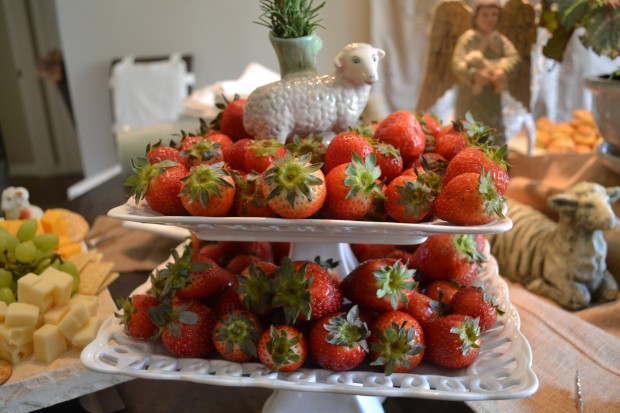 The Strawberries gave a pop of color on the table, and they were great. (Dontcha think it was important to have at least one healthy item on the table?)  Good job Friend BB.
Then there were the SWEETS: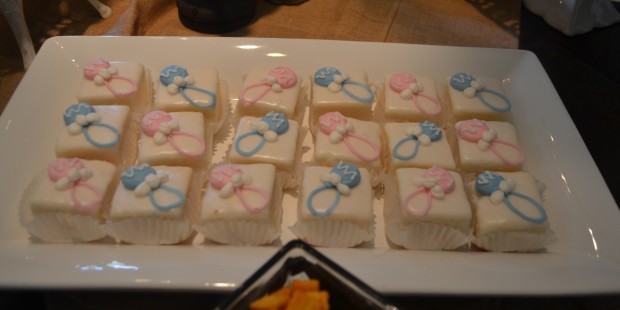 Petit Fours decorated with pink and blue rattles were from Casa Linda Bakery.  Petit Fours and showers just seem to go together.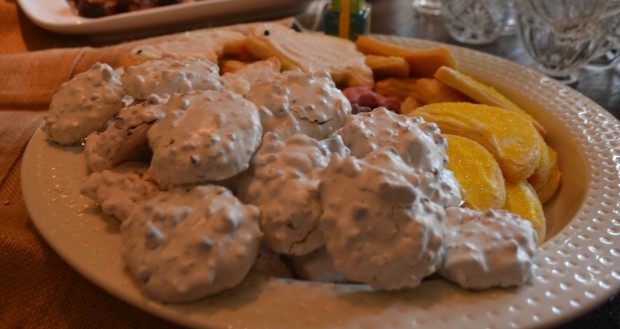 The tray of cookies was filled with the Granny's Sugar Cookies, Trader Joe's Yogurt Stars, and Katie's wonderful Meringue Cookies.  Have you ever had the privilege of eating one of these melt-in-your-mouth heavenly delights?  I like them.  I love them.  They were filled with pecans and chocolate chips – What is not to love?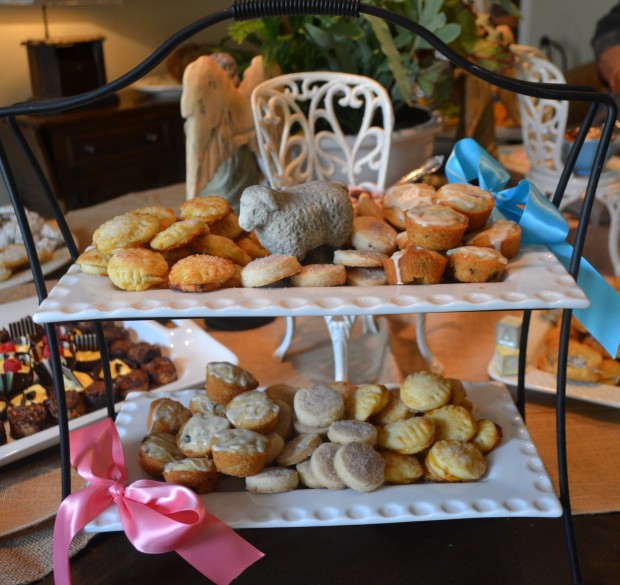 The two tier server was filled with Little Fine Cakes, Bizcochito, and Apricot Pastries.  The Little Fine Cakes is an old recipe from President and Mrs. James Monroe.  They do live up to their name – Little Fine Cakes.  Bizcochito is the "State Cookie" of New Mexico.  (If I read it correctly, they are the only state with a "State Cookie".)  It is a crisp butter cookie that is flavored with anise and cinnamon.  They are tasty and are not too sweet.  They go well with a cup of coffee or tea.  I was impressed that The Queen of Everuthing made the Bizcochito.  A little bag of theses cookies cost a pretty penny in the New Mexico gift shops.  The Apricot Pastries is a recipe from Mother's cookbook A+ in Cooking.  It has been a favorite for many many years, but I only take the time to bake them for someone special.  (Will share the recipe soon.)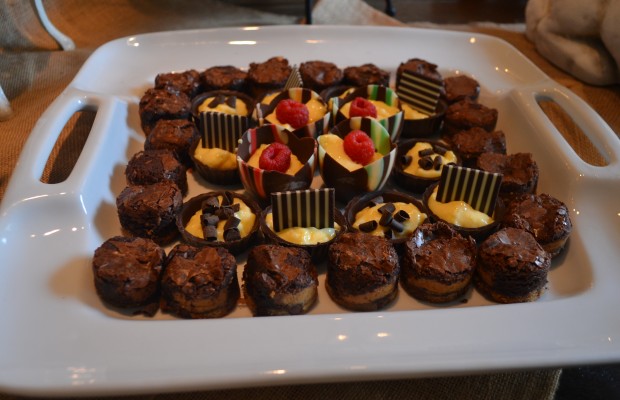 Every table needs a touch of chocolate.  Triple Threat Brownies were cut with a small biscuit cutter.  Let it be known – The stars of this platter were the Chocolate Cups filled with creamy custard.  Wow!  The presentation was impressive – see why I call her The Queen of Everything.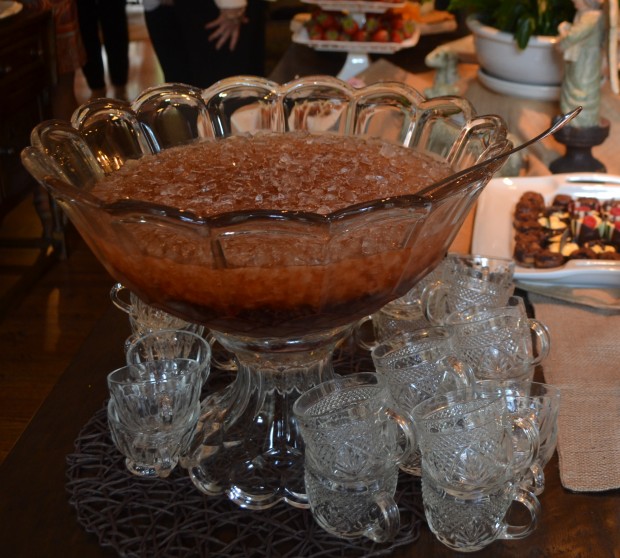 A Tea Punch was served.  The Mrs. used Paula's (From Paris – Texas) recipe that uses freshly brewed tea, lemonade, and ginger ale.  So refreshing.
Here is the recap:
Savory:
Cheese Board with Crackers and Grapes
Pimento Cheese Tarts
Chicken Cream Puffs
Polly Du Pont Meatballs
Crackers
Mixed Nuts
Strawberries
Sweets:
Petit Fours
Apricot Pastry
Bizcochito
Miringue Cookies
Little Fine Cakes
Triple Threat Brownies
Chocolate Cups with Custard
Granny's Sugar Cookies
Trader Joe's Yogart Stars
Tea Punch
Yes, we had food.
It was a blessing (I mean that!) to be able to share food with friends.  And it was a joy to honor Seth and Jessica as they prepare for their life with twins.  Life is good, and prayers are appreciated.
Blessings to you and yours,
Of course, this shower was also in honor of the future Grandparents whom we dearly love!
As usual, I am an unknown.  If I mention a product or establishment, trust me – they do not know me.  I am simply sharing.