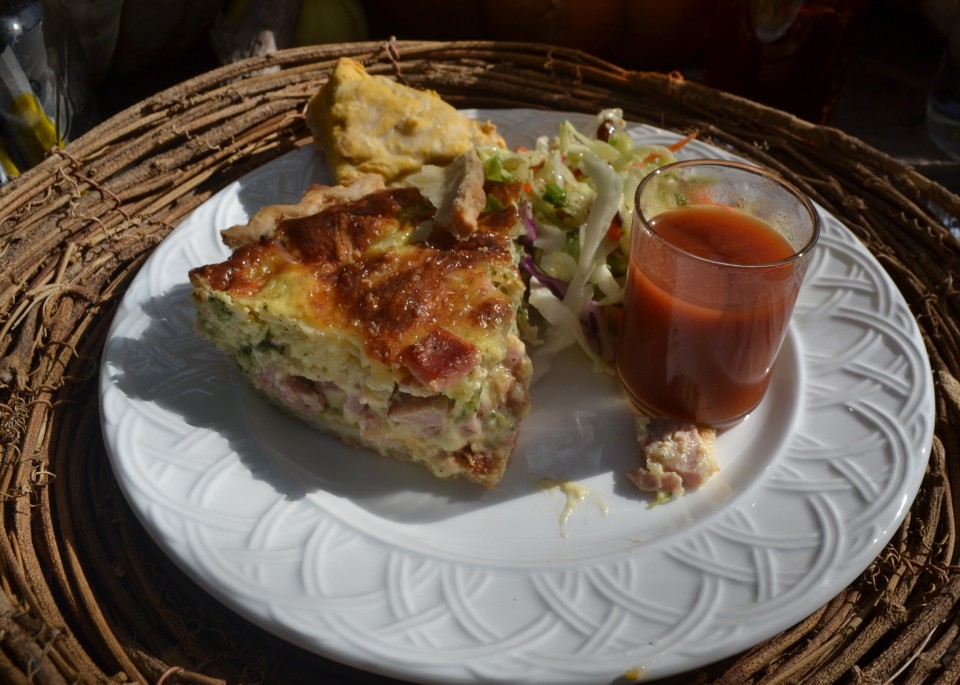 Mary Pittman had a tea room and gift shop in Richardson, Texas.  Be still my heart!  It was one of the first tea rooms I ever visited.  The fact that there was a tea room in my neighborhood was beyond wonderful.  It proved that living in the city was the life for me, and just my cup of tea (Sorry – pun intended.)  Then in 1978, Mary Pittman closed the Richardson tea room and moved to Van Alstyne, Texas.  Bummer!  There she open The Tea House.  I remember friends taking me on the 40 mile journey to visit this tea room.  It was worth the drive.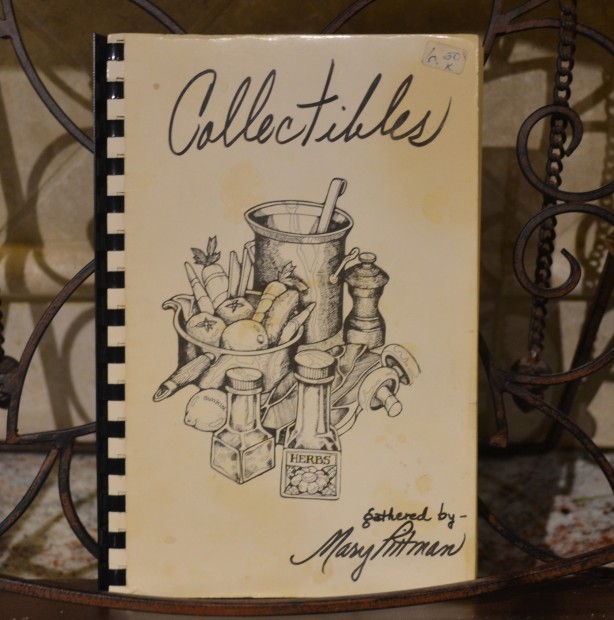 At some point, I bought a copy of her little cookbook – Collectibles.  The introduction of the cookbook so echoes my sentiments about cooking.
"What I've been talking about when you come down to it, is friendship, sharing, caring.  I'm talking about love.  To show our love for one another we devise little rituals.  We beg the passing traveler to eat.  We toast brides.  We drink to each other's health.  We give dinner for those we seek to honor.  There is a particular bond between friends who prepare food together, between family and friends who dine with each other.  The breaking of bread together has, for many centuries, held something of ceremonial significance for us. "
I like that!
Sometime back, I was planning a luncheon, and a certain friend mentioned she would like the tomato broth that was served at Mary Ellen's Tearoom. (I believe that Mary Ellen took over Mary Pittman's tea room.)  Sweet Mother of Pearl.  I actually knew where to find the recipe.  You got it!  Mary Pittman's Collectibles.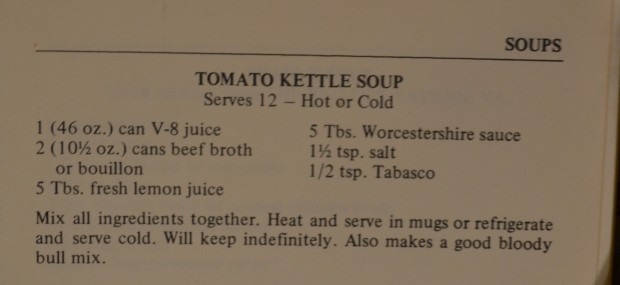 Tomato Kettle Soup is super easy to put together, and it is delicious.  You mix all the ingredients together.  Heat and serve.  That is it!  I love it hot with little Goldfish Crackers just like they served it for years at the tea rooms.   Mary Pittman says it can also be served cold.  For the luncheon at Sarah's it was at room temperature, and it was okay.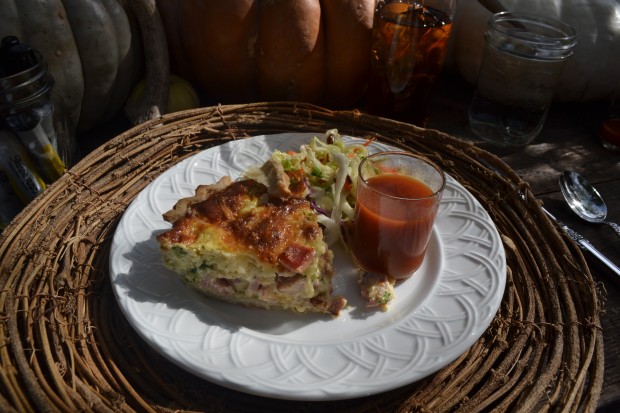 Sarah had the cutest "glasses" for the Tomato Kettle Soup.  I do not think she would mind if I told you.  That little "glass" is really a votive cup.  Wow!  Sarah found these "glasses" on the wedding aisle at Michael's.  There were twelve in a package, and they were perfect for our little drink.
Remember to click on the title of this post to go to landbird.com for the recipe.  The print button is under the share button.
Thank you for reading Lanabird.  I appreciate each and everyone of you so very much!
Blessings to you and yours,
Correction:  In the post about Sarah's ministry, I mentioned – she now knows fifteen of her neighbors by name.  That sounded like a lot to me.  WRONG!  She now knows fifty (Yes, 50.  That would be five tens and zero ones.) of her neighbors by name.  WOW!  What a difference Sarah has made in her neighborhood.  Sorry, Sarah.
Tomato Kettle Soup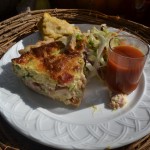 By Lana Published: November 26, 2013
A delicious tomato broth. Serve it hot or cold. Recipe from Mary Pittman's cookbook - Collectibles.
Ingredients
Instructions
Mix all ingredients together.
Heat and serve in mugs or refrigerate and serve cold.
Mary Pittman also mentioned that this makes a good bloody bull mix.