Eighteen days ago I encouraged you to plant paperwhites so you could have blooms for Christmas.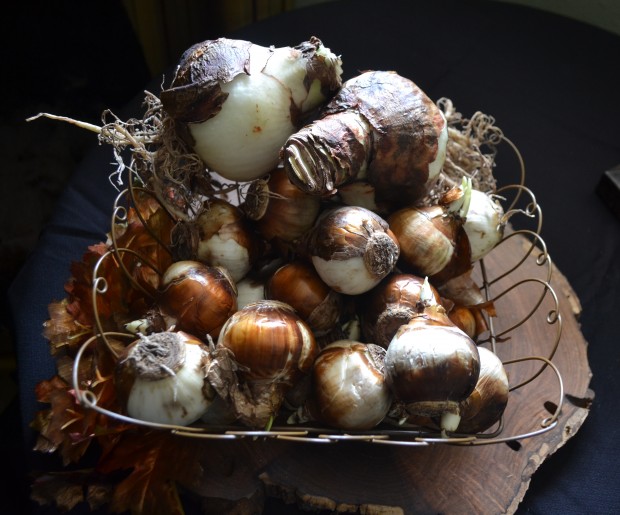 The directions said the bulbs would produce showy white fragrant blooms in about 6 weeks (A few other sites mention 4 to 6 weeks.)  We had planted paperwhites a few years back, and as we remembered, that timing was correct.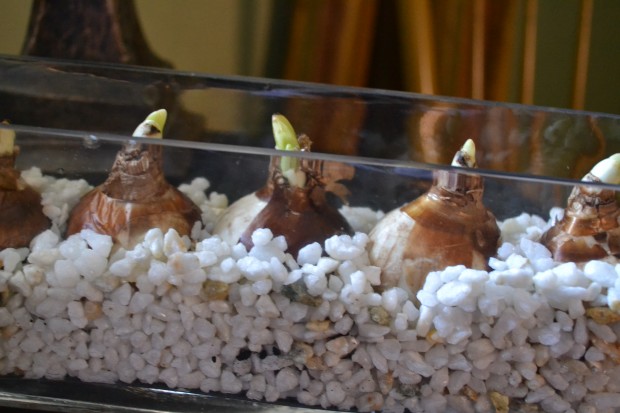 I did my math.  It was November 11.  In four weeks it would be December 9.  In six weeks it would be December 23.  Any time between those two dates would be perfect! – Just in time for Christmas.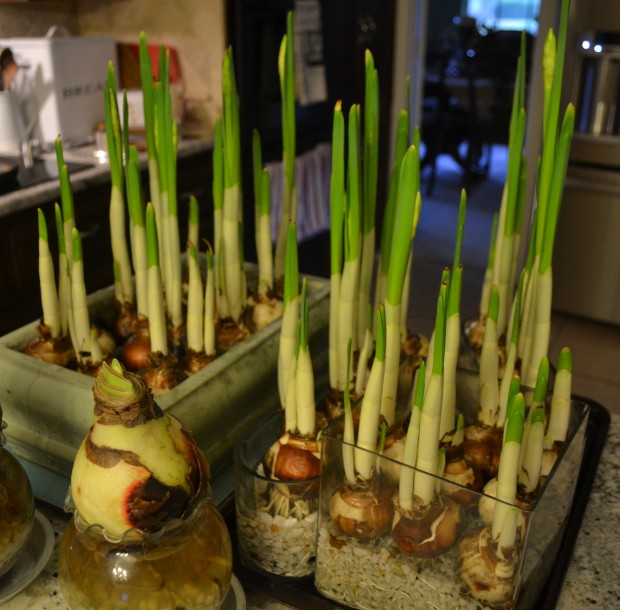 Sweet Mother of Pearl.  It did not take me long to realize that these paperwhite bulbs were -shall we say – super bulbs.  It is as if they are paperwhites on steroids.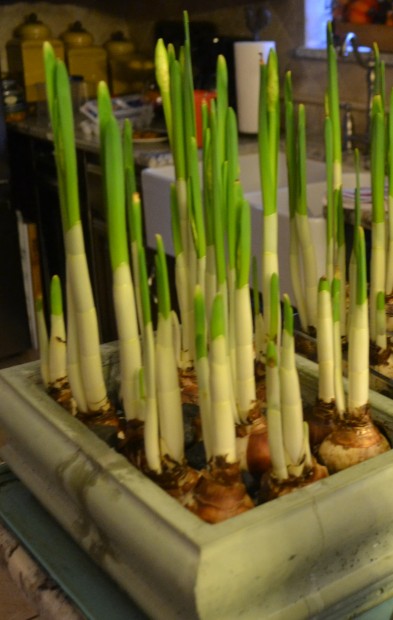 At a little over one week old, they already had some buds.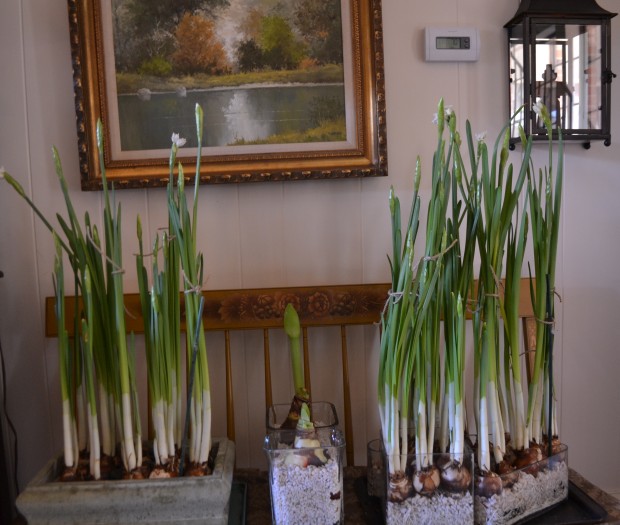 My paperwhites are blooming overachievers.
After only eighteen days (Less than 3 weeks.), some of the paperwhites are (I kid you not.) thirty inches tall.  Yes, that is correct – they are 30 inches tall and blooming.  I swear I have heard them growing.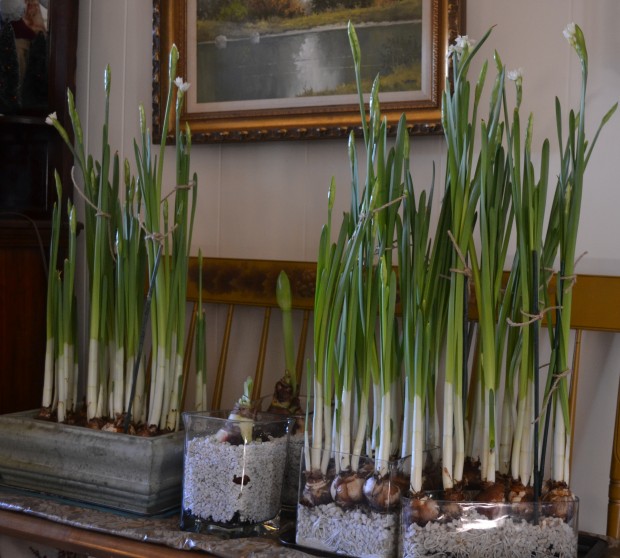 Do not get me wrong.  It is impressive to me that these bulbs – under my watch – are still alive and flourishing . (I am not known for my skills with plants.) But… Thirty inches in eighteen days.  That is amazing.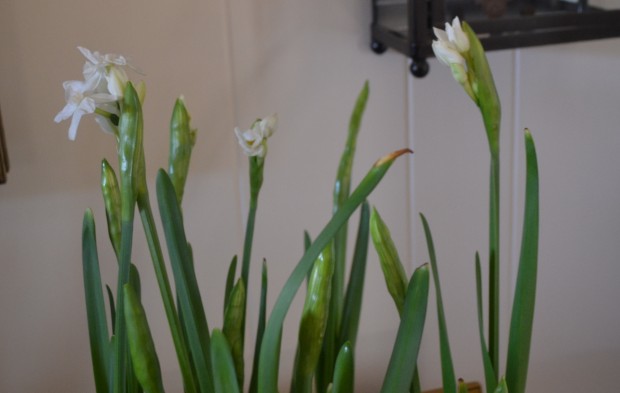 Be still my heart.  I do love these pretty little blooms, even thought they are early.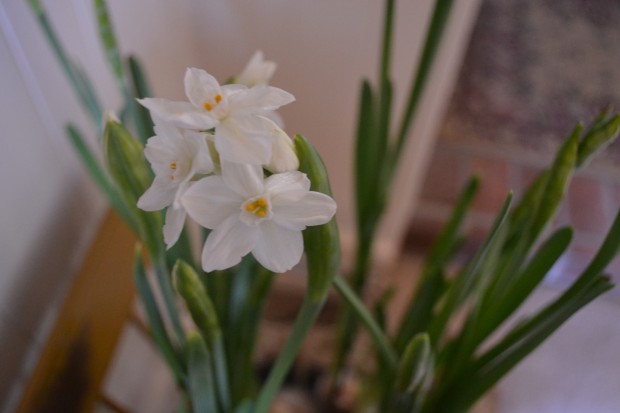 How pretty is that flower?   And the fragrance is beginning to fill our home.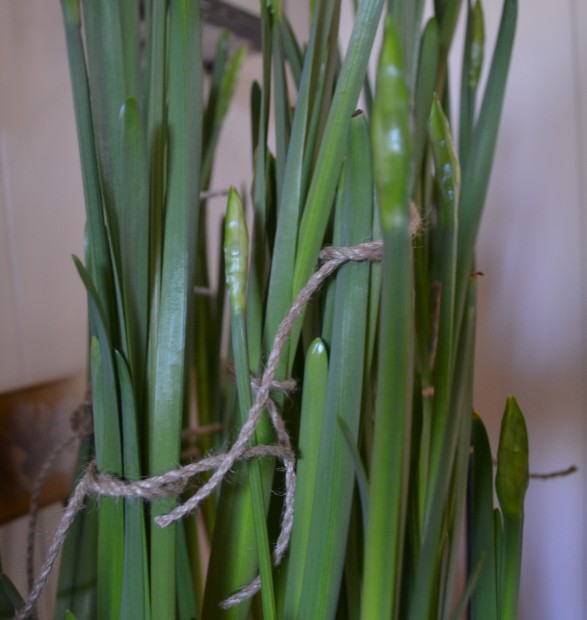 We first tried staking the paperwhites, but they outgrew the stakes.  Now they are tied together with twine, and I think they look lovely.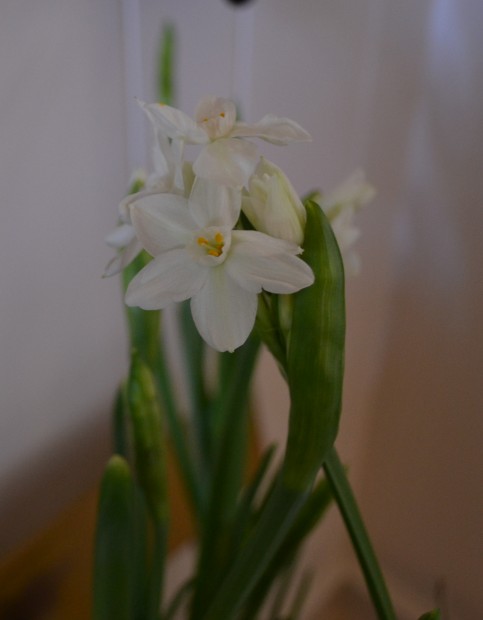 Christmas came early to our house, and I can not wait to have these showy beauties on our tables.
Blessings to you and yours,
I read this week that if you add a little vodka to the water when first planting the paperwhites, it will stunt their growth and they will not grow so tall (Mother always told me that liquor would do that to organisms.)  I do not know if it is true, but…. Just sharing.