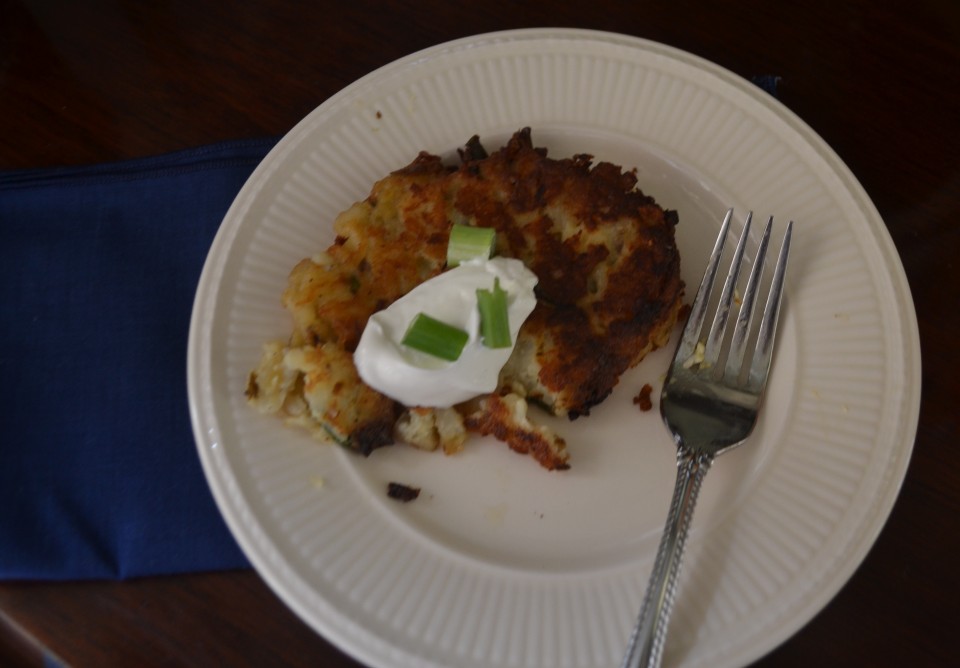 There have been several recipes on other blogs detailing what to do with Thanksgiving leftovers.  Most have to do with turkey.  This is different, but worthy of sharing.  Number Three Son wanted plain baked potatoes ("Not those twice baked ones you did before."  Got it!)  I made plenty, and we had potatoes leftover.
As a child, Mother would take leftover mashed potatoes, and make potato cakes. (That is what we called them.)  Says I to myself, "Why not try this with leftover baked potatoes?"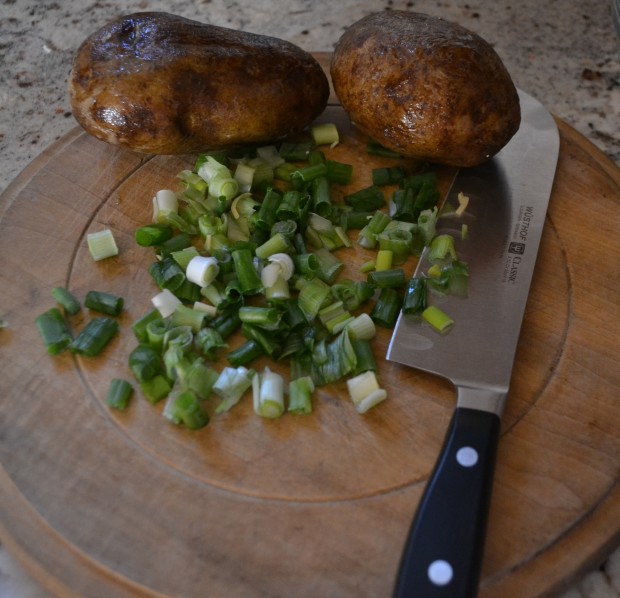 We also had leftover chopped green onions.  Might as well use the onions also.  They added an extra bit of flavor to the potato cakes.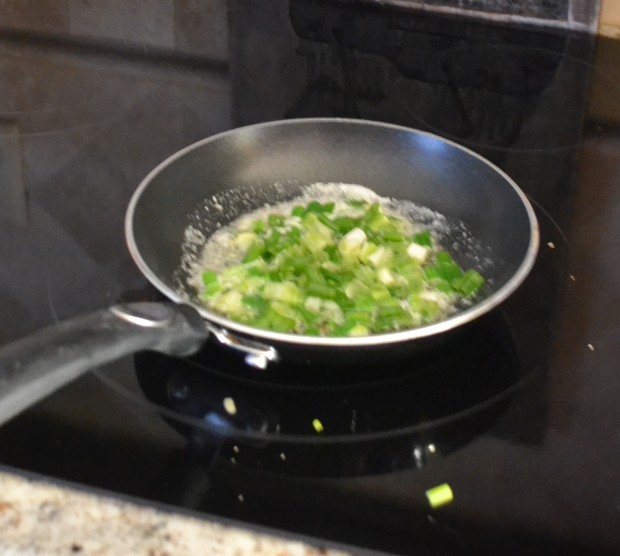 I decided to sauté the green onions in a little butter because I like onions that have been sautéed in a little butter.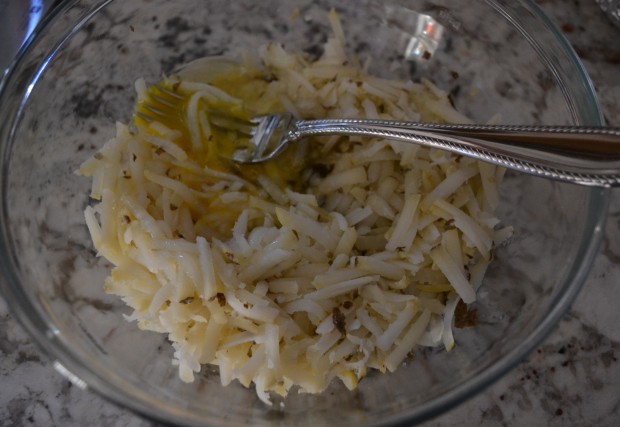 I first tried to scoop out the potato from the skin, but that did not work well.  Then I grated the potatoes.  Very easy.  Most  of the potato skin did not grate, and what little skin was in the potatoes was okay with us because we do not mind eating the skin.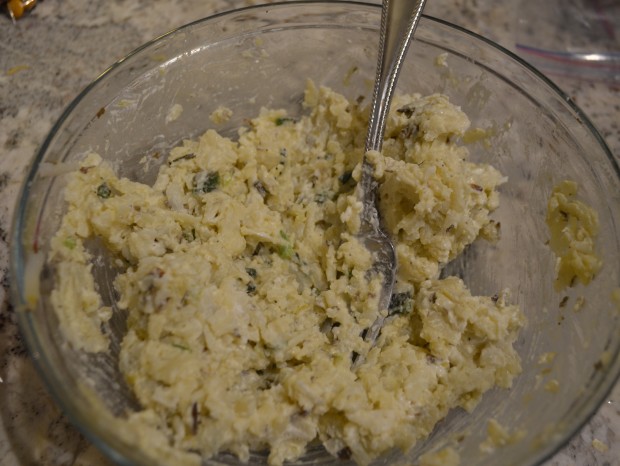 Combine the potatoes and the onions.  Mix in one egg, and add salt and pepper to taste.  I added a little sour cream to make it good and creamy.  (Voice of experience go lightly with the salt at first or the potatoes will be too salty, and you will have to grate another potato.)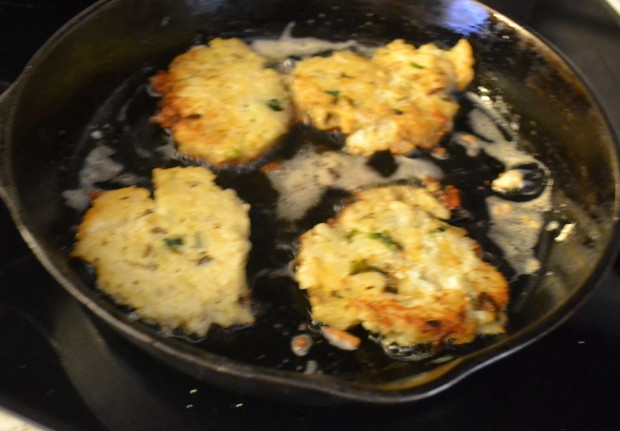 Using a 1/4 cup scoop, drop the potato mixture into the hot oil/butter combination. (Keeps the butter from burning.)  Flatten the potatoes so that they will be flat little cakes.  Fry until lightly browned.  Carefully turn the potato cakes over and brown on the other side.  Drain potato cakes on a paper towel to absorb excess oil.
Three medium potatoes made 8 potato cakes.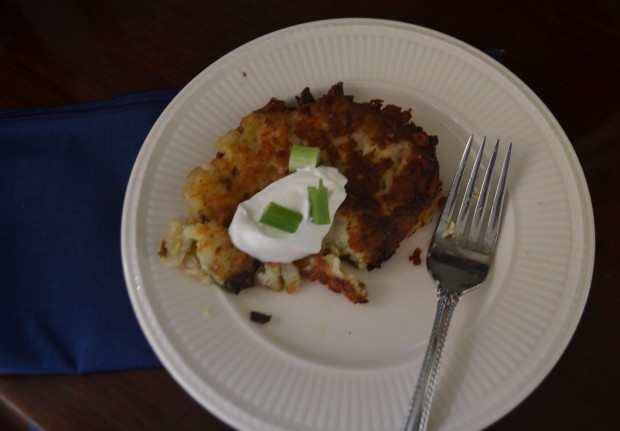 Garnish with a little sour cream and green onions. (optional)
That is it.  So easy, and Ever-Lovin' declared, "These are good."  (His highest compliment.)
Blessings to you and yours,
We had these potato cakes for breakfast, but they would also be a good side dish.
Click on the title of this post to go to lanabird.com for the printable recipe.  The Print button is under the Share button.
Thank you for reading Lanabird.
Potato Cakes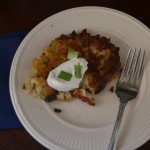 By Lana Published: December 1, 2013
Yield:

8 potato cakes

Prep:

5 mins

Cook:

5-10 mins

Ready In:

10 mins
Use leftover baked potatoes to make delicious potato cakes.
Ingredients
Instructions
Saute green onions in a little butter.
Grate baked potatoes.
Mix egg and sautéed onions into grated potatoes.
Stir in sour cream and salt and pepper to taste.
Heat a little butter and oil in a heavy skillet. Drop about 1/4 cup of potato mixture into hot oil/butter mixture. Using a little oil in the butter will keep the butter from burning. Fry potato cakes over medium high heat. Carefully turn over when browned and brown the other side.
Drain potato cakes on a paper towel.
Serve with a dollop of sour cream and garnish with chopped green onions. (Optional)