First – I have missed you.  Really, really missed you.  I thought I would only miss writing a couple of posts while on our trip to New York City, but weather in Dallas prevented us from returning.  Honestly, getting stuck in New York City is not horrible, but not getting to write Lanabird was.
Now there is so much to share.  Where do I begin?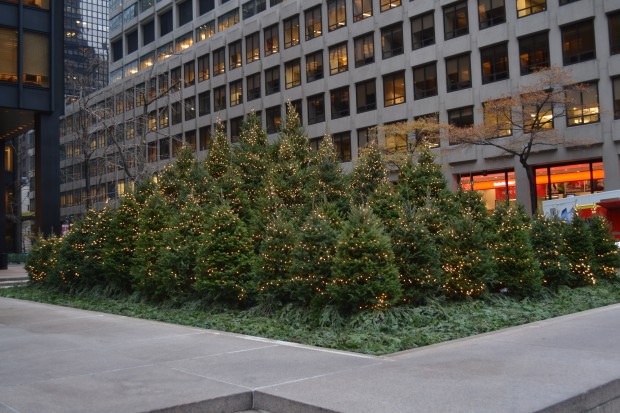 Let it be known that while in New York City we walked and walked, and walked – more than I ever dreamed we could walk.  Somehow the energy of this city is contagious.  Shortly after arriving, we decided to walk to Rockefeller Center to see "The Tree".  We had seen lights around the city as we taxied in from the LaGuardia Airport, and wanted to see more – up close and personal no less. In the beginning, I was impressed by this little forest of lit trees down from our apartment.  But – I hadn't seen nothin' yet.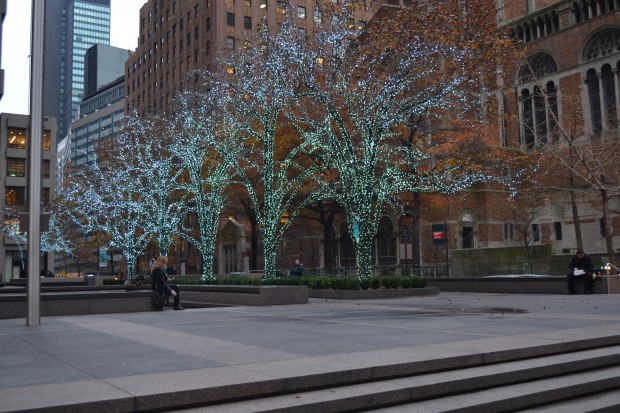 Simple, but beautiful.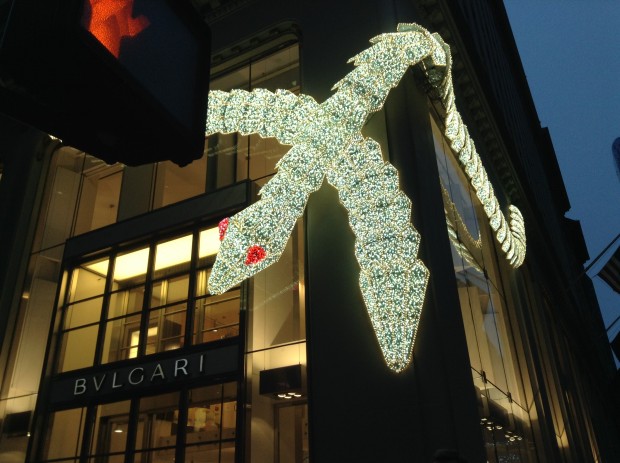 Sweet Mother of Pearl!  This glistened every bit as much as the BULGARI jewels.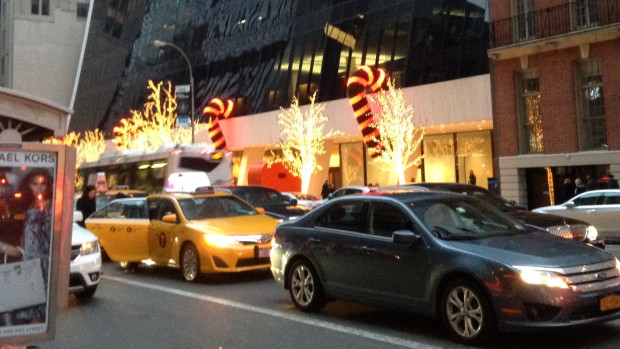 Giant lit candy canes adorn both sides of this building.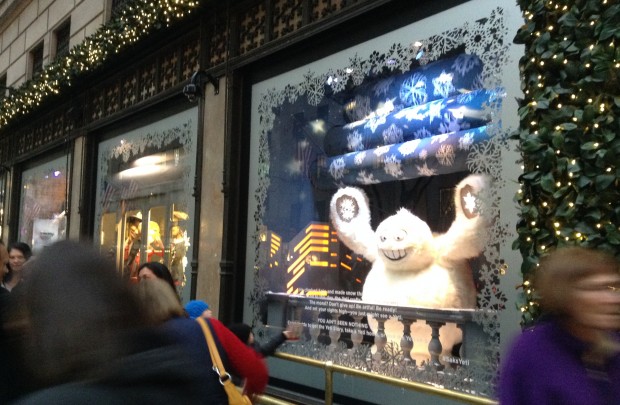 We had to get in line to view the Sak's animated windows.  This year's theme was Yeti, and each window is part of the story.  Very impressive.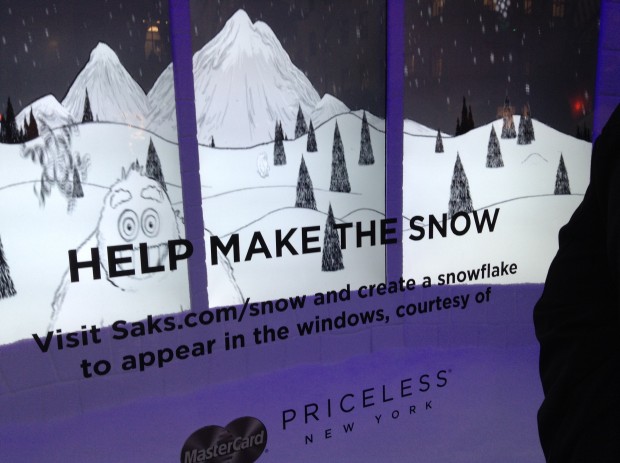 I thought this would be fun to create a snowflake that would appear in the windows.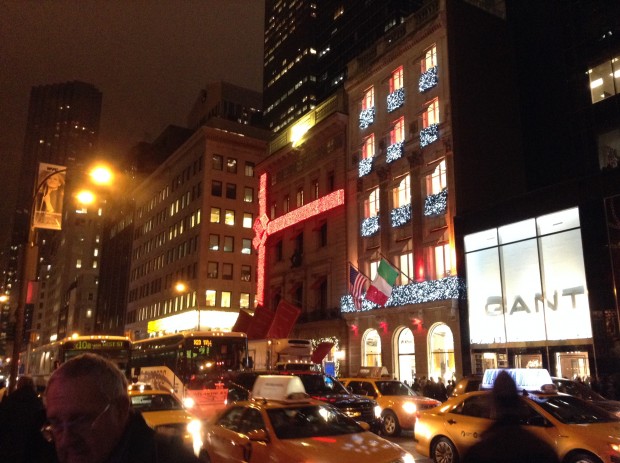 The Cartier building is wrapped in red ribbons (lights) and is dazzling.  The white at the top of the building is the cat. WOW!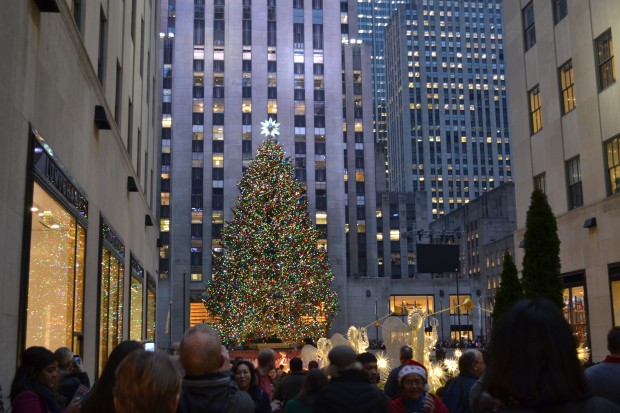 Then we turned the corner.  Be still my heart.  There was the giant Norway spruce Christmas tree in Rockefeller Center.    For 81 years a Christmas tree has towered over the ice rink in Rockefeller Center.  Here is information about this year's tree that I found on Today News.
"For more than 20 years, the tree was part of the everyday life for the Vargoshe family at their Connecticut home.  Now they are sharing the 76-foot-tall piece of their family with the world, as it will serve as the tree that will illuminate Rockefeller Center for the 81st time this year. The 12-ton Norway spruce, which is 76 feet tall, 47 feet in diameter, and approximately 75 years old, arrived at Rockefeller Plaza on TODAY Friday in preparation for the annual lighting ceremony that will be held on Dec. 4. The Vargoshe couple, Louise and John, and sons Nathan, 15, and Noah, 12, made the trip from their home in Shelton, Conn., to Rockefeller Plaza to say goodbye to their tree one last time."
It is decorated with 45,000 multi-colored LED lights, and topped with a 9 1/2 foot wide Swarovski star. This tree truly is spectacular.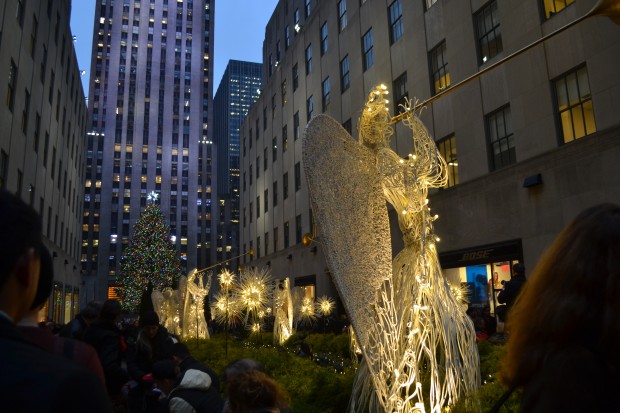 The angels have been part of the traditional decorations of Rockefeller Center for many years.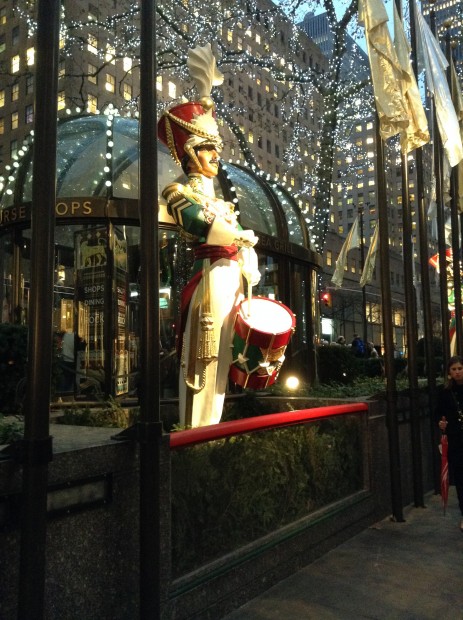 There is more.  Soldiers stand guard with instruments around the courtyard.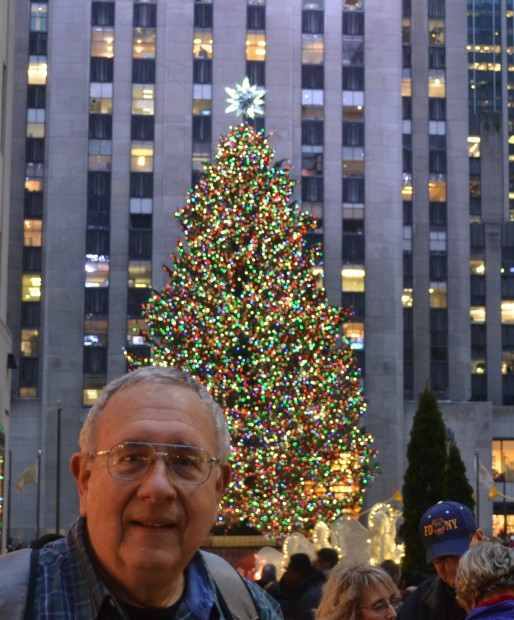 We had been in New York City for less than a half a day, and I could truly say – I Heart New York.  Even with the crush of the people, it seemed magical.  Plus, I was so happy to be sharing this adventure with my Ever-Lovin'.
Blessings to you and yours,
More to come!
I really did miss you!