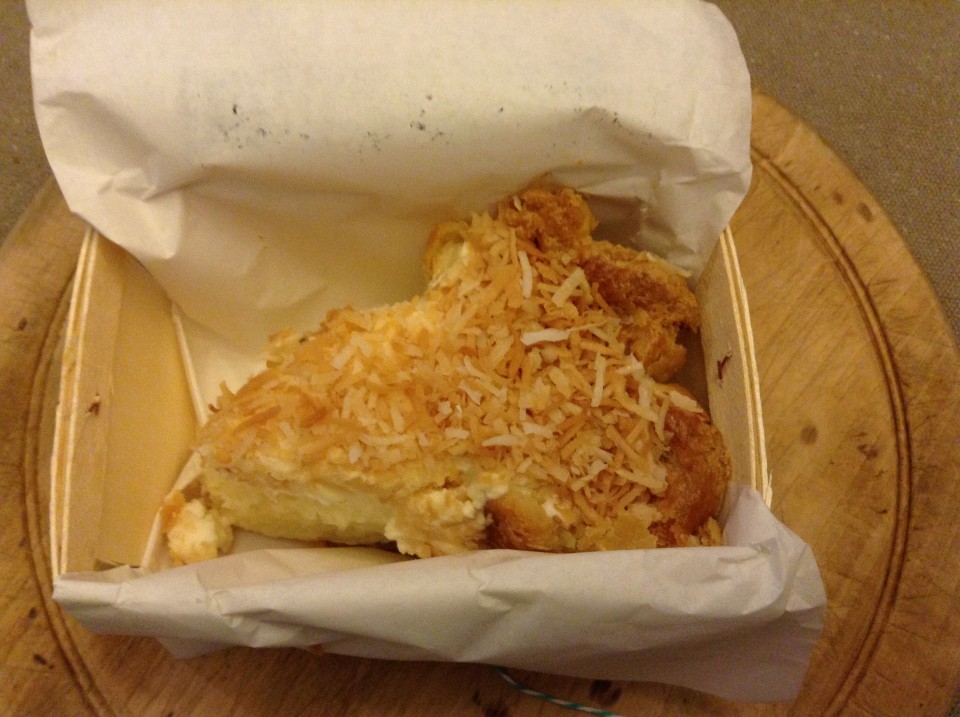 I am so happy I do not live in McKinney, Texas.  Do not get me wrong.  I love McKinney, Texas with its historic homes, beautiful court house, charming shops, boutiques, and trendy eateries.  That is exactly the point of this blog.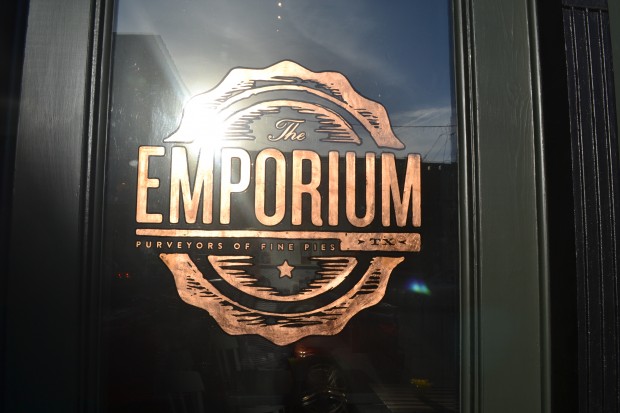 Friend Betty's son Paul told her about Emporium Pies.  Friend Betty told me about Emporium Pies.  Emporium Pies was on my "Want to do List".  We went to Emporium Pies in downtown McKinney and bought a couple of slices of pie to sample.  Be still my heart.  I was in pie heaven.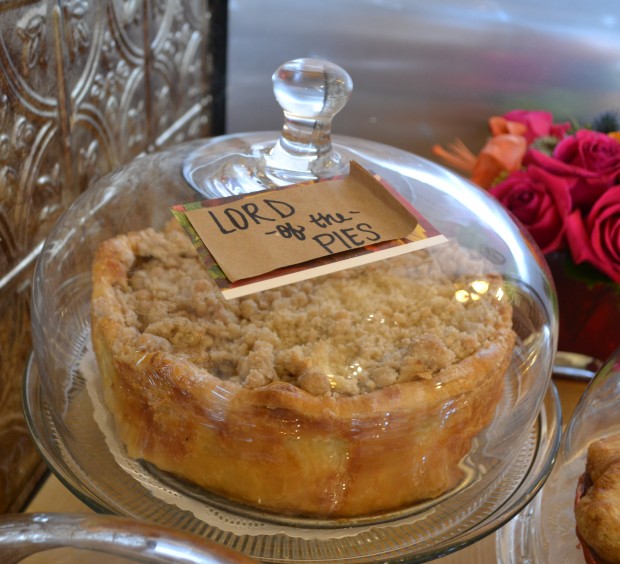 We sampled a slice of Lord of the Pies which is a deep dish (imagine a pie the size of a layer cake) apple pie.  There are ten apples in each pie, and they are coated in house made caramel.  On top is the most delicious cinnamon streusel.  What is not to like?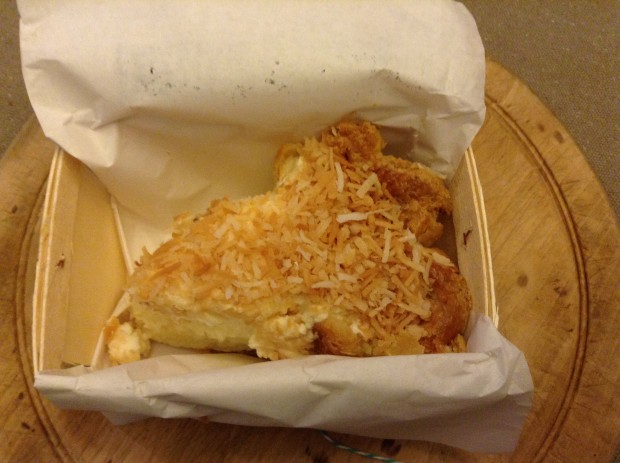 Our other choice on day one was the Snowball.  Fantastic!  Maybe the best coconut cream pie I have ever eaten.  The flaky crust is filled with creamy coconut custard, topped with house whipped cream and toasted coconut.  One of the girls behind the counter mentioned that she does not even like coconut, but this is her favorite.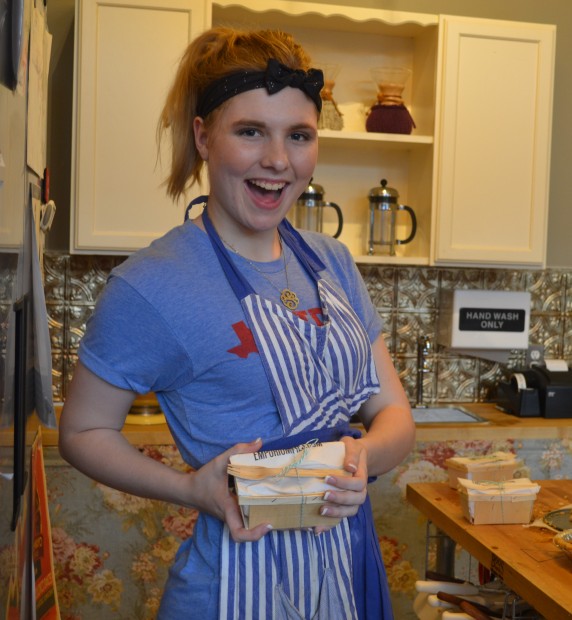 The girls at Emporium Pies are so friendly.  This young lady easily told about each pie, and made me want a slice of each one.  Look at the cute crates that hold the pie slices.  What a charming touch.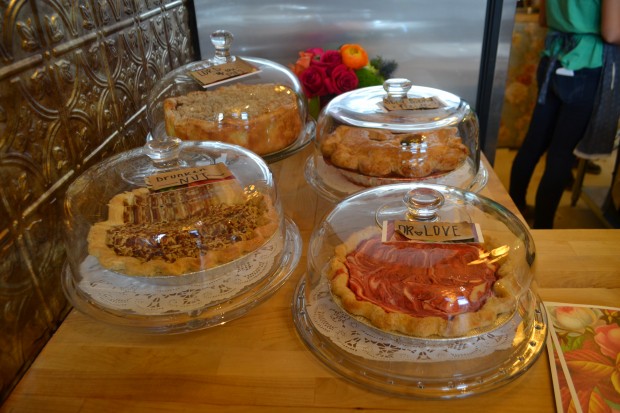 On day two, we had to go back to McKinney (I left Trusty Camera in Betty's van.), and we thought it would be okay to sample more pies (for blogdoms sake of course).  Do you see where this is going?  – This is why I am happy I do not live in McKinney, Texas.  If I lived in McKinney, Texas, it would be very difficult to resist the urge to visit Emporium Pies on a regular basis, and that would not be a good thing for the diet. – What to try next was the question.  We knew we wanted to try a slice of The Drunken Nut.  That is it in the front on the left.  There is no corn syrup in this pecan pie that has a shortbread crust.  My, oh my, I loved this pie.  It was filled with Texas pecans, and it was beyond delicious.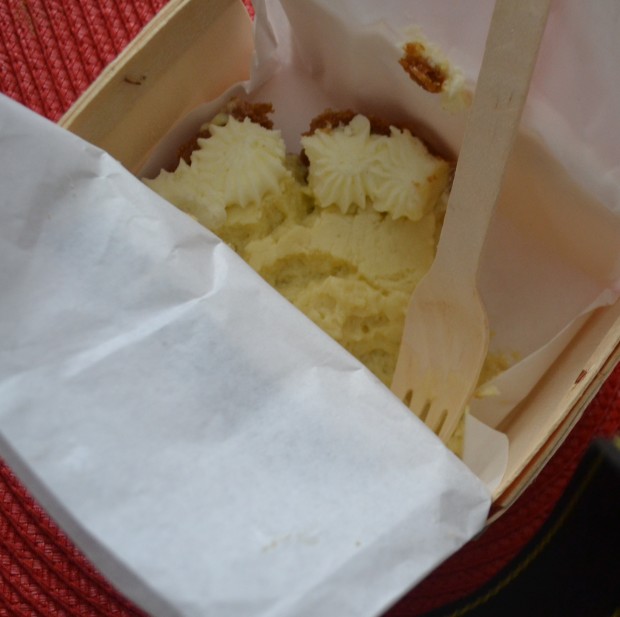 We also sampled In the Limelight – a lime custard pie topped with whipped cream.  This pie did not travel as well.  It was very tasty, but….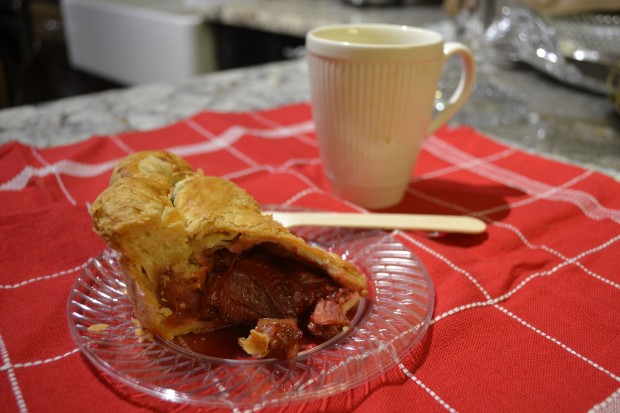 The third sample (okay, slice) we brought home and saved for another day was Strawberry Fields – a strawberry, rhubarb, and raspberry medley that fills a flaky crust.  The filling is thick and somewhat tart.  It was delicious.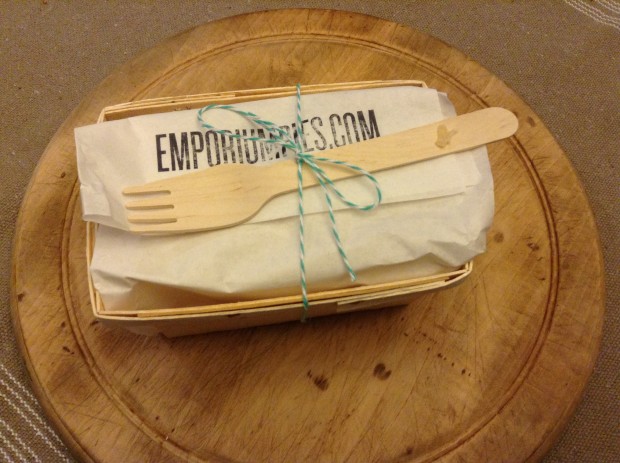 I would have to say that the Snowball and The Drunken Nut were my favorites, but all of the pies we tasted were praise worthy.  What I liked about these pies is that they were different than any pie I have ever made.  I believe their slogan is "Purveyors of Fine Pies".  Yes, I would have to agree.
Emporium Pies first location is in the Bishop Arts District of Oak Cliff.  I love that these Oak Cliff eateries are coming north.
Emporium Pies has received many favorable reviews from the press.  D Magazine named them the Best of Dallas – 2013 – Best Pie.
They only sell pies and beverages in this little shop.  The menu offerings change with the seasons.
Again, I am thankful I do not live in McKinney – but oh, sometimes I wish I did.
Blessings to you and yours,
Thank you Paul and Betty for the recommendation.