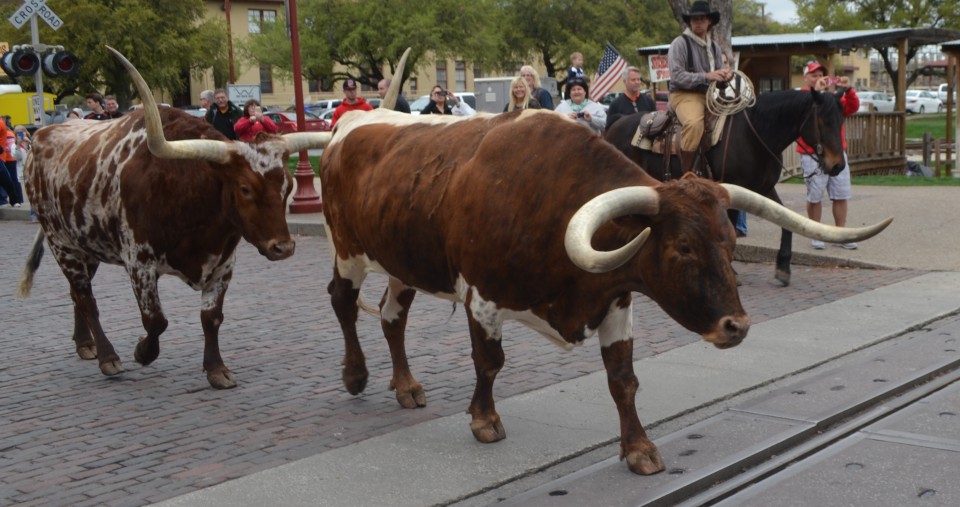 Nothing says Texas or at least Fort Worth, Texas more than the Fort Worth Herd Longhorn Cattle Drive.

While on a tour of Fort Worth, Texas with the Allen Retired Teachers, we had lunch at the Stockyards.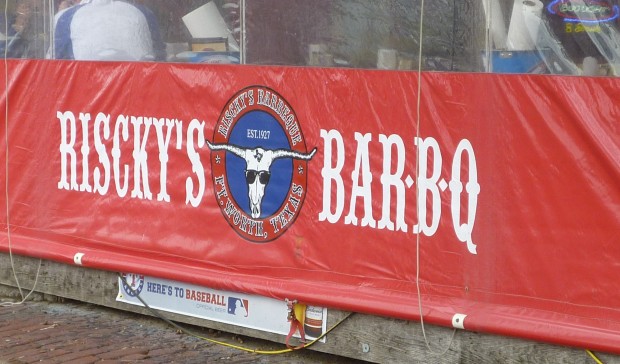 After lunch at Risky's Bar-B-Q (It was just so-so.  Fort Worth has better.), we all gathered along East Exchange Avenue to view the cattle drive and imagine how it might have been during the days of long ago.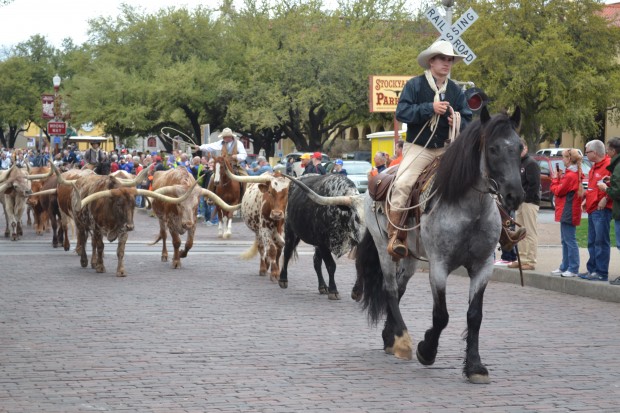 Twice a day at 11:30 a.m. and 4:00 p.m. the longhorns pass along the brick lined street to the crowd's amazement and delight.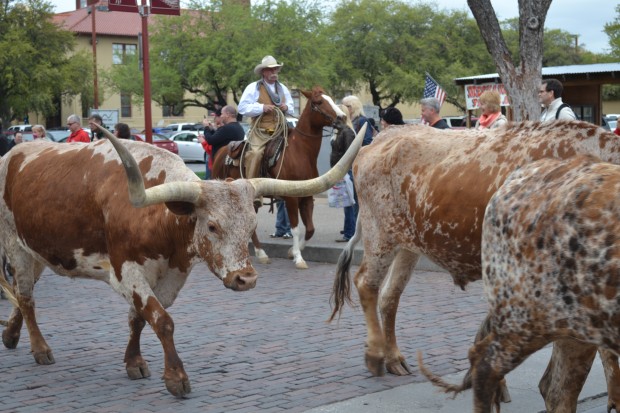 From fortworth.com I learned:
The Fort Worth Herd was created as part of the city's sesquicentennial celebration. The city acquired a herd of fifteen Texas Longhorns, each steer representing one decade from Fort Worth's colorfulpast. The city also hired a diverse team of drovers clad in authentic 19th century clothing and riding horses mounted with period correct saddles.
On June 12, 1999, in front of 15,000 spectators, the Fort Worth Herd made its first cattle drive to the Fort Worth Stockyards Historic District.
Since then, twice daily, the drovers drive the longhorns along East Exchange Avenue, harking back to a time when the great herds rumbled through the dusty streets of Fort Worth on their way to market.
I never knew that this cattle drive began as part of Ft. Worth's sesquicentennial celebration.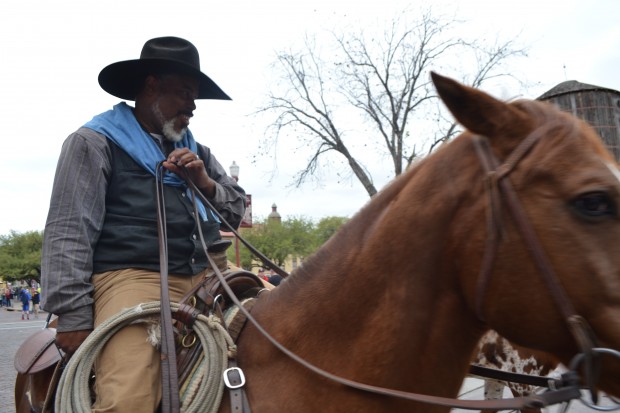 Also the drovers wear authentic 19th century clothing, and the saddles for the horses are "period correct" also.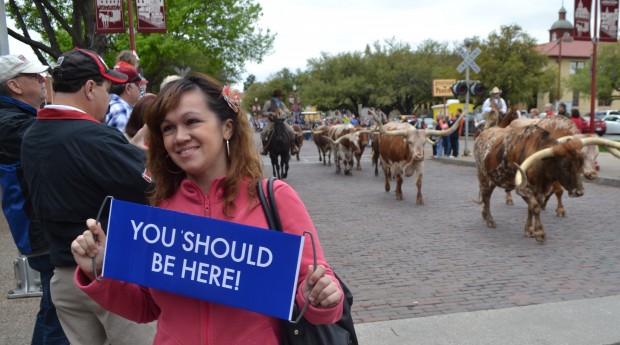 This sign (YOU SHOULD BE HERE!) is so cool.  Talk about being prepared.  Dontcha know her friends wished they were there.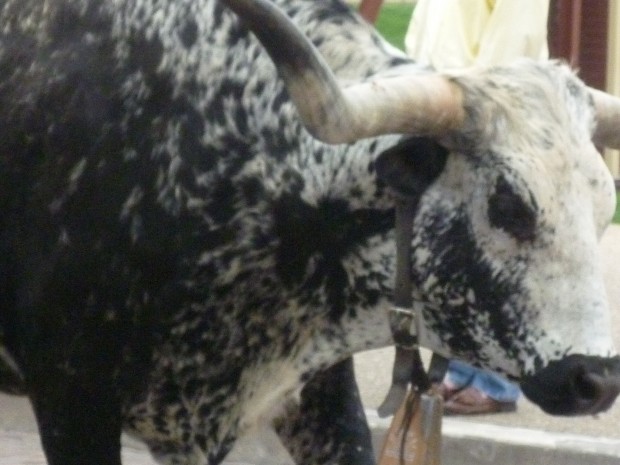 It is amazing to see these magnificent animals up close.  You can go to the website and learn more about the herd and the drovers.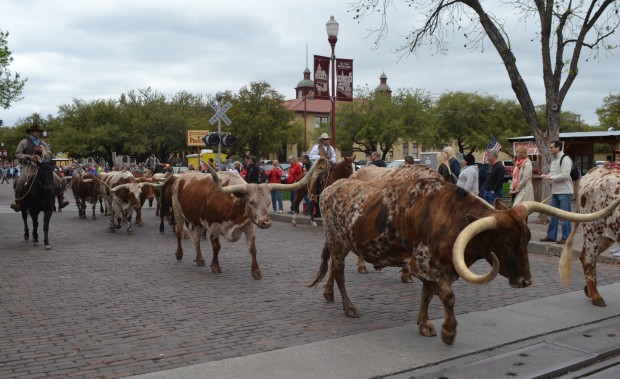 Not only do the longhorns walk the streets of Fort Worth twice a day, they also are available for special events and educational programs.  The aim is to educate others about early cattle drives in Texas, and the importance of cattle to Fort Worth and Texas history.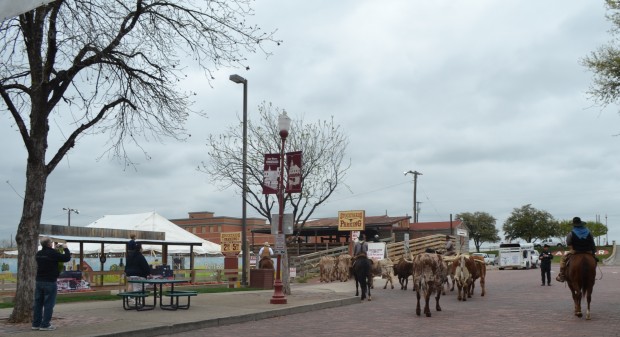 The Fort Worth Herd Longhorn Cattle Drive seemed to be over too quickly.  This is a must see experience on a visit to Fort Worth.
Blessings to you and yours,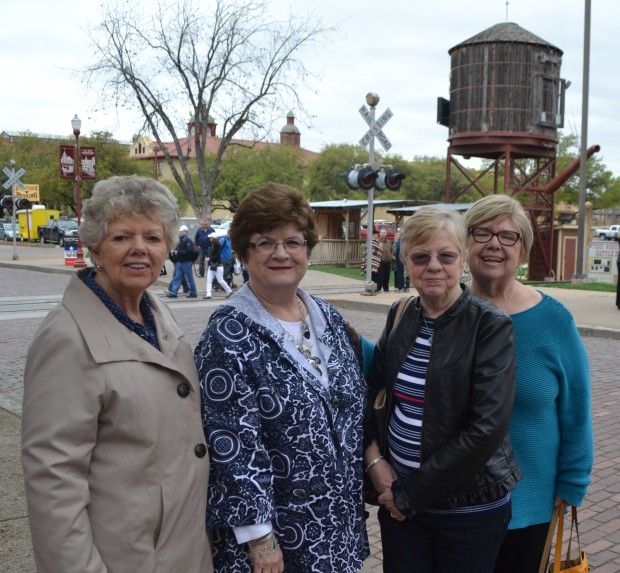 Carolyn and Minetta are members of the Allen Retired Teachers, and they were gracious to invite Friend BB and me to join them on the tour of Fort Worth led by Rose-Mary Rumbley (She is so funny and has a bazillion tales to tell.)  Be still my heart!  It was a fantastic day, and I will be sharing more.
Thank you, thank you, thank you, Carolyn and Minetta.