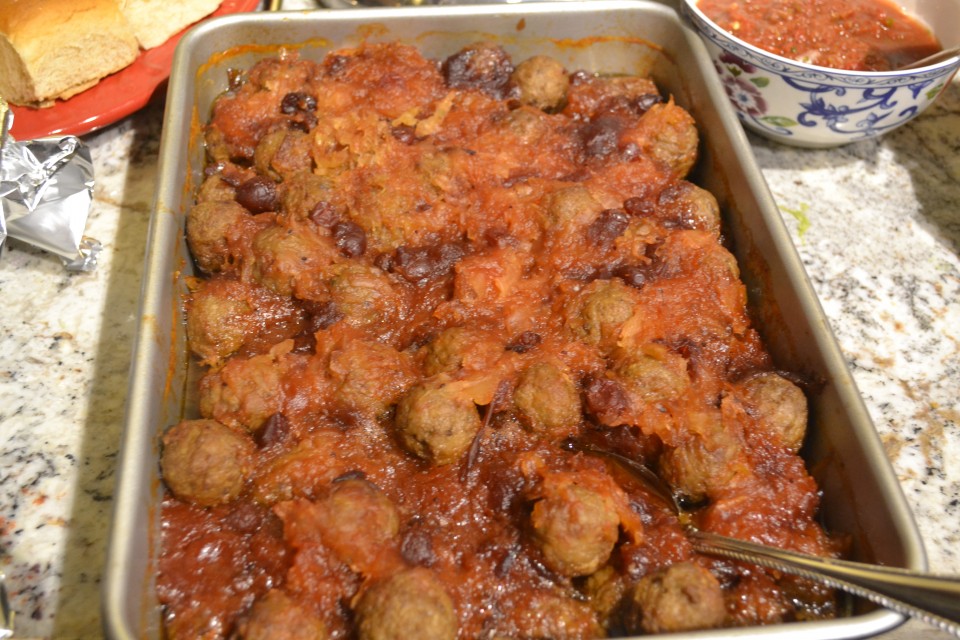 Are any of you like me?  Since Christmas has come and gone, I am left thinking about all the things I didn't do.  Do not get me wrong.  I did plenty, but I always want to do more. (I realize that this is a fault, but I can't help myself.)  I wanted to see the lights in Paris (okay that is a little much), but I did want to see Christmas lights in Johnson City, Galveston. Addison, Deerfield in Plano, and…so many other places.  I wanted to make toffee, tassies (fruit cookies), and chewy pecan pralines.  I wanted to have neighbors over for coffee.  I wanted to wrap packages that coordinated and had pretty bows on them.  I wanted….
Then I think about the good times we did have (parties with friends, music, the first Christmas with Pretty Baby, and Hot Rod proclaiming it "The Best Christmas Ever"), and I am more than satisfied and happy.  It was a wonderful Christmas.
One thing I did do was to make the Polly DuPont Meatballs.  They are easy and delicious.
I honestly thought I had posted this recipe, but when I searched, I couldn't find it, so…  Here it is.
There are no pictures, but it is so easy you can do it.
You take a 3 pound bag of frozen meatballs and put them in a 9X13 pan.
Then you make a sauce with a bottle of chili sauce, a chili sauce bottle of water, a can of sauerkraut (drained), a can of whole berry cranberry sauce, and 1/2 cup of brown sugar. Pour this mixture over the meatballs.  DO NOT STIR.  Bake in the 350 degree oven for about an hour.  That is it. Everyone seems to love these meatballs.  You can serve them at a brunch, a lunch, a supper, or as an appetizer.  We have even served them at baby and wedding showers.  They are always such a hit.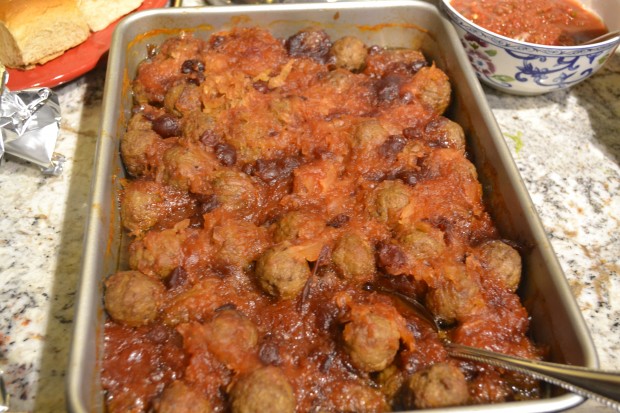 I have been known to make these meatballs in a crockpot, and it works well.
Enjoy!
Blessings to you and yours,
Polly DuPont was a North Dallas gift shop that held an annual Christmas Open House.  These meatballs were always served, and we always looked forward to eating them.  I miss Polly Dupont.  It was a wonderful shop.
For the printable recipe, go to Lanabird.com.  The print button is under the share button.
Polly DuPont's Meatballs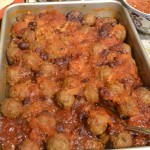 By Lana Published: December 26, 2014
Prep:

10 mins

Cook:

60 mins

Ready In:

1 hr 10 mins
An easy meatball recipe that is delicious. It can be served as an appetizer or any meal.
Ingredients
Instructions
Preheat oven to 350F degrees.
Put frozen meatballs in a 9X13 baking pan.
Combine, chili sauce and a bottle of water (use chili sauce bottle.)
Add brown sugar, sauerkraut, and cranberry sauce to the chili sauce/water mixture. Stir to combine.
Pour the sauce over the meatballs. DO NOT STIR!
Bake in the 350F degree oven for about an hour.
Enjoy!