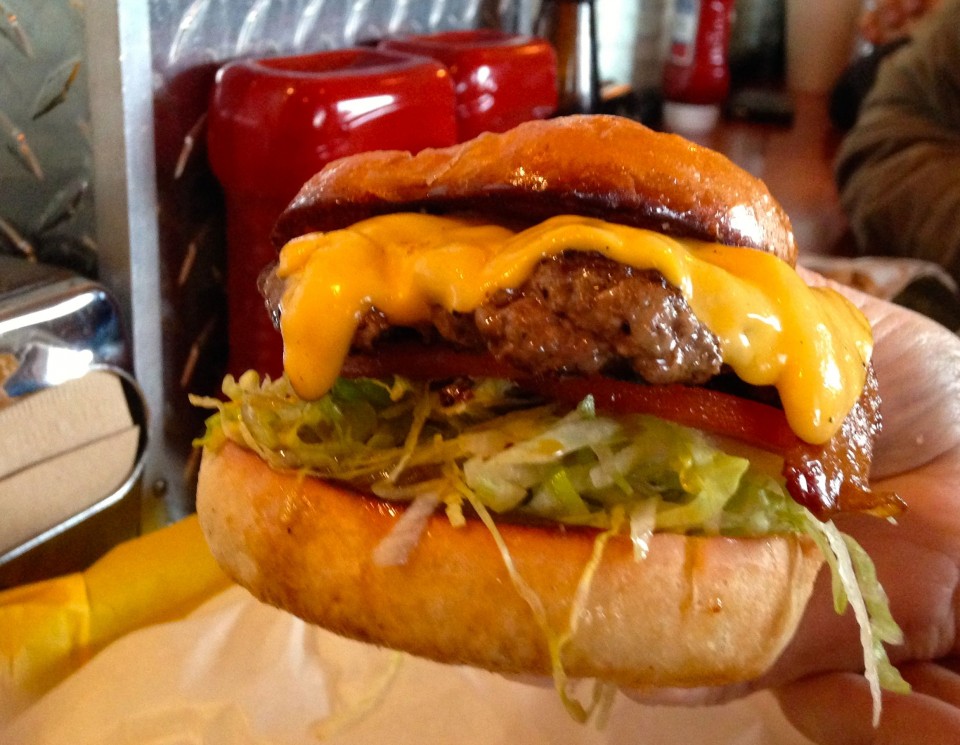 Off-Site Kitchen (OFK) is on several "lists" (Eater Dallas, D Magazine, Dallas Morning News, Yelp, Crave dfw….) of burger joints to visit in Dallas.  OSK had been on my "Want to Do List" for a long time.  In fact, we tried to go there once and could not find a parking space so we had to go to Plan B (Maple and Motor – which I knew we liked.)
Friend Pat asked if there was someplace I had been wanting to blog about. (I do have my "Want To Do List".) When I mentioned Off-Site Kitchen, they offered to go with us.  Well, really – we went with them.  Thank you, thank you, thank you, John for driving because OSK is not close to Richardson.)  It is located down at 2226 Irving Boulevard, Dallas, Texas.  For suburbanites, one needs to WANT to go there or be in the neighborhood.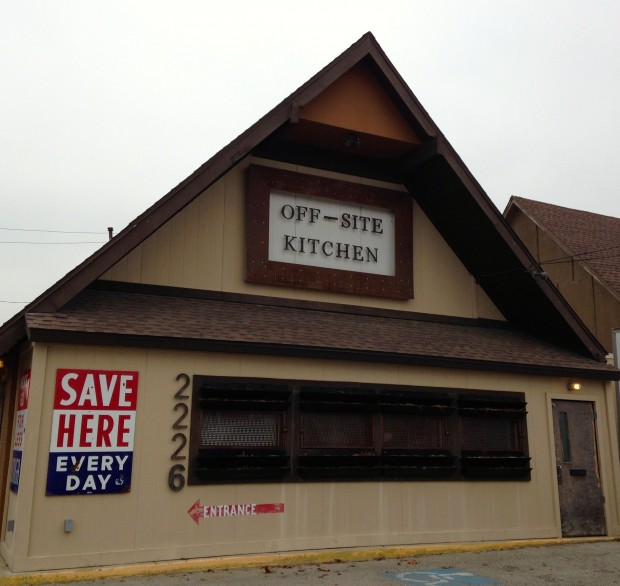 On this day, we were lucky.  We got the last parking space in the small parking lot.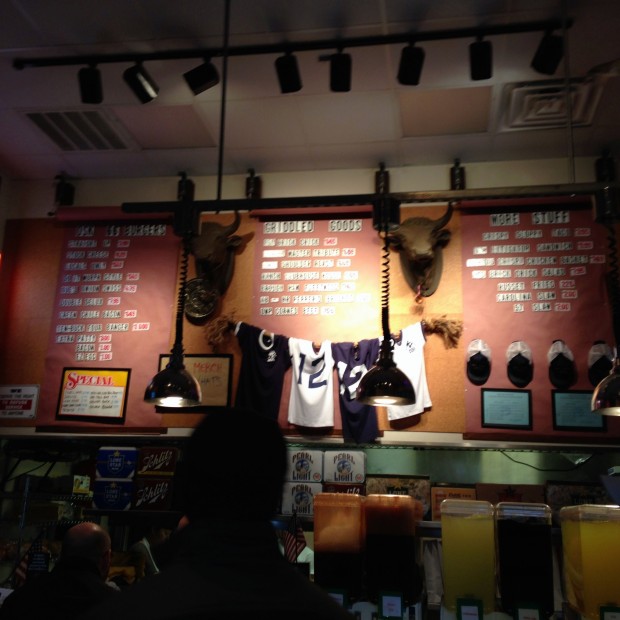 I thought the parking lot was small, but Sweet Mother of Pearl – I had no idea a restaurant could be this small.  OSK fits the description of a "Hole-in-the-Wall".  As we entered OSK, there was a line two people deep that snaked around to the counter to order.  The menu is on the board, and we were happy to find laminated menus to explain the offerings.  Cases in front of the counter held canned and bottled sodas.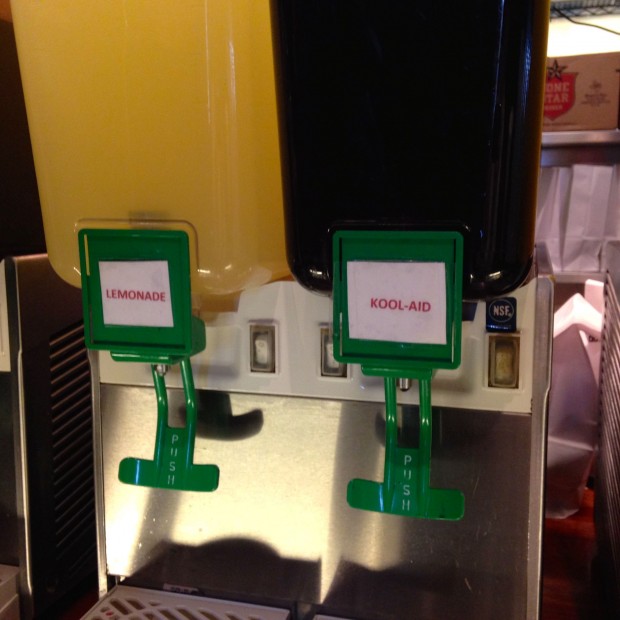 Dispensers offered Lemonade, and Kool-Aid (Yes!),  Other dispensers had Gatorade, and Tropical Punch.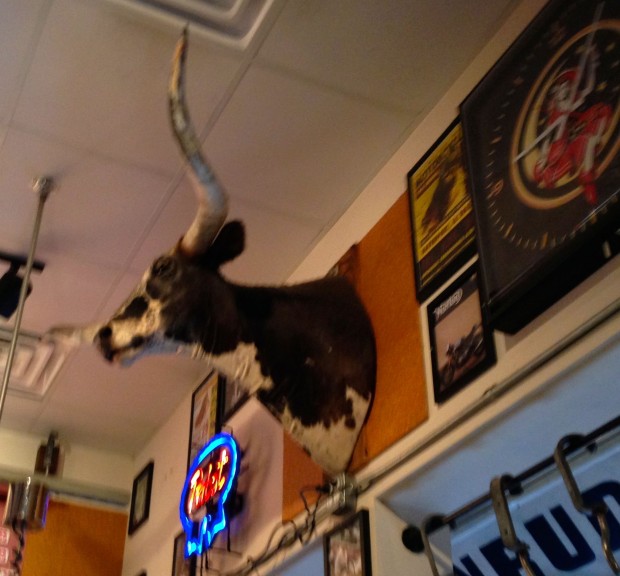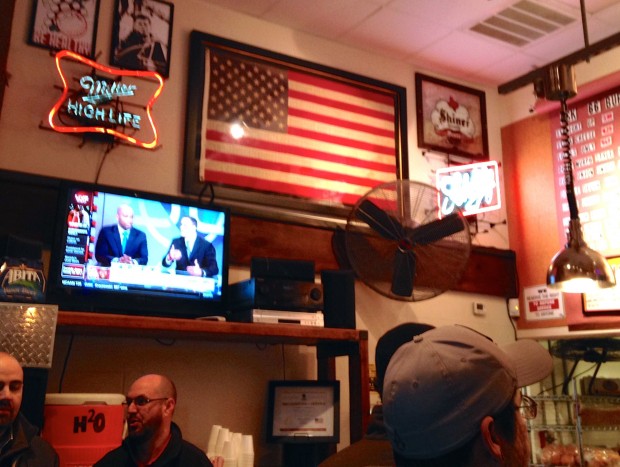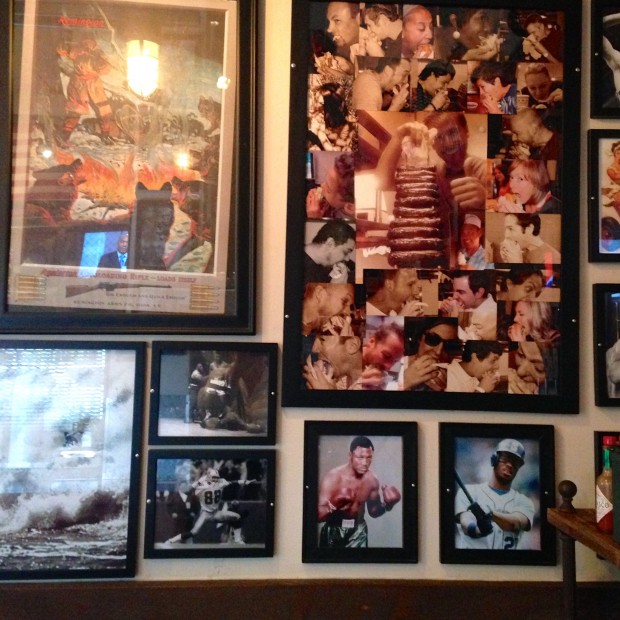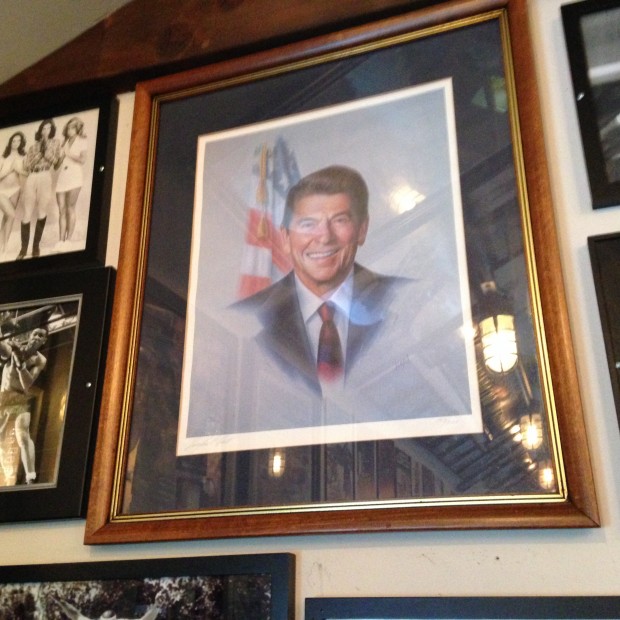 Walls and ceilings were covered with posters and photographs.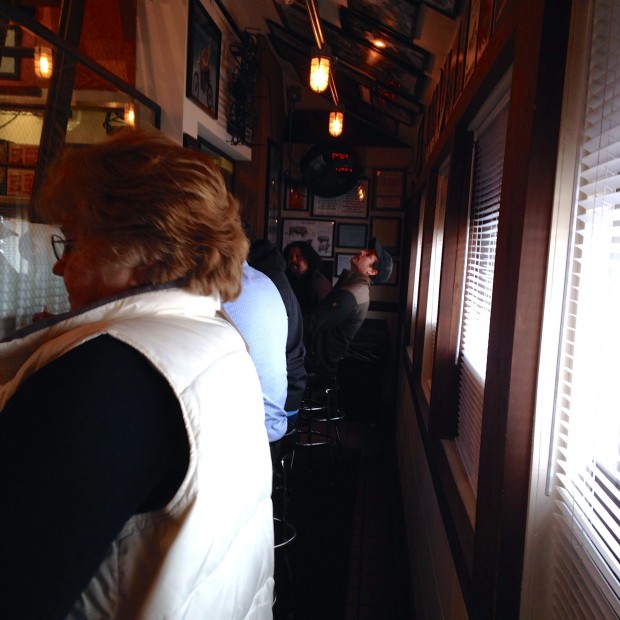 Lucky us.  We got a stool to sit on.  There is one row of stools for seating.  I guess it is part of the ambiance of OSK.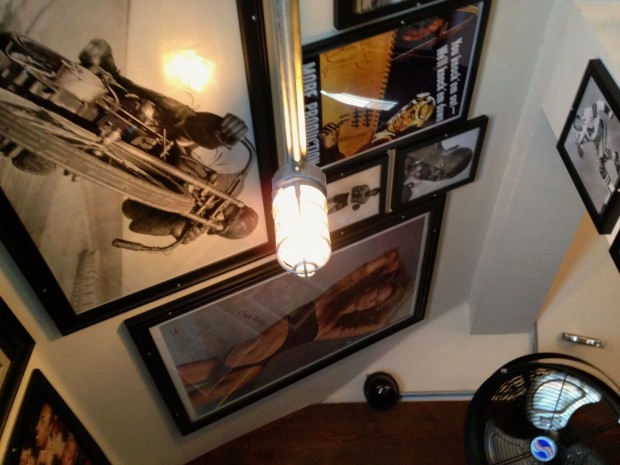 I show you this picture to give you an idea of the space allotted for seating.  My suggestion is to get there early or late if possible.  Off-Site Kitchen is only open for lunch from 10:30 – 3:30 Monday – Saturday.  They are closed on Sundays.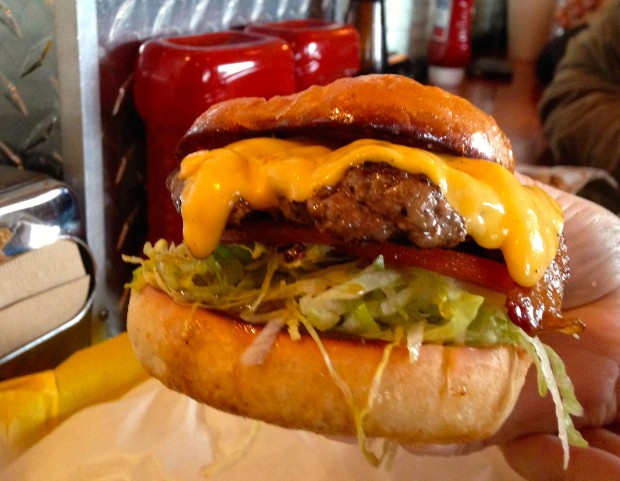 Be still my heart!  Then the food arrived.  The burgers were delicious.  Doncha love how the cheese melts over the meat?  The trimmings were fresh, and the Village Bakery Co. bun was grilled (Yea!).  The burgers are not huge, but that was okay with me.  They were so delicious. (I already said that, but I want you to know that their burgers are DELICIOUS.)  Pat and John got "Local Only"  that had bacon and chopped jalepenos.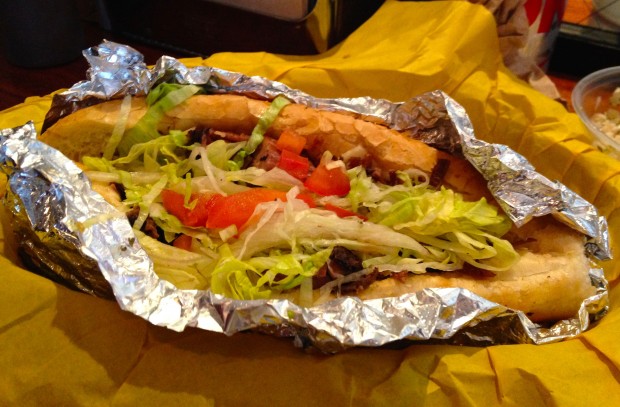 Ever-Lovin ordered the suggested 48 Hour Cracked Peppered Brisket Sandwich.  The bun is filled with slow cooked brisket, lettuce, tomato cherry pepper karut, caramelized onions, and 57 thousand slaw. The friendly lady who delivered our order gave Ever-Lovin' a BBQ sauce that she said would go well with this sandwich.  He agreed.  I understand why this sandwich is highly recommended.  It is excellent.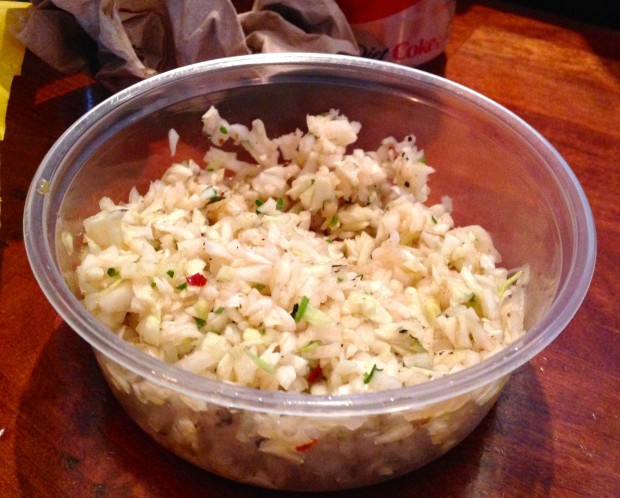 His Carolina Slaw was vinegary – what you would expect from a slaw from Carolina.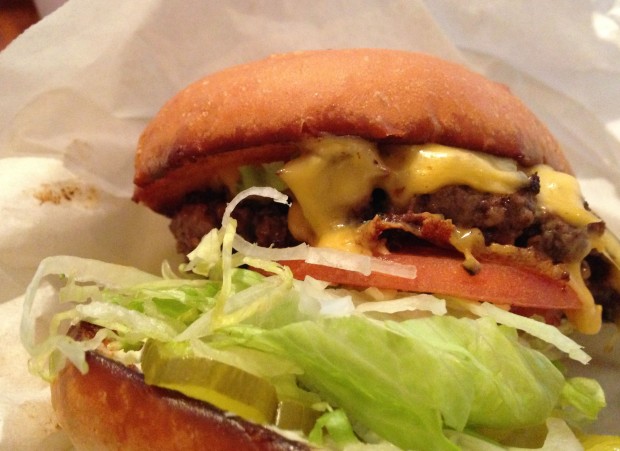 The meat is ground in-house and the buns are from Village Baking Company.  Off-Site Kitchen does burgers right!  I also must give a shout-out to OSK's pickles.  They were wonderful.  I liked everything about this burger called – Stock Cheese.  After I finished eating this burger, I did not care that the restaurant was small.  I was thankful.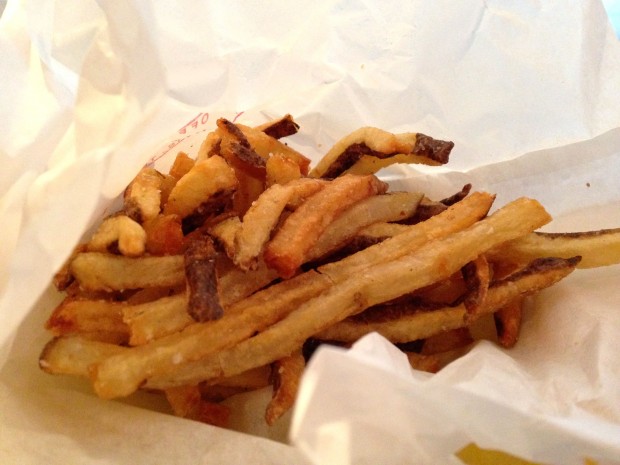 The fries were good,  but not as good as the burger.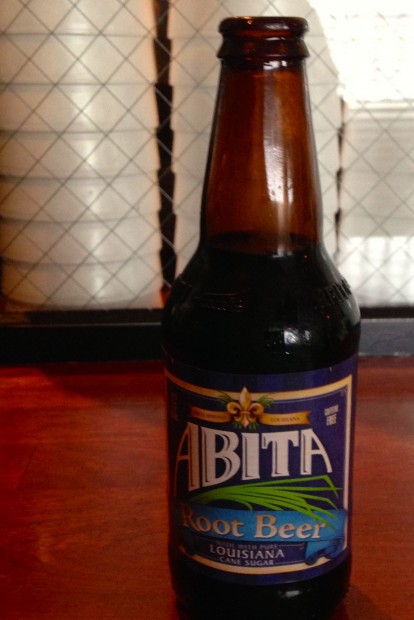 I did enjoy this bottle of Abita Root Beer that comes from Louisiana.  Yummy!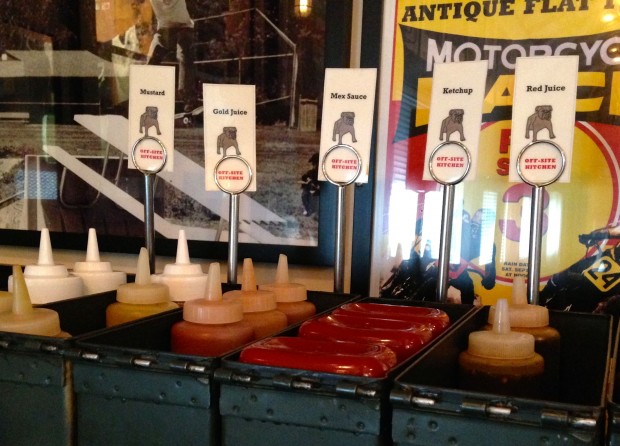 These were the sauce choices.  We didn't try any of them, but it might be interesting to sample some.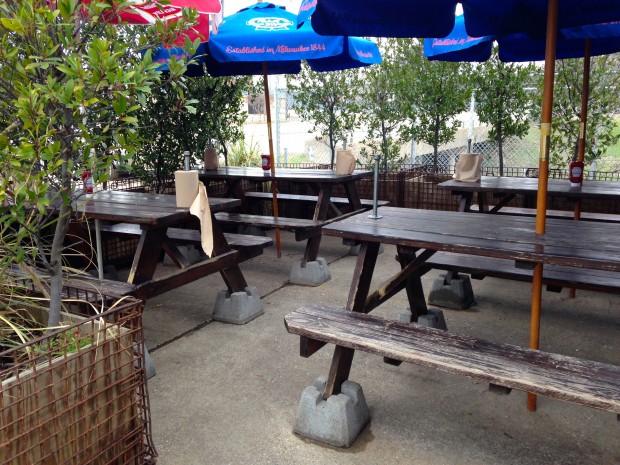 Off-Site Kitchen does have a patio area that would be enjoyable on a warmer day.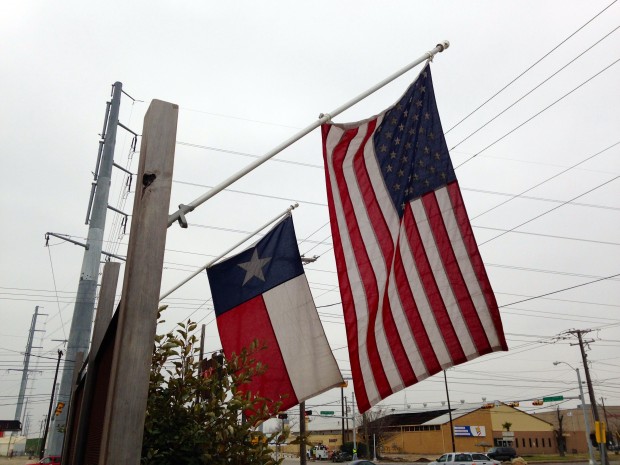 As we were leaving John said, "That was an experience."  Yes, it was.  The burgers were delicious.  I would love to go back if I am ever in the neighborhood again, and I could get a parking place.
Highly recommended.
Blessings to you and yours,
I think there is another location of OSK in Trinity Groves.  As I understand it, it is run by the same people who own Neighborhood Services (Which is also on my "Want To Do List".)