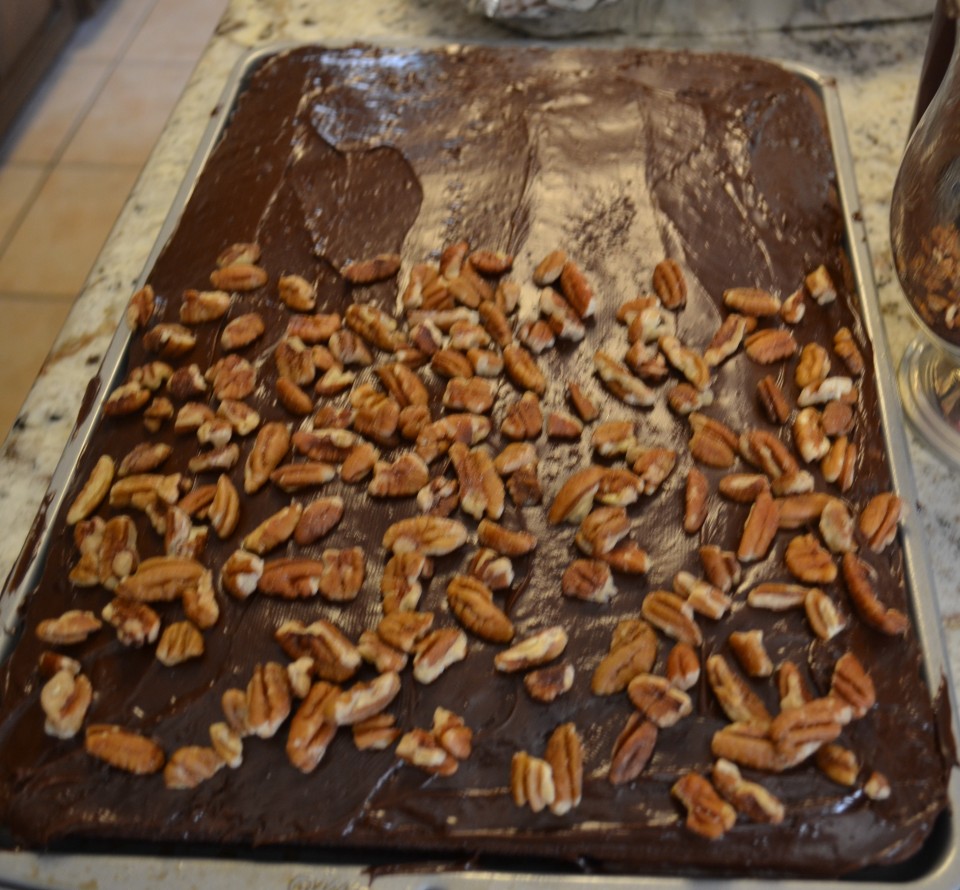 While preparing to come to the Big Jubilee Supper in honor of The Diamond Jubilee of Queen Elizabeth, Jenny – Nathan's new bride – searched the internet for a Texas recipe.
She got the point!  This was to be a Texas celebration for the Queen.  I love it that she went to so much trouble to find a Texas recipe, and now I can share it with you.  On the Betty Crocker website, there is a recipe for a Texas Chocolate Sheet Cake.  As you know, everything is bigger and better in Texas, and this cake is no exception.  It is large and delicious.  I love it that Jenny  put nuts on only half  the cake, because certain people we know are not too fond of nuts.  Isn't she sweet and thoughtful!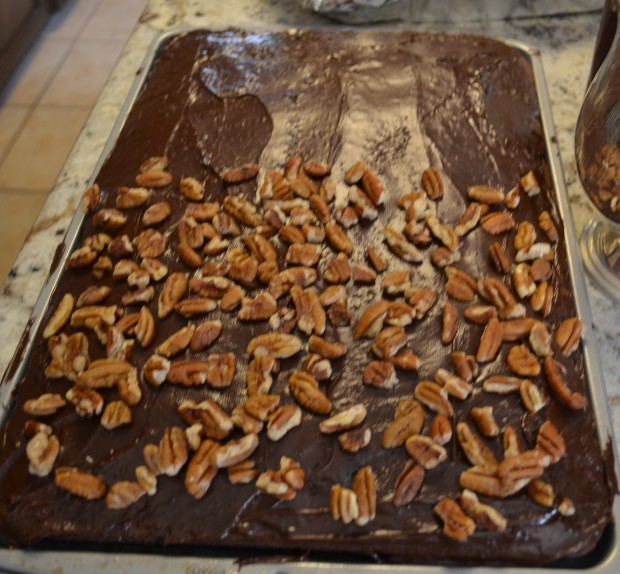 Must share this picture with you.  Nathan with two of his three favorite women – I was taking the picture.  Here you have – Bride Jenny and Other Mother BB.  BB has been there for Nathan his entire life.  As a baby, she made sure his little feet were warm, changed his diaper (TMI), and formed a special connection with "her boy".  Now she continues to love him and Jenny.  In return, I know without a doubt that he/they would also do anything for BB.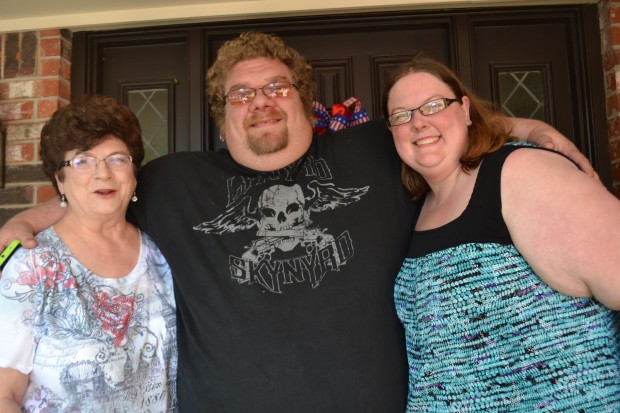 Blessings to you and yours,
Remember to click on the title of the post to "jump" to the recipe.
Texas Sheet Cake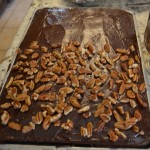 By Lana Published: June 16, 2012
Yield:

15

Cook:

18-22 mins
Enjoy this Texas sized delicious chocolate sheet cake.
Ingredients
Instructions
Spray bottom and sides of 15"X10"X1" pan with baking spray with flour.
Preheat oven to 350 degrees (325 degrees for dark or nonstick pan)
In a large bowl beat together cake mix, sour cream, water, unsweetened cocoa, butter, and eggs on the low speed of an electric mixer for 30 seconds.
Continue beating on medium speed for two minutes.
Pour into prepared pan.
Bake in the preheated oven 18-22 minutes until a toothpick inserted into the center of the cake comes out clean.
Cool in pan for 45 minutes.
Spoon frosting into a small microwaveable bowl.
Heat frosting in microwave for 20 to 30 seconds - stirring once - until frosting is pourable.
Spread frosting over the cake and sprinkle with pecans.