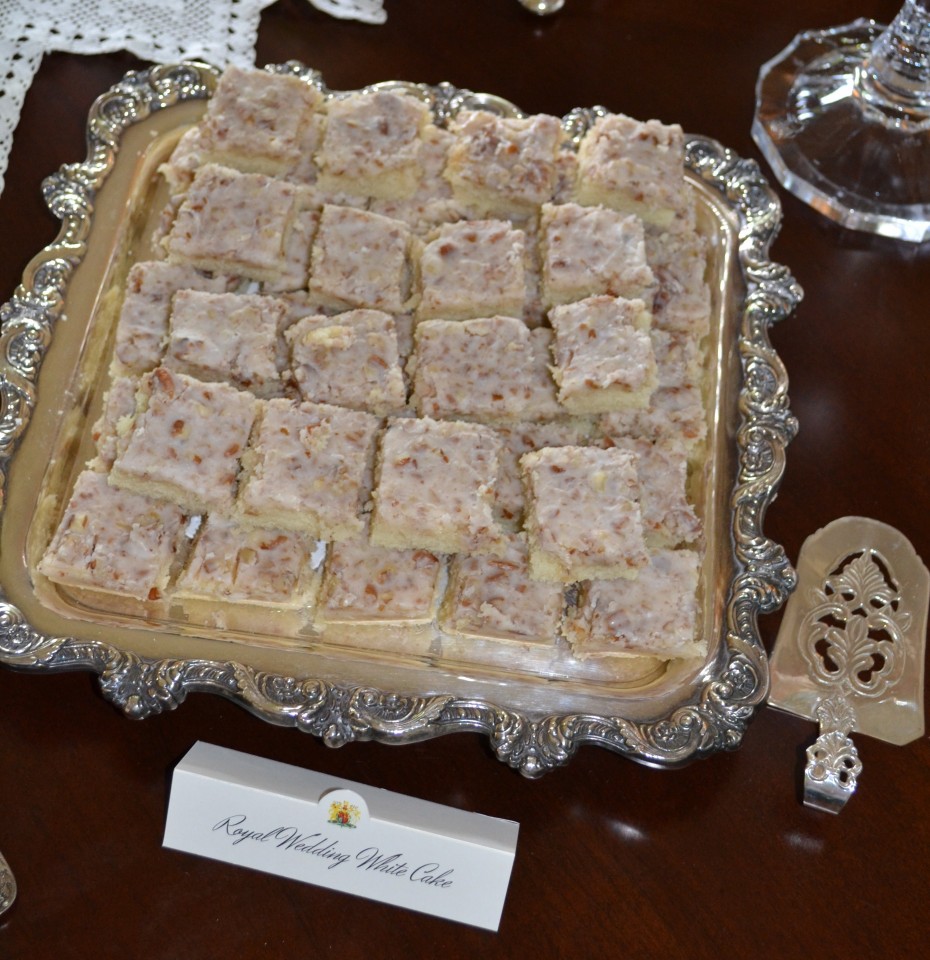 The Texas Chocolate Sheet Cake recipe is a staple in many kitchens in Texas and probably beyond.  In my mother's cookbook A+ in Cooking no fewer than 17 people submitted the recipe for the Texas Chocolate Sheet Cake.  Talk about a favorite.
A couple of years ago, good friend Nancy – who is an excellent cook – brought a White Texas Sheet Cake to a funeral reception at the church.  Be still my heart!  This cake is so good.  Reminds me of petit fours.  Almost everyone who has eaten this incredibly moist and delicious cake has asked for the recipe.   (I started to say everyone, and then I thought of friend BB and others who don't cook – but I think daughter Erin will enjoy this.)  The Butter Pecan Frosting is so yummy!  If you like, you can substitute slivered almonds for the pecans in the frosting recipe.  Oh, yeah!  (By the way, Nancy uses more than a cup of nuts, and because Nancy uses more nuts, and I really like nuts, I used more nuts also.  Use as many nuts as you like.)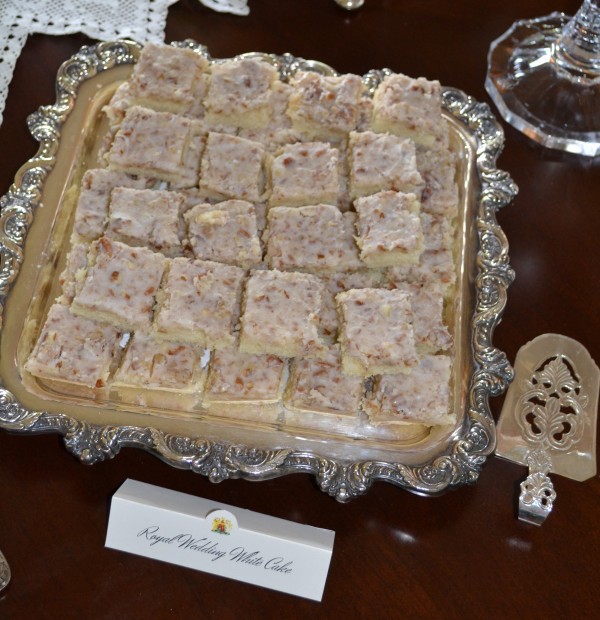 (Sorry, I only have one photo of this.)
Nancy got the recipe from Texas Ties – a cookbook from the Junior League of North Harris County (Houston).  Thank you for sharing the recipe Nancy!
The White Texas Sheet Cake is great for a ladies luncheon or a tea (But, let it be known – men like it also).  It is a good change from the Texas Chocolate Sheet Cake.  Or do like Nancy did and make both the chocolate cake and the white cake.  It is that easy. Another major plus for this cake is that it makes at least twenty-four good size servings.  When you need to serve a crowd, and you want a crowd pleaser, this is a go-to recipe.  Try it, you'll like it!
Now, I only wish I could cut squares as square as Nancy does.  Her squares are perfect!  (As you can see, mine are not perfect.)  I do not see how she does it.
Blessings to you and yours,
P. S.  I saw another version of this cake recently, and they had used toffee bits combined with toasted slivered almonds in the frosting.  Sound good doesn't it?
White Texas Sheet Cake
By Lana Published: August 4, 2012
Yield:

24 Servings

Cook:

20-25 mins
An easy and delicious white cake version of the popular Texas Chocolate Sheet Cake.
Ingredients
Instructions
Preheat oven to 350 degrees.
Butter and flour (or use cooking spray with flour) a 10 X 15 inch sheet cake pan. (I use a half-sheet pan.)
Combine the butter and water in a large sauce pan. Bring to a boil stirring occasionally. Remove from heat.
Combine dry ingredients - flour, sugar, salt, and baking powder. Add sour cream, eggs, and almond extract to the dry ingredients. Mix well.
Add this mixture to the butter and water mixture. Whisk until smooth.
Pour the batter into the buttered and lightly floured 10X15 inch sheet cake pan. I use my half-sheet cake pan, and it works well.
Bake at 350 degrees for 20-25 minutes or until cake is light brown.
Spread warm cake with Butter Pecan Frosting.
Frosting directions:
Combine the butter and milk in a saucepan. Bring to a rolling boil over medium heat, stirring occasionally.
Remove from heat.
Whisk in the almond flavoring.
Add butter and milk mixture gradually to the confectioner's sugar. Whisk constantly until the frosting is of spreading consistency. (You might need more sugar)
Stir in chopped pecans (or slivered almonds.)
Spread frosting on warm cake.