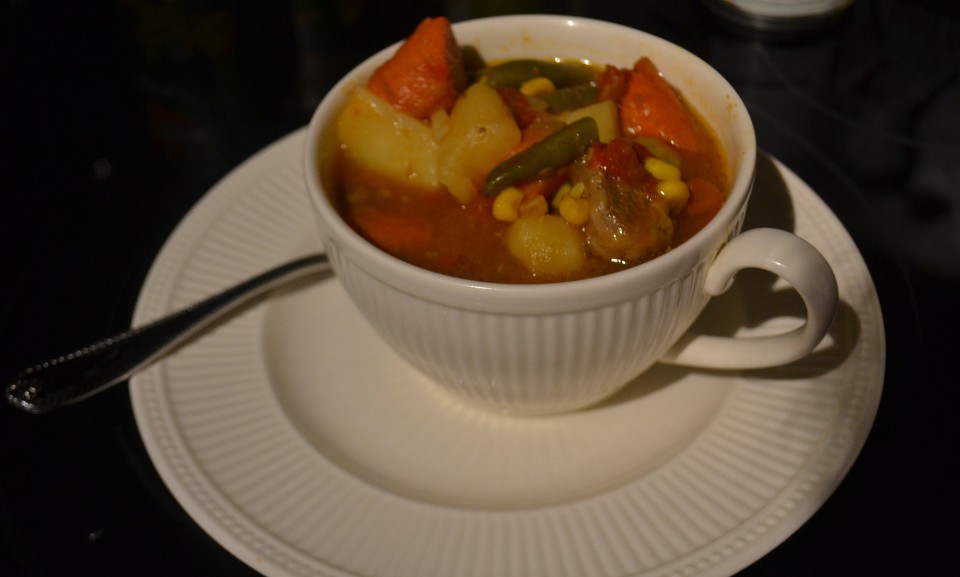 Stew is one of our go to dishes  Everything you need for a complete meal is in the pot – meat and vegetables.  Plus you can easily make it with ingredients you have on hand.  This week I made stew, and it turned out well.  In fact, it turned out so well Ever-Lovin' suggested I share the recipe.  He liked it.  He loved it, and I did too.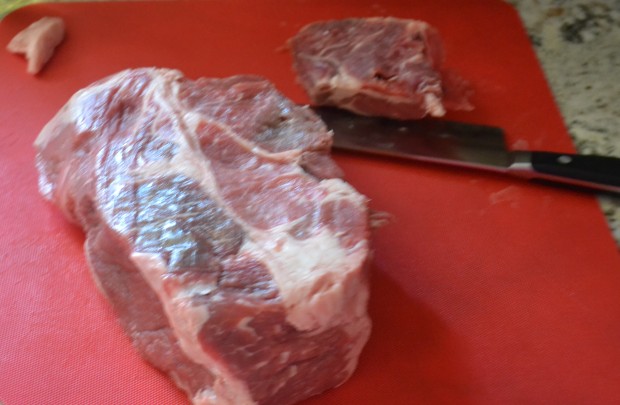 Recently I have used chuck roast for the meat in our stews.  Why?  I do not really know, but is seems the roast meat has more flavor.  Stew meat is in packages in the meat case and will work fine.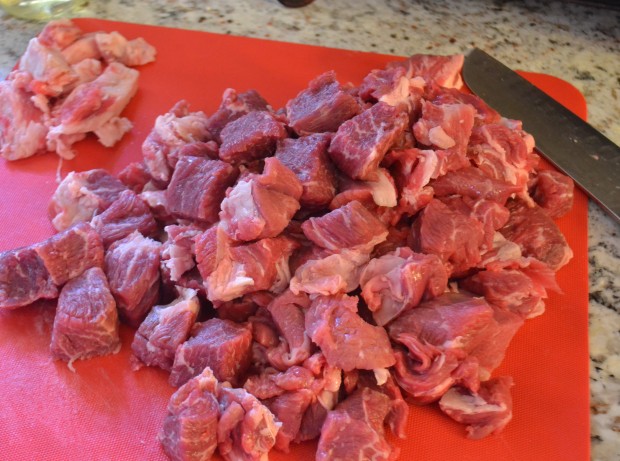 Cut the meat into about one inch cubes.  See that little pile of fat in the top left hand corner.  I didn't want that in my stew.  Didn't want that fat.  Didn't need that fat, so I cut it out and didn't use it.  After the meat is cut up, sprinkle it liberally with salt and pepper.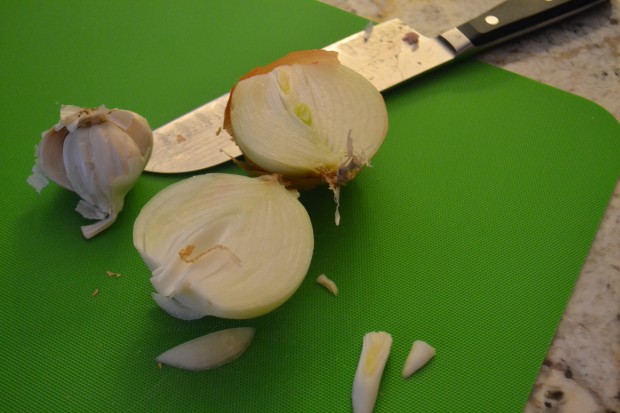 Chop an onion, and mince several cloves of garlic.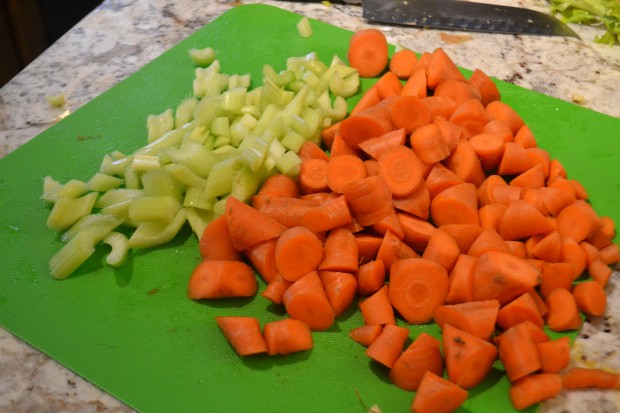 Also dice the carrots (didn't peel), and celery.  You also need to dice the peeled potatoes, but …  Sorry no picture.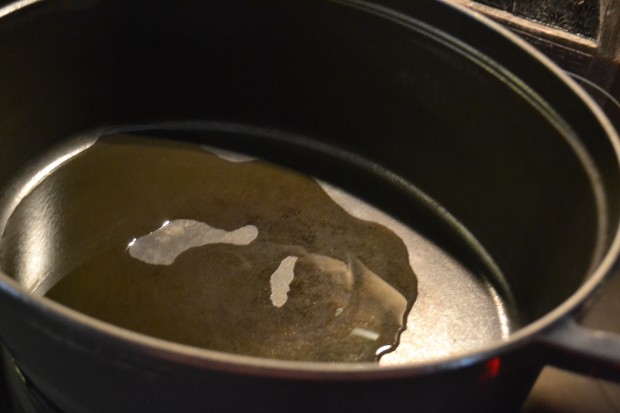 Heat olive oil (EVOO) in your dutch oven – stew pot – or whatever huge pot you own.  Add diced onion and garlic to the hot oil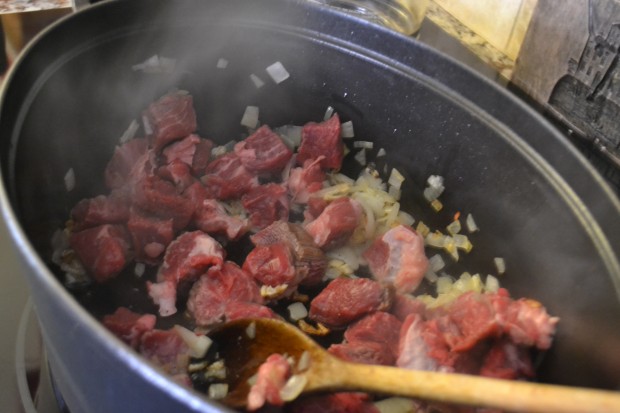 Cook the diced onion and garlic until it is wilted.  Then add the cubed meat.  Cook and stir until the meat is browned.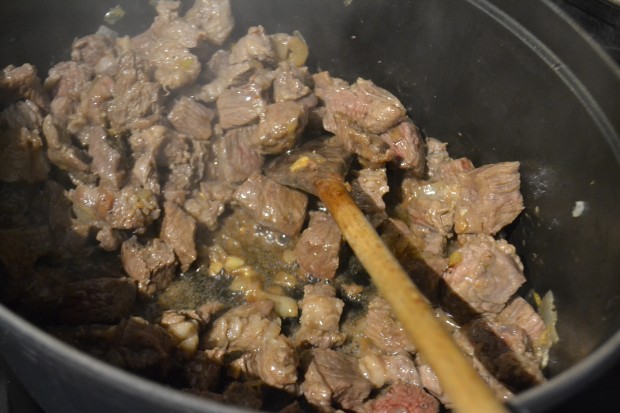 This is the browned meat.  At this point, I shook Worcestershire Sauce over the meat.  (no picture, but….)  This did smell fantastic.  Onions, garlic, meat, and Worcestershire Sauce.  Oh, yeah!
Add the carrots, celery, and potatoes to the pot.  Cook and stir a few minutes until the vegetables are coated with the meat juices.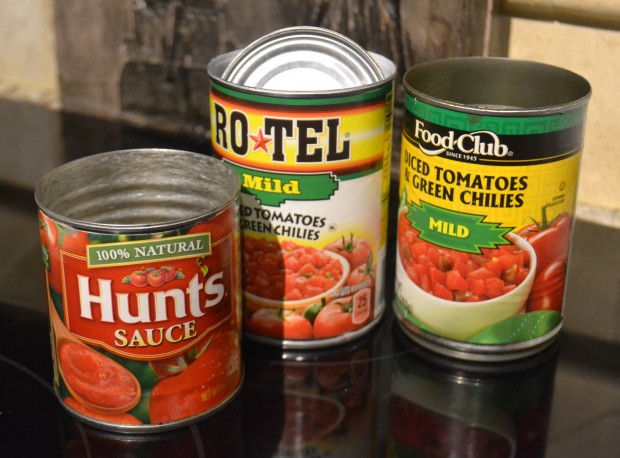 Next add chicken broth (not in picture), tomato sauce, and tomatoes with green chilies (Rotel or any other brand).  If you need more liquid, add water.  I added about a cup of water.  Bring to a boil and then reduce heat to low.  Simmer until the meat and vegetables are tender.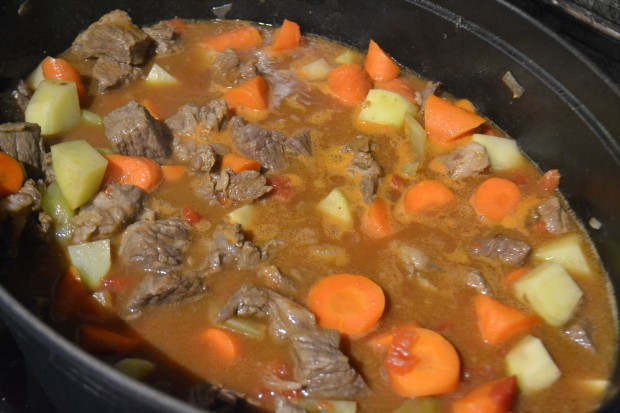 Yummy.  Delicious.  So good.  What a wonderful smell.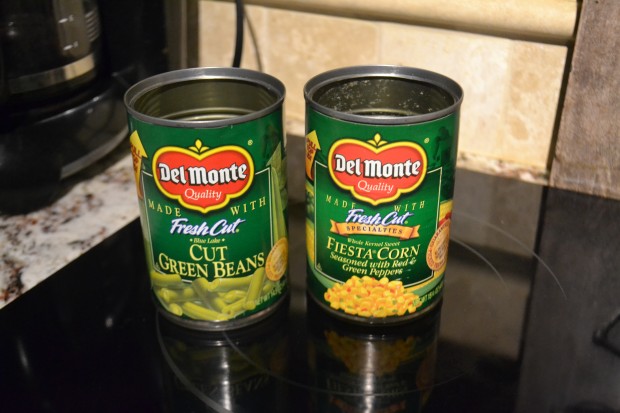 This is too easy.  Add one can of cut green beans, and one can of corn to the pot.  Add juice and all.  Heat a while more.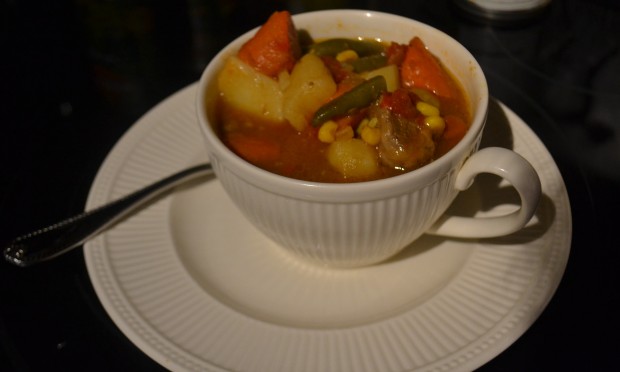 Ladle this goodness into your soup bowl.  Enjoy!
This stew was tasty.  Tender delicious meat, and chunky vegetables in a light tomato broth seemed to be a good combination.  I think the tomatoes with green chilies gave it just the right amount spice.  On the day I made this, I was out of diced tomatoes, and I decided to use the tomatoes with green chilies.  It was delicious, and I will do this again.
Blessings to you and yours,
Remember, you have to go to the Lanabird site to see the recipe.  Just click on the title (Stew) at the top of this page, and it will take you to the full post.  Clear as mud isn't it.
Beef Stew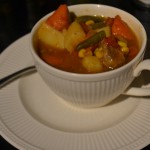 By Lana Published: January 24, 2013
A hearty stew seasoned with tomatoes and green chilies.
Ingredients
Instructions
Cut the roast into one inch cubes, or use packaged stew meat.
Sprinkle the meat liberally with salt and pepper. Let rest while you chop the vegetables
Dice onion and mince the garlic
Chop the celery, carrots, and peeled potatoes. The carrots and potatoes should be about 1/2 inch dice.
On the cooktop, heat the olive oil in a large Dutch oven over medium high heat.
Add the onion and garlic. Cook about 3 minutes until the onions and garlic are wilted.
Add the cubed meat. Brown the meat stirring occasionally.
When the meat is browned, shake about 1/4 cup of Worcestershire sauce over the meat. Stir to coat.
Add chopped celery, carrots, and potatoes. Stir and cook with the meat for about 3 minutes.
Add broth, tomato sauce and diced tomatoes with green chilies. Add water if needed. I needed to add about a cup of water.
Heat stew to a boil, and reduce heat to low. Cover and cook about 2 - 3 hours until the meat and vegetables are tender.
Add green beans and corn. Do not drain.
Adjust seasonings to taste. I did not add more salt and pepper or any seasonings. Make it like you like it.
Heat all together for about 30 minutes.
Serve and enjoy. Cornbread goes well with stew.