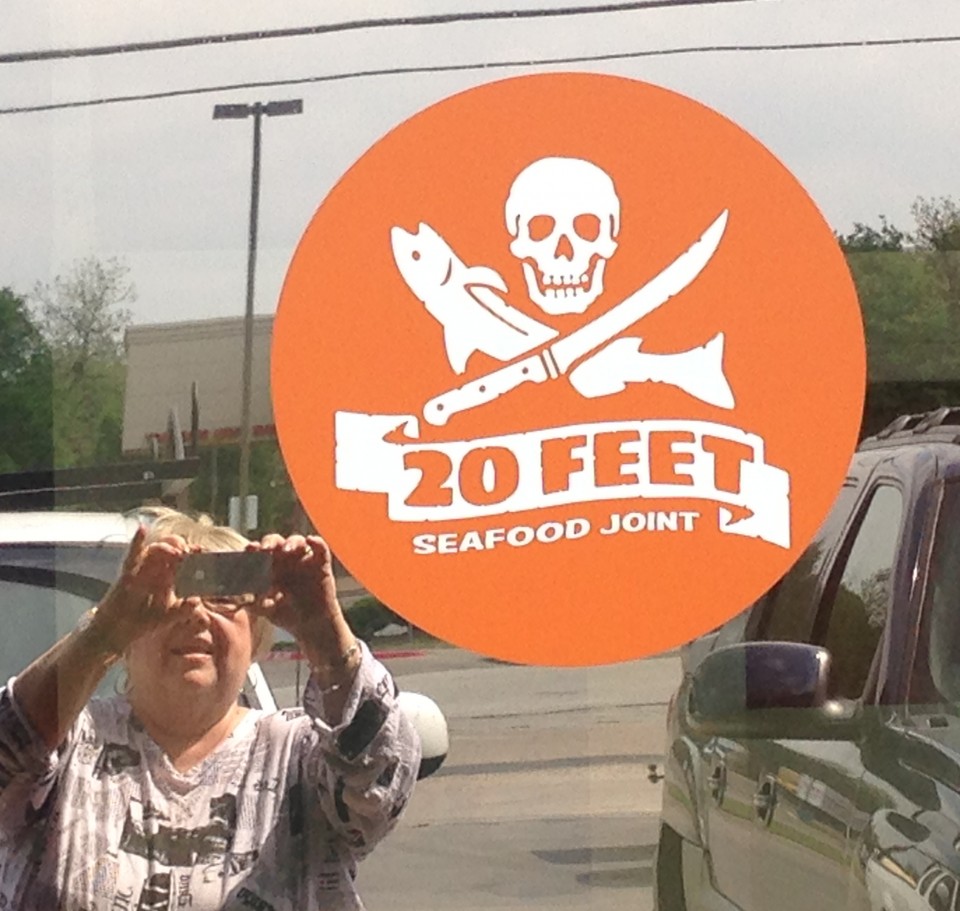 I was scooped.  The Buckner Gang went to 20 Feet Seafood Joint, and loved it.
"You must blog about this restaurant!," said one and all.  I began preparing.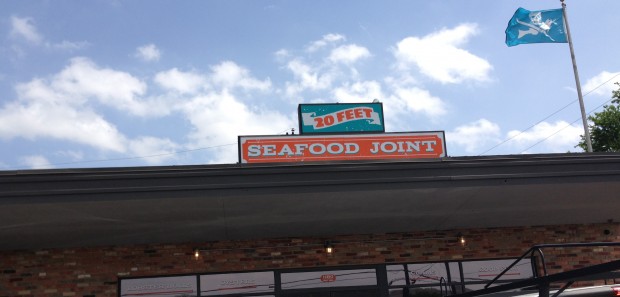 The pictures had been transferred from the camera into a folder on the desktop.   Ideas were in my head.
The Dallas Morning News stole my thunder.  They reviewed 20 Feet Seafood Joint before I did, but … That is life.  After all 20 Feet Seafood Joint is considered a "HOT" new restaurant.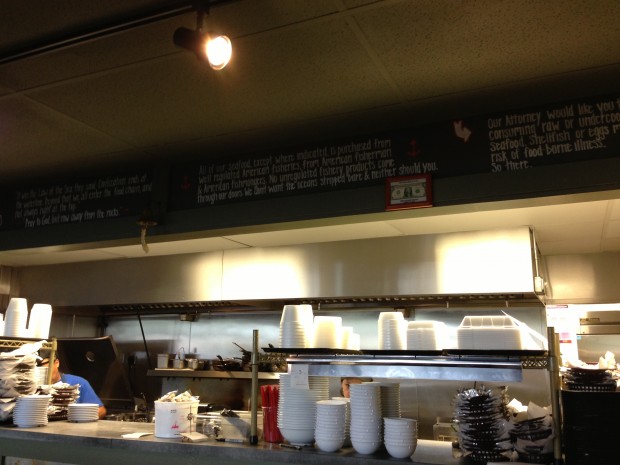 20 Feet Seafood Joint is small and dark.  It is casual and very much a fish shack.  You order at the counter, and seat yourself.  There are few seats to be had inside the restaurant.  (Maybe 40 people could be seated.)  Outside there is a nice large patio that 20 Feet Seafood Joint shares with Goodfriend Beer Garden and Burger House, and Good 2 Go Tacos. (Click HERE to read the blog about Good 2 Go Tacos.)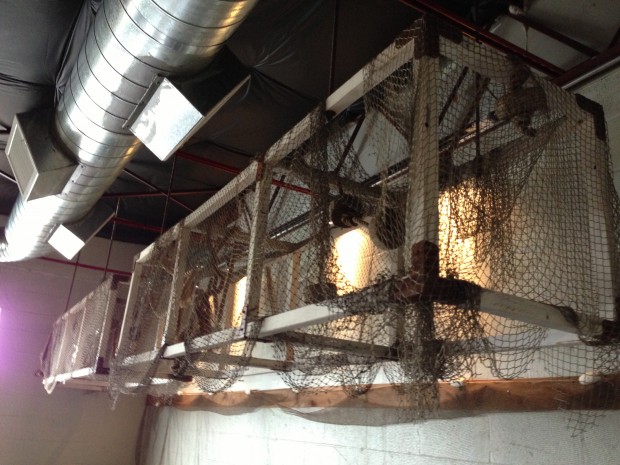 Lobster trap light fixtures caught my attention.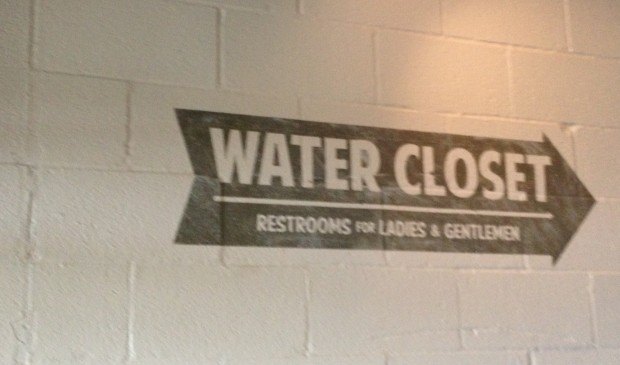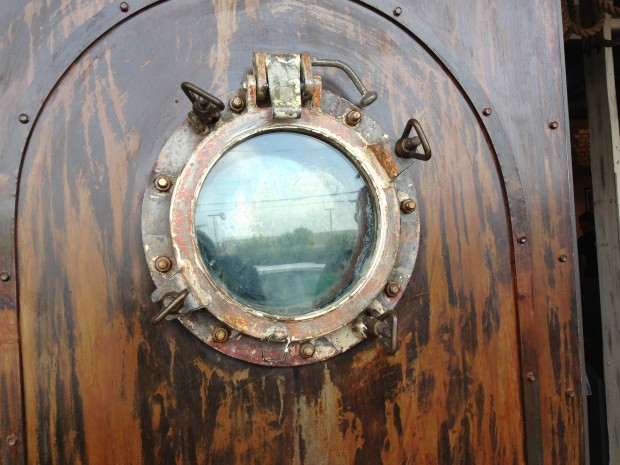 The door with the port hole is good looking.
Ever-Lovin' and I ordered the New England Clam Chowder.  Be still my heart.  It was filled with potatoes, and seafood.  Then it was topped with chives and bacon – yummy!.  It was so good we wanted to licked the bowl.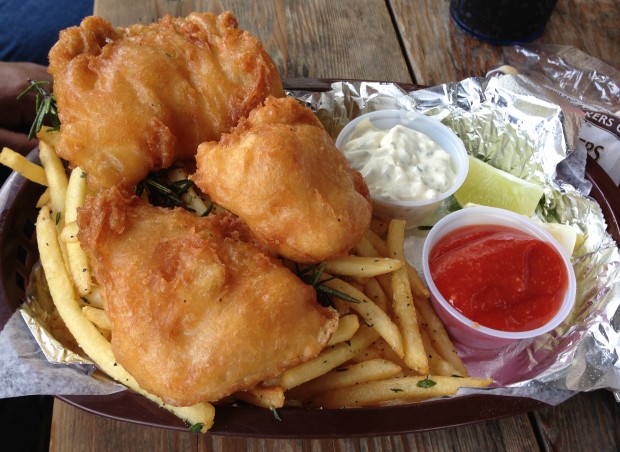 Ever-Lovin, Friend BB, and Judy gave the Fish and Chips rave reviews. The cod was lightly breaded and crispy.  The French Fries were fantastic with the addition of herbs.  (Eater Dallas lists 20 Feet Seafood Joint's fries as being one of the thirteen best fries in Dallas.)  I would agree.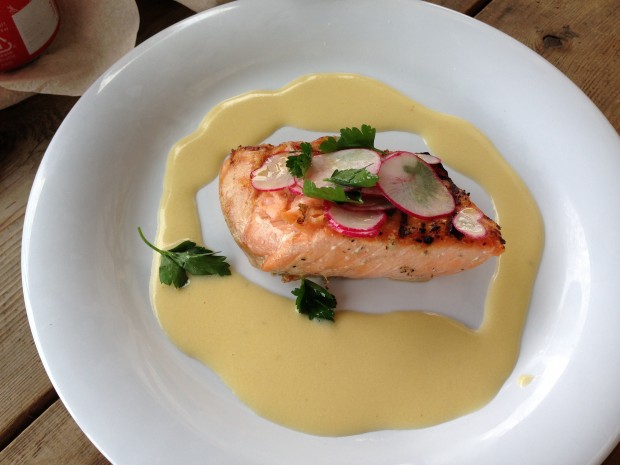 Carolyn's salmon was gorgeous, and it was also delicious.  I am amazed at the presentation from a "Seafood Joint."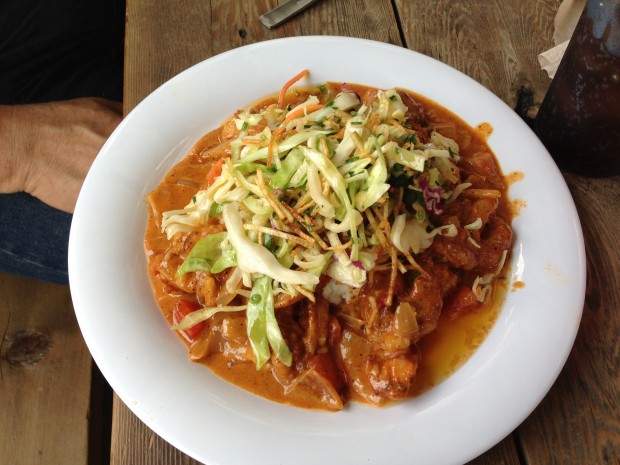 True confession.  I dream about 20 Feet Seafood Joint's Blackened Shrimp and Grits.  You might consider it strange that the shrimp and grits is topped with a crispy vinegary slaw, but I am here to tell you – it works.  I do not believe I have ever ever had better shrimp and grits. (Cross my heart.)
From what I read, owner and chef Marc Chassel has been associated with several high-end Dallas Eateries – The Mansion, The Green Room, and Dragonfly.  The people of East Dallas are lucky to have 20 Feet Seafood Joint in their neighborhood.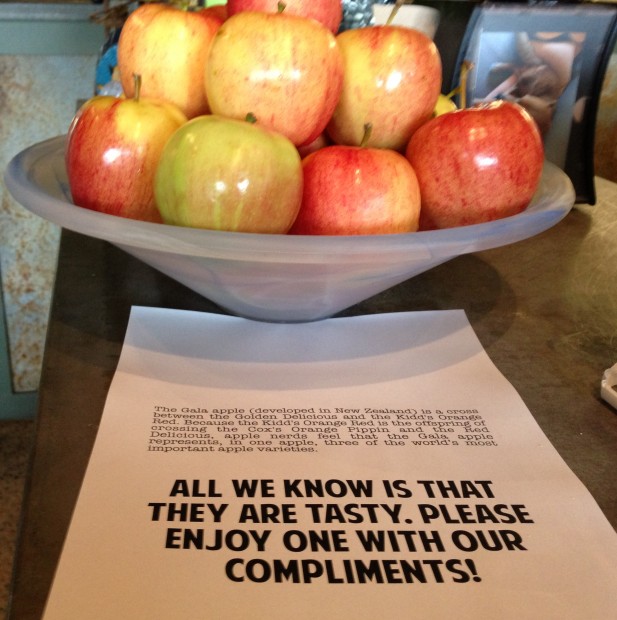 What a nice touch – free Gala apples.  They were tasty.
Sweet Mother of Pearl.  I am looking forward to visiting 20 Feet Seafood Joint again in the near future.  It is an unpretentious fish shack that serves excellent food.
Blessings to you and yours,
20 Feet Seafood Joint is located at 1160 Peavy Road, Dallas Texas 75218.