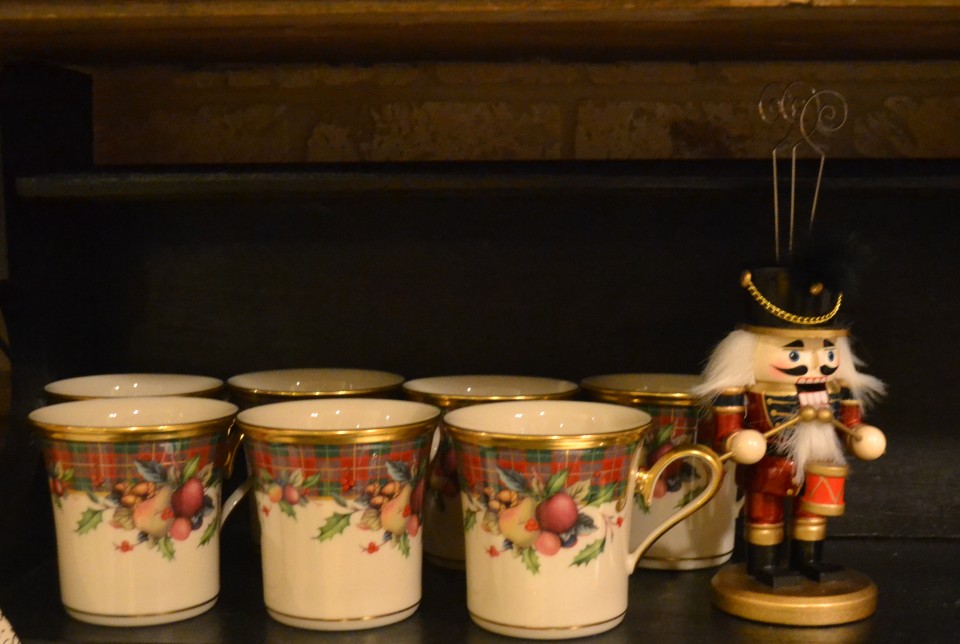 For the Christmas Open House, Mikel made Russian Tea.  Family recipes are the best recipes, and this recipe is from Mikel's mother Mavene.  Russian Tea is delicious, super easy to make, and it is a perfect drink for a cold winter day. This recipe makes about 2 gallons of hot spiced tea.  It is perfect if you need to serve a large crowd.
Why is it called Russian Tea?  I have no idea.  I didn't even know Russians enjoyed tea.  After Googling "Russian Tea", I discovered that tea (not vodka) is the "de facto national beverage" of Russia.  It makes sense since they have such cold winters.  But, the beverage we call Russian Tea probably originated in America.  Some of the Russian Tea recipes are for the instant drink mix that begins with Tang.  Mikel's tea is so-o-o-o much better than that mix.
There are no pictures, but you will be able to do this.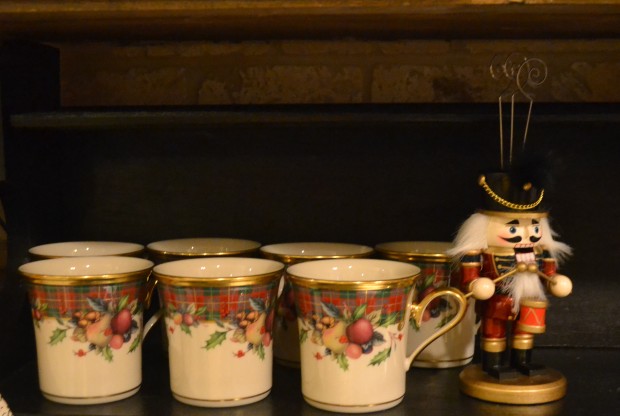 Just imagine getting to drink a fruity, spicy, hot tea from these beautiful mugs.  That would be a good thing.
Here are the easy directions:
Heat one quart (4 cups) water until it is boiling.  Remove water from the heat and add four family size teabags, cinnamon sticks, and whole cloves to the hot water.  Cover and steep for 5 minutes.
After tea is brewed, add one liter bottle of ginger ale, one 16 ounce can of frozen orange juice, one 12 ounce can of frozen lemonade, one 12 ounce can of frozen lime juice (we used limeade), one 46 ounce can pineapple juice, three quarts of water (12 cups), and two to four cups sugar.  (The original recipe calls for four cups sugar, but Mikel cut back on the sugar, and we thought it delicious.)  Sweeten the tea to your own taste.
Mix all together and heat.
That is it.  This tea is tangy, spicy, and a wonderful cold weather drink.  I wish I had some right now.  By the way, your home will also smell divine.  It is a win/win situation.
Blessings to you and yours,
Thank you Mikel for sharing your recipe.
To see the recipe, click on the title of this post or go to lanabird.com.  The print button is under the share button.
Russian Tea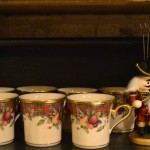 By Lana Published: January 8, 2015
Yield:

2 gallon (25 Servings)

Prep:

5 mins

Cook:

30 mins

Ready In:

35 mins
A delicious spiced tea recipe that is good for serving a crowd.
Ingredients
Instructions
Heat one quart of water until boiling. Remove from the heat and add teabags, cinnamon sticks, and whole cloves. Steep covered for 5 minutes.
Remove the teabags and add the other ingredients. Stir to dissolve the sugar.
Heat until hot, about 30 minutes. Remove the cinnamon sticks and the whole cloves.
Serve and enjoy.