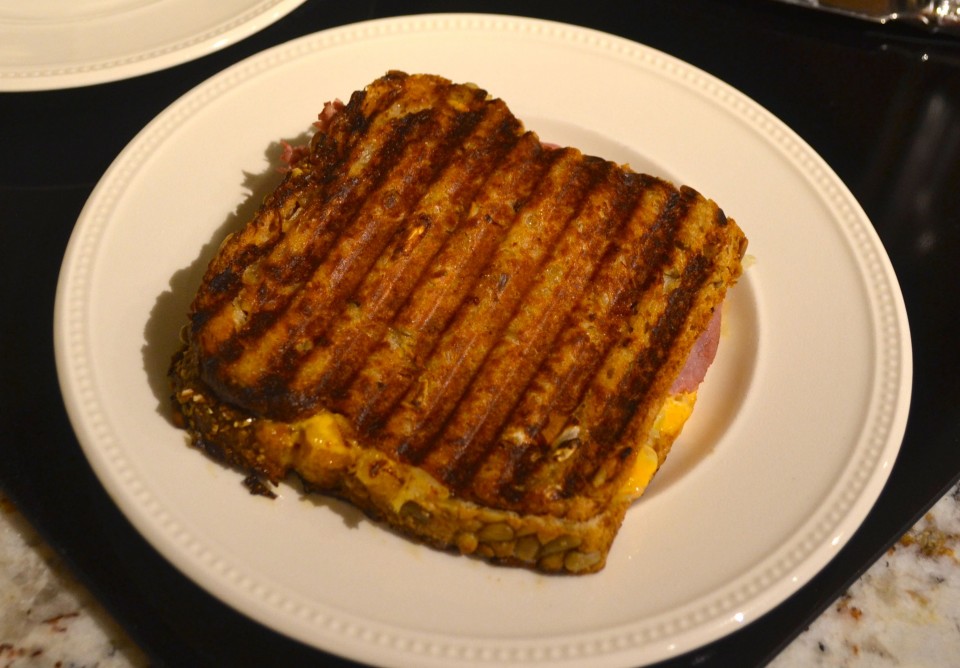 There is more than one version of the origins of the Reuben sandwich.  Perhaps it was Reuben Kulakofsky a grocer in Omaha, Nebraska that invented the sandwich for his poker buddies.  "The Committee" as they called themselves met weekly at the Blackstone Hotel.  The hotel's owner, Charles Schimmel added the sandwich to his lunch menu, and later a former employee of the hotel won a national contest with the recipe.
or
German immigrant Arnold Reuben might have created the sandwich in his Reuben's Delicatessen in New York City.  It seems that the earliest references to the Reuben sandwich come from New York City, but who knows.  (Information from Wikipedia)
What I do know is that Ever-Lovin' and I are big fans of Reuben sandwiches.  We like them.  We love them.
Says I to myself, "I bet we could make a Reuben sandwich."  So we did.
Here is how we do it.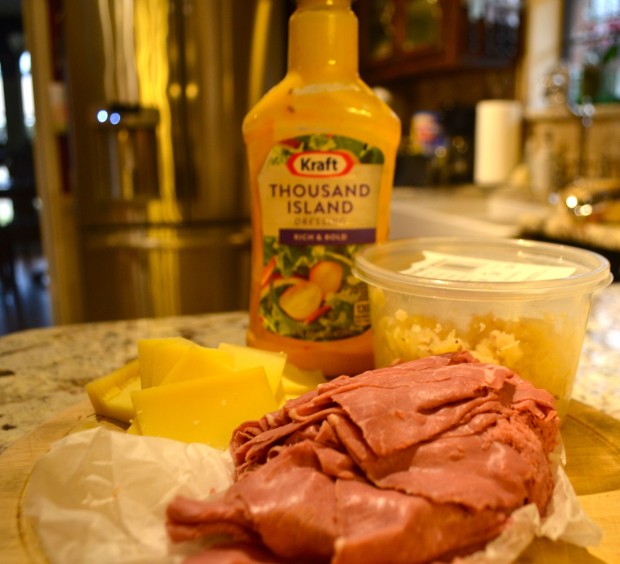 Cast of ingredients:  Corned Beef, Swiss cheese, Sauerkraut (We buy ours at Kuby's, but any you like will do.), Thousand Island Dressing, Rye bread and butter (Not shown).
Disclaimer:  It is not a perfect world.  We did not have rye bread tonight, so we had to make do with a delicious whole grain bread.  Rye is better, but the sandwich was still delicious.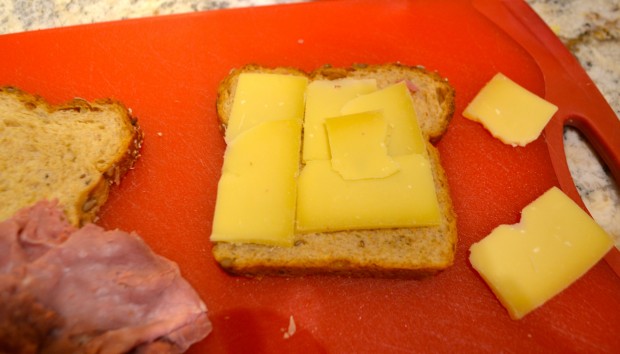 ALSO – On this evening, we discovered that there was not much Thousand Island dressing left in the bottle, SO we did not put a smear of dressing on the bread as we usually do.
Step one:  It is much better to spread a layer of the dressing on the bread, but…
Step two:  Put a layer of Swiss cheese on the bread.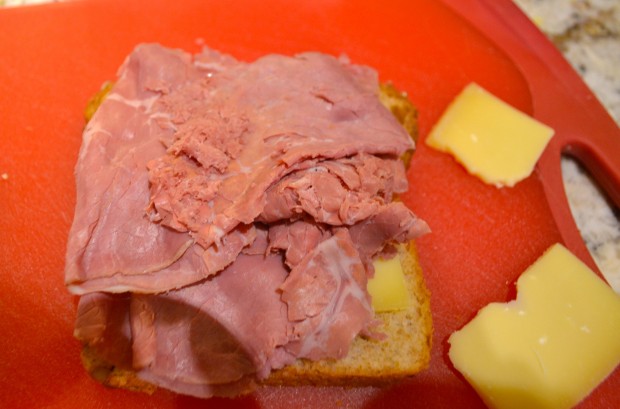 Step three:  Pile on the corned beef.  Use as much as you like.  Let me tell you a little secret about how I order meat at the deli.  I tell them how many slices I need rather than how many pounds I want.  It works very well, and we waste less meat that way.  I buy just enough for a couple of sandwiches.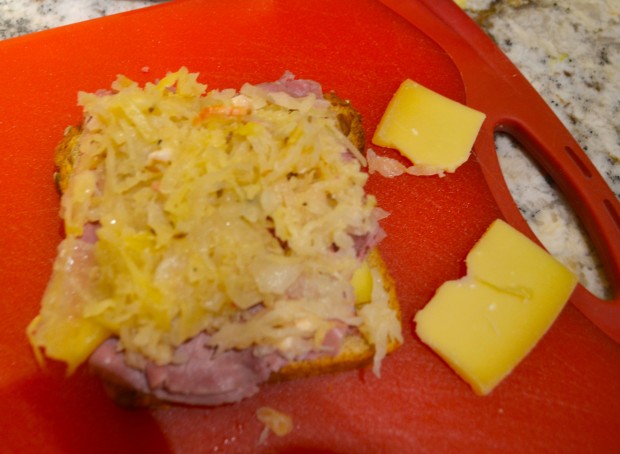 Step four:  Next comes the sauerkraut.  Yummy!  The sauerkraut makes the sandwich, and Kuby's kraut is fantastic.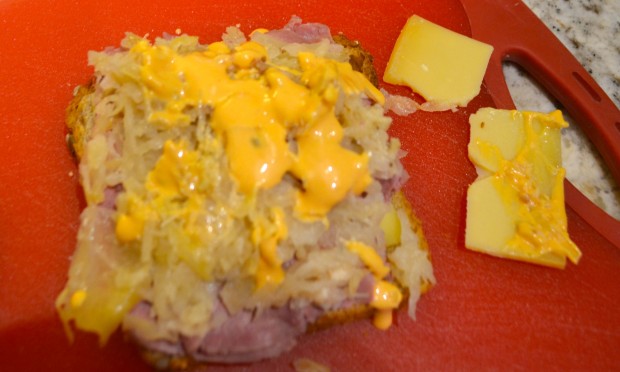 Step five:  Thousand Island dressing is poured over the sauerkraut.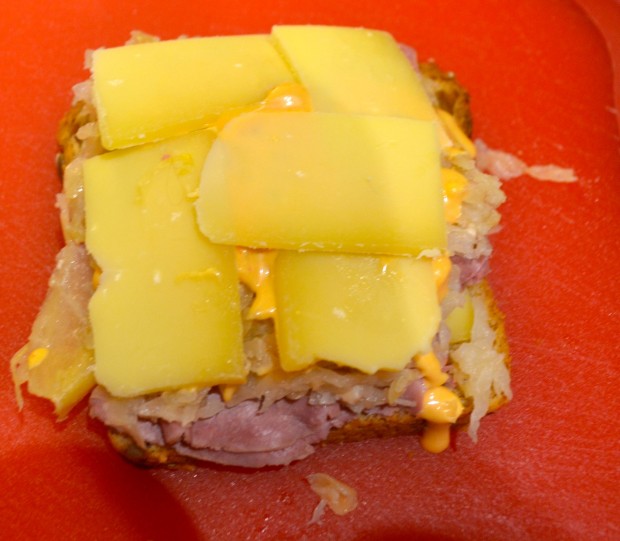 Step six:  Add one more layer of Swiss cheese.
Sweet Mother of Pearl.  All these goodies look good piled on the bread, but just wait until they are melted together.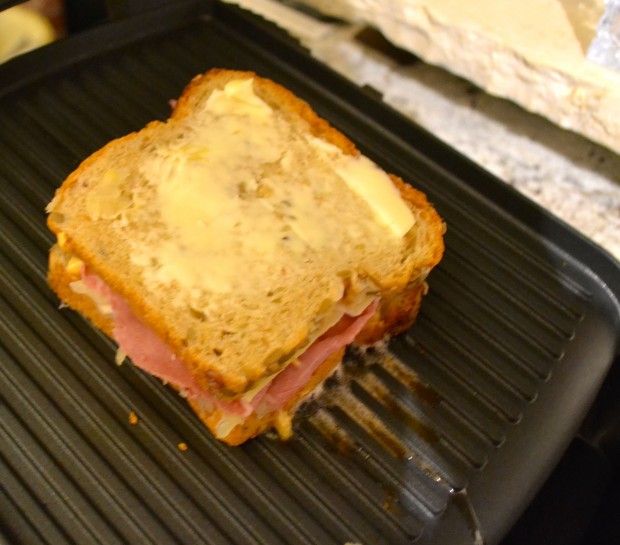 Step seven:  On the outside of the sandwich, butter the slices of bread.  Place the sandwich on a grill.  I have a Panini press, but have used a skillet to grill a sandwich many times.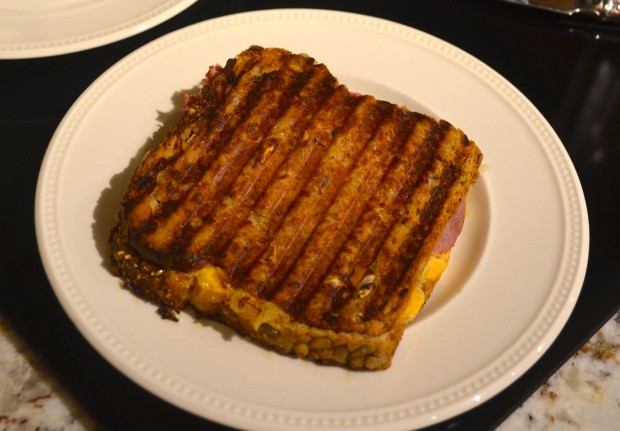 Be still my heart.  This is so delicious and easy to do.  The bread is toasted.  The cheese is melted through the corned beef and sauerkraut, and the Thousand Island dressing provides just the right flavoring.  Life is good.
A good blogger would have remembered to cut the sandwich in half and take a picture of all the melted goodness, but….
I guess we were ready to eat at this point, and eat we did.
Blessings to you and yours,
To print the recipe, click on the title of this post or go to lanabird.com.  The print button is under the share button.
In the recipe below, the instructions are for two sandwiches, but you can adjust the recipe for how many sandwiches you need to make.  Use as much of each ingredient as you prefer.  Make the sandwich like you like it.
Reuben Sandwich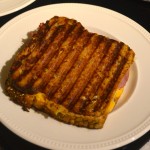 By Lana Published: February 16, 2015
Yield:

2 sandwiches (2 Servings)

Prep:

5 mins

Cook:

5 or less mins

Ready In:

10 mins
Rye bread, corned beef, Swiss cheese, and Thousand Island dressing combine to make a delicious grilled sandwich.
Ingredients
Instructions
Spread Thousand Island dressing on one side of each piece of bread.
On one slice of bread, layer Swiss cheese, Corned beef, Sauerkraut, Thousand island dressing, and another layer of Swiss cheese.
Top with a second slice of bread to create the sandwich..
Repeat the above steps to make the second sandwich.
Spread butter on both sides of the outside of each sandwich.
Grill the sandwiches in a Panini press or in a hot skillet until the cheese is melted, and the bread is toasted on both sides.
Enjoy!