With a Little Help of Friends – Part 2-
Margaret's home has wonderful high ceilings (drool!), and she has space to decorate the tops of her cabinets.  The Fabulous Trio put together these vignettes on the tops of her cabinets.  Remember, this was a budget friendly project, and many of the items they used were things Margaret already had.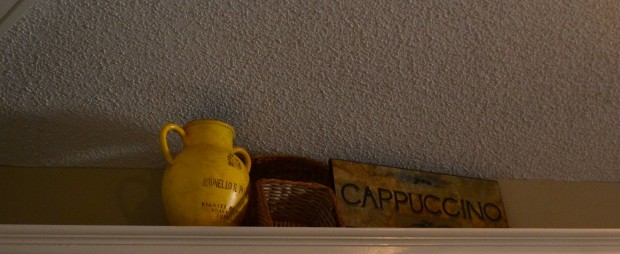 A mustard colored pottery jug (T.J. Maxx) joined two baskets and a Cappuccino sign.  I love how the mustard colored jug gives a pop of color.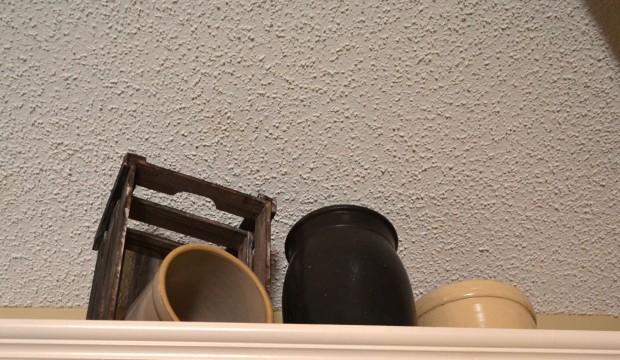 Three old crocks and an crate (T.J. Maxx) are in this grouping.  The black crock was a gift from a friend, and the dark color of this crock goes well with the crate.

Be still my heart!  I love the old tool box.  Margaret's daughter had the white urns, and they show so well on this ledge.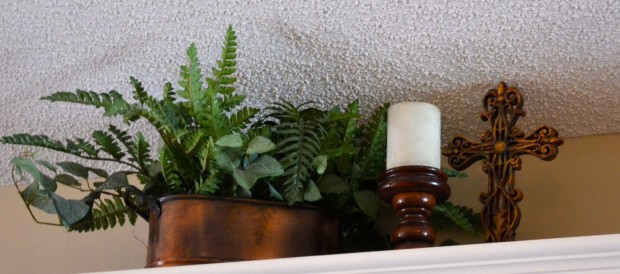 Pulling things together to create a new look was done often during this redecorating process.  Margaret had the copper pot that was filled with ferns, the candle, and the cross in other areas of her home.  Together they create a beautiful vignette.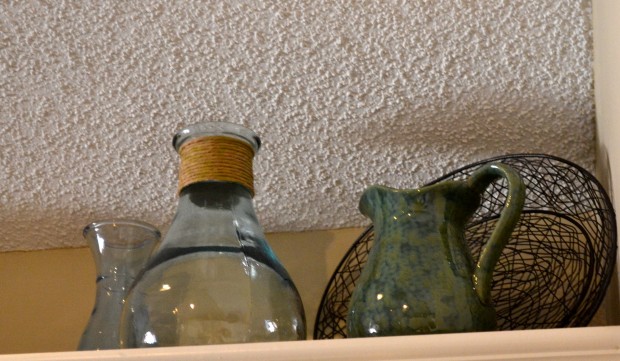 This display reminds me of Pottery Barn.  If I remember correctly, The glass jar in the front was the only new item (T.J. Maxx).  The large green pitcher pairs so well with the new jar.  I love the large basket in the corner.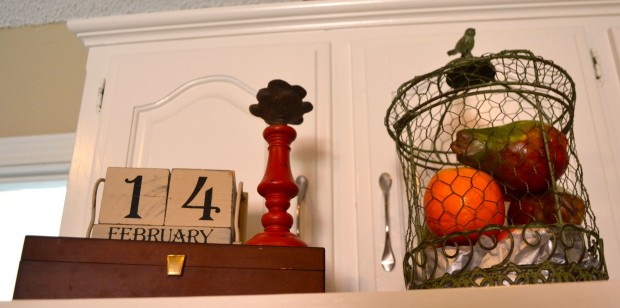 "Shop at home" could be the mantra for these ladies.  Arranging Margaret's items in different settings and groupings makes them look new.

Margaret's vintage crock bowl and Tom's Roasted Peanuts jar look great arranged atop the refrigerator.
These vignettes were put together with a few new items combined with things Margaret already had.  Rearranging and reusing what Margaret had gave new life to the tops of her cabinets.  What a good thing!
Blessings to you and yours,
There is more to share of Margaret's home.  I love how it was transformed.