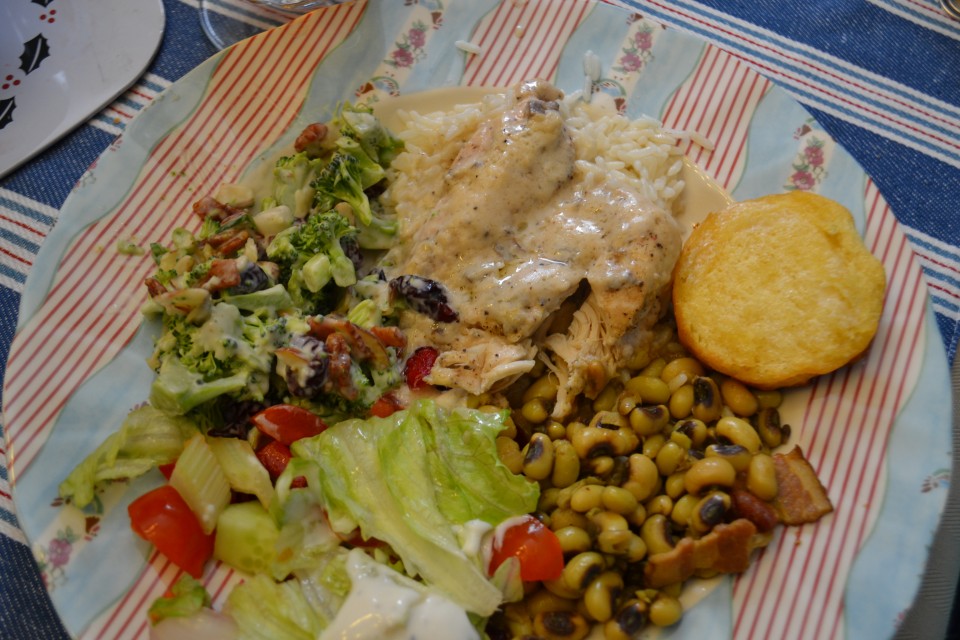 My father retired before my mother retired.  As a stay at home husband, he took over much of the housework and cooking duties.  He was a good cook!  For sometime now I have been thinking about and wanting to make one of his signature dishes – Chicken Suzanne.  So today was the day!
First, we forced ourselves to go to Kroger.  Bought a package of chicken tenders. (The recipe calls for chicken breast, but the tenders work well and will cook a little faster.)  Came home.  Put away the groceries, and then commenced to cook.
Then we thought, "If we are going to have real food tonight (just because I'm a wannabe food blogger does not mean I cook all the time), maybe we could invite a couple of friends over for supper."  So we did.  Love impromptu get-togethers.  Move over Rachel Ray.  This is a thirty-minute meal except the chicken has to cook for over an hour.  Minor detail.  Friend Faye contributed to the meal with a tossed salad filled with goodness, and pickled beets.  I LOVE, LOVE, LOVE picked beets.  These were golden beets, but they taste just like the red pickled beets.  She would teach me how to make them, but… it does sound like a lot of work.
Menu:  Tossed salad, pickled beets, Chicken Suzanne, rice, broccoli salad (I told Ever-Lovin' I would make him another broccoli salad), black-eyed peas, watermelon, toasted biscuits from breakfast, and fresh peaches (from friend Ann's peach tree) on store bought pound cake.  Doesn't it sound good?  I'm here to tell you.  It was wonderfully delicious.  We considered it a fitting honor to Daddy and Heather.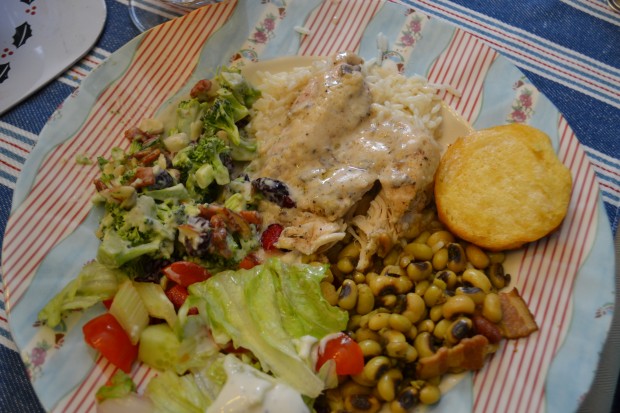 Heather was also honored tonight.  Friend BB's daughter Heather would have been 38 years old today.  Almost 12 years ago, she died of ovarian cancer.  Do the math.  She was only 26 years old.  Too young to die, but her spirit lives on.  Heather was a champion for children – especially children considered "at risk." Her life continues to touch others.  Each year a scholarship is given in her honor at Texas A&M.  Our Bible Fellowship Class, the Living Stones, honors Heather by supporting CPS workers and the children they serve.  Cancer did not conquer her spirit or her influence.
So good friends got together tonight.  What a blessing to be able to love and be loved.
Blessings to you and yours,
Note on the recipe: "So good, you'll want to repeat using it!"  So true!
Remember to click on the title of the post to be able to view the recipe.
Chicken Suzanne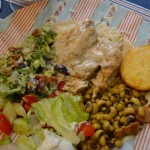 By Lana Published: June 19, 2012
Super easy and delicious chicken dish. Serve over rice.
Ingredients
Instructions
Preheat oven to 350 degrees
Season chicken with salt and pepper.
Melt oleo or butter in a skillet and brown chicken.
Place chicken in a casserole dish.
Mix remaining oleo (or butter) with sour cream, sherry (or wine) and the can of mushroom soup. Pour sauce over chicken.
Cover and bake at 350 degrees for 1 1/2 hours. Adjust cooking time for chicken tenders.
Serve over rice.
This recipe is easily doubled. If you like more sauce, increase sour cream, sherry, and soup.