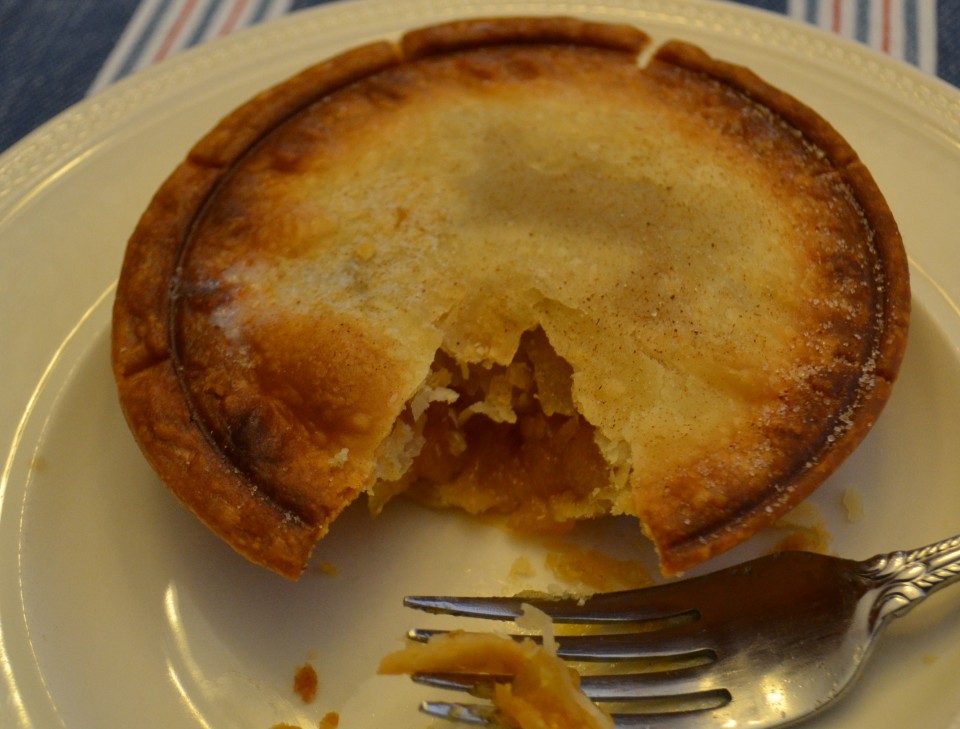 Where I come from a restaurant is judged by the pies they serve.  Many cafes have earned a reputation based upon their mile-high meringue and fruit pies.  Sane people will drive many miles out of their way for a taste of a certain  restaurant's pies.  Here in Dallas there is Norma's, Mamma's Daughters, and I'm sure you could add to the list.  (Please do!)
On the road, we have been known to plan and time our trips to be in a certain town at lunchtime, and if we miss lunch, trusty car seems to have a mind of its own and just turns into the restaurant parking lot anyway.  Really!  Who can pass up a delicious piece of pie?  Have you been to The Monument Cafe (Georgetown), Bluebonnet Cafe (Marble Falls), Koffee Kup (Hico), or Paris Cafe (Ft. Worth)?  All of these restaurants, and many more are worthy stop-overs.
Certainly you have heard how pies are now all the rage.  From what I'm told, they are the new "cupcakes".  I have even seen pictures of dessert tables at weddings laden with pies.  Sounds good to me!
My great Aunt Lora was know for her individual pies that were baked in a cafe near the square in Stephenville, Texas.  From what I'm told, her pies were legendary – and with each telling, the legend seemed to grow.  I loved to hear the aunts and uncles tell stories about these pies – "the best pies in the world".  Their praises made an impression on me, and I wanted to be a baker that gave others that much joy.   (Note to self:  I wonder if anyone in the family has any of Aunt Lora's recipes?  Try to find them.)
Fast forward to July 2012.  Good friend called and said a friend had given her some delicious fried apricot pies that were really baked.   "Please come over for a cup of coffee, and I will share."  She knew I had to taste them.  Isn't she sweet!  Trusty car couldn't get over there quick enough.  The little pies filled with apricot goodness were delicious, and the best part was – she had the recipe.  She gave me the recipe, and now I am going to share the recipe with you.  This is so easy and wonderful.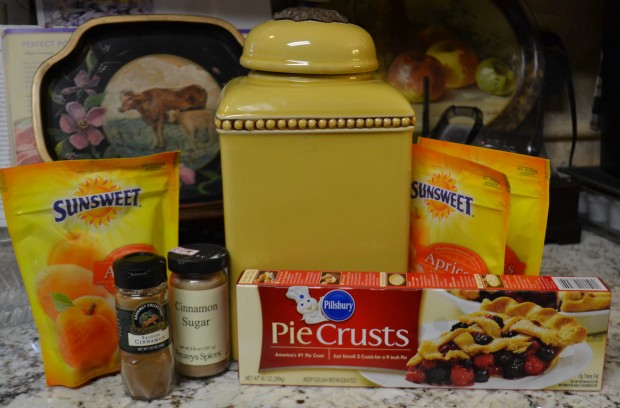 You need dried apricots, pie crust, sugar, and cinnamon.  That is it!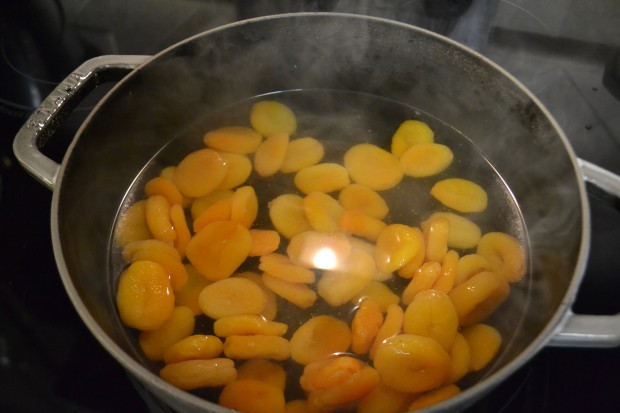 Place the apricots and water in a sauce pan and cook until very tender.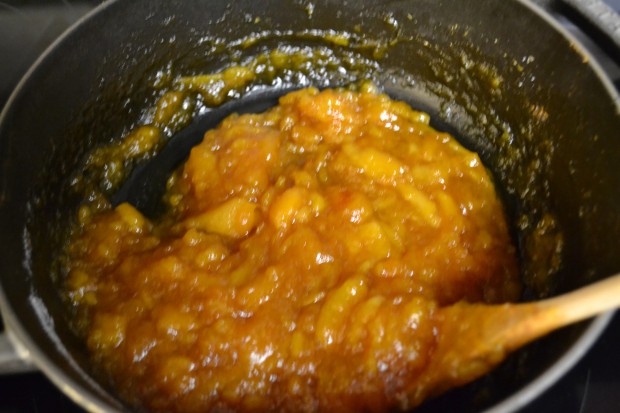 The apricots will look something like this and be very easy to mash.  Add sugar and cinnamon, and mix well.  Yes, you add the sugar after the apricots are cooked – she was very specific about this.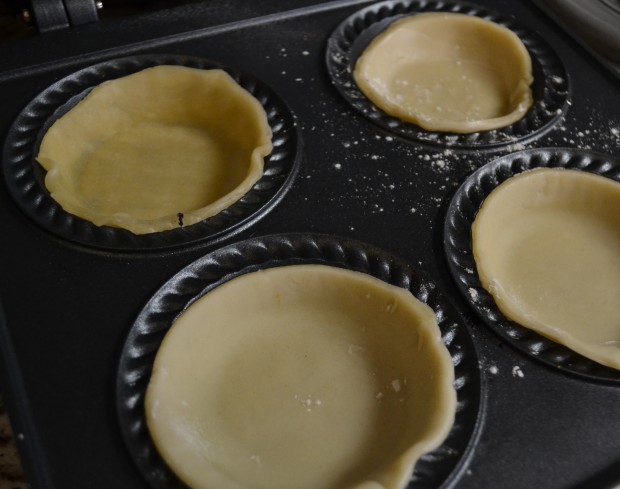 Now friend's friend used rounds of pie dough and folded them over into half-moon shapes. (they looked like little fried pies)  Then she baked them in the oven until done.  I got an electric pie maker for Christmas, and I have seldom used it, but I think if I use it, and get use to it – I will use it.  Understand??  Thus I feel the pressure to use what I have, and that is why I wanted to try to make the apricot pies in the mini-pie maker.  Either way will work fine.  I did like the little half-moons.  They would be great on a sweets table at a party.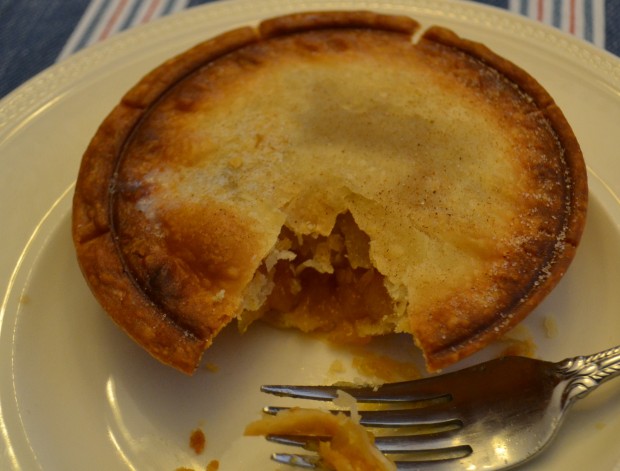 This is deliciousness!  Maybe a little too brown (you can do better), but trust me it was good.
Basically I wanted you to have the recipe for the filling.  It is pure fruit that is sweetened and not some gummy filling.  Enjoy!
Remember to click on the title of this post to go to the recipe.
Love and blessings to you and yours,
Mini- Apricot Baked Pies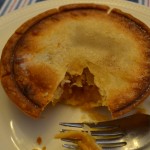 By Lana Published: July 18, 2012
Delicious apricot filling for miniature baked mini- pies.
Ingredients
Instructions
Place apricots and water in a saucepan and cook until very tender and you can mash them. This took about 30-40 minutes.
Remove from heat and mash well.
Add sugar and cinnamon. She was very specific that you add the sugar after the apricots are cooked.
Preheat oven to 350 degrees.
Use a 3 inch cookie cutter to cut 12 rounds of pie dough.
This is what you do if you cook the pies in the oven. Place about an heaping tablespoon of apricot filling on one side of round. (You might have filling left over.)
Fold dough over to make a half moon, and seal edges well.
Place on a cookie sheet lined with parchment paper.
Bake in an 350 degree oven for about 25 minutes until lightly browned.
Brush with butter and sprinkle with cinnamon sugar.
If you use a electric mini-pie maker, follow the maker's instructions. This is what I did. Preheat electric pie maker.
Cut the top and bottom rounds from the pie dough.
Carefully place the bottom round into the wells of the pie maker and press into the wells to fit. The pie maker will be hot so be sure to use the tool that comes with the machine for this purpose.
Fill pie shells with about 1/4 cup apricot filling.
Top with top pie crust.
Close lid to pie maker and cook for about 8-10 minutes.
Carefully remove pies from pie maker using the lifter. The pie maker will be very hot.
Brush pies with butter and sprinkle with cinnamon sugar.