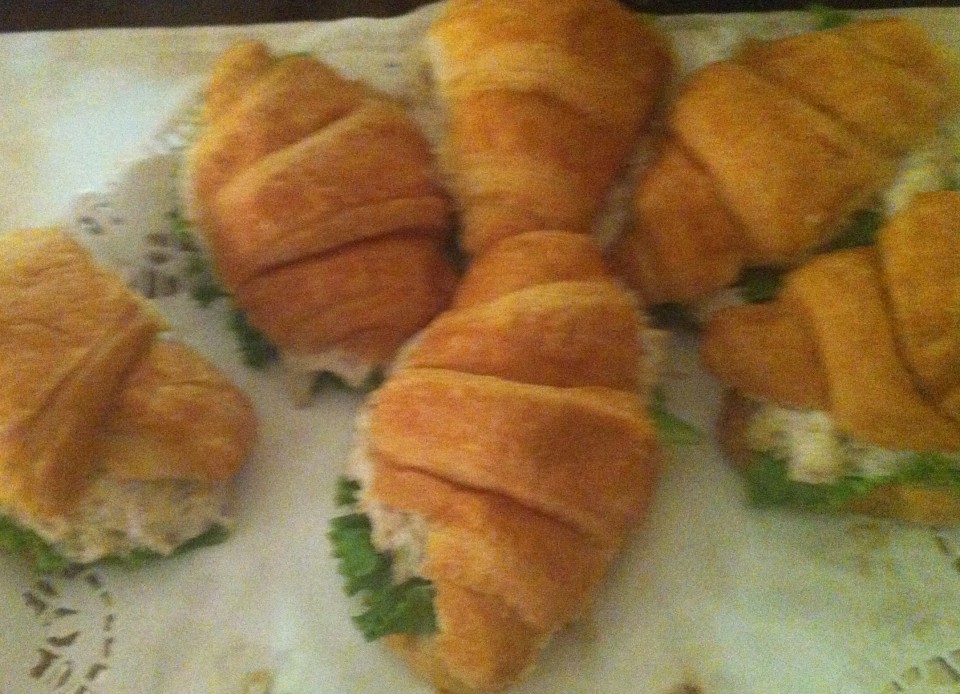 Good friend Janet hosted The Living Stones Bible Fellowship Class for their almost monthly class meeting recently.  It is always a pleasure to be invited into her beautiful home (Janet and Robert do amazing texturing and painting themselves), and she is a  wonderful hostess. Sweet, petite, always put together Janet pays attention to every detail.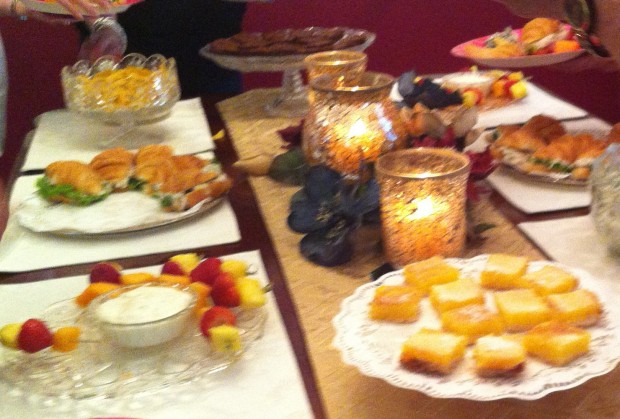 On top of all this, she is a wonderful cook.  I have never eaten anything she has served that wasn't delicious. Last night did not disappoint us.  She had mentioned that she would serve a "light supper", but Hawaiian Chicken Salad sandwiches, fruit kabobs, spinach dip, a slightly spicy dip, and two kinds of chips certainly were more than light.  And to top it off, she had wonderful lemon bars and brownies.
(Let it be known that the Living Stones ladies are not shy when it comes to eating.  By the time I had walked from the den to the dining room, you can see for yourself how much food was already taken.  We are not to the point of bringing our Glad containers for doggie bags, but I can see it coming.)
Perhaps her most famous recipe is Hawaiian Chicken Salad.  She is expected to serve it anytime she is scheduled to bring food. We are also in an educational sorority together, and that group of ladies feel exactly the same way.  This is even a prize winning recipe.  A couple of years ago she was the runner-up winner in a sandwich contest sponsored by KLUV – a local radio station.  That is how good Hawaiian Chicken Salad is!
When we mentioned that we were so glad she made the chicken salad sandwiches, she said, "I know, people always want them."  And that's the truth!  I hope she never tires of making Hawaiian Chicken Salad because we never tire of eating it.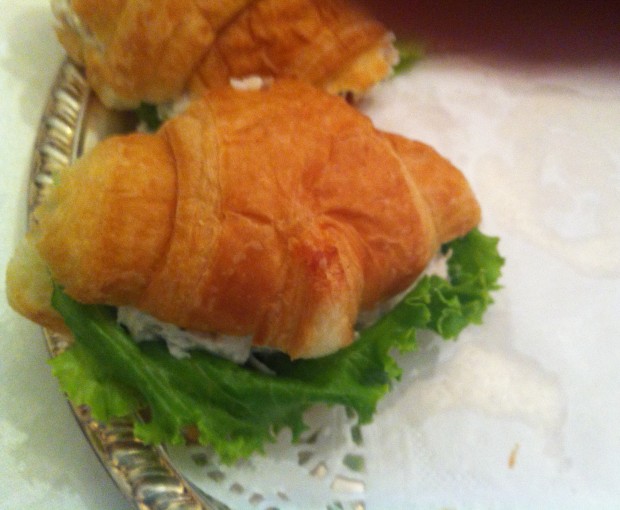 Janet was gracious to share the recipe. Try it!  You will not believe how unbelievably delicious it is – and so easy to make. (Yes, you need the coconut!)
Love and blessings to you all,
(I know the pictures are fuzzy.  I am so, so sorry.  I had to use my iphone, and I can not hold it steady.)
Hawaiian Chicken Salad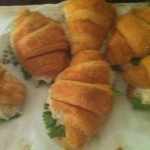 By Lana Published: July 23, 2012
This is a very delicious chicken salad. Serve it on mini-croissants or on lettuce leaves.
Ingredients
Instructions
Mix all ingredients together in a large bowl.
If it seems a little dry, add more mayonnaise or sour cream.
Serve on lettuce leaves or as sandwiches. Janet uses mini-croissants for the sandwiches.