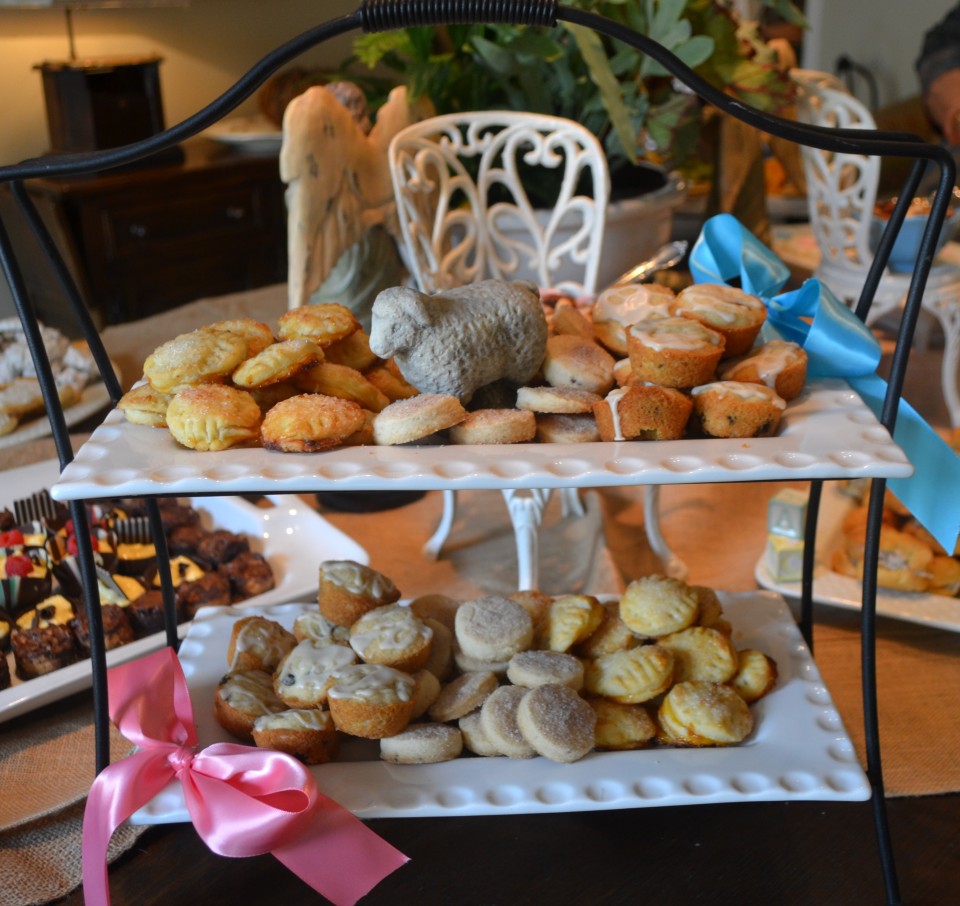 Apricots – Yummy
Cream Cheese – Yummy
Pastry – Yummy
What is not to love?
These tender flaky morsels of goodness were served at our recent Twins Baby Shower for Jessica.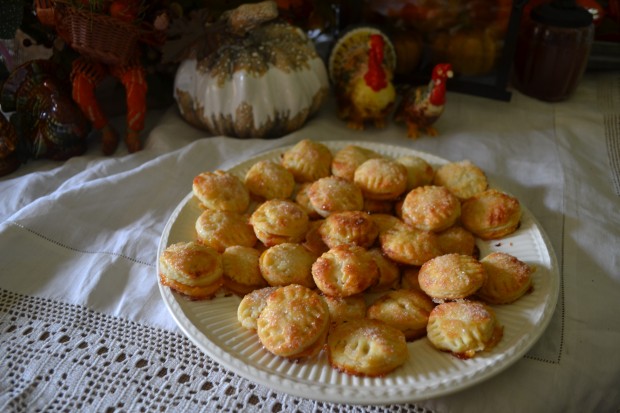 The recipe for Apricot Cheese Pastry is another recipe from A+ in Cooking - Mother's collection of recipes from the families of former students.  Let it be known.  I had this recipe before it was published in A+ in Cooking.  Mary Nell Dodd was a family friend, and she shared this recipe with Mother.  Mother shared the recipe with me.  Sweet Mother of Pearl.  I liked it.  I loved it.  It was and is a go-to recipe.  For special occasions and for special friends, I bake these tiny tidbits of cream cheese pastry that are filled with apricot jam.  They are good!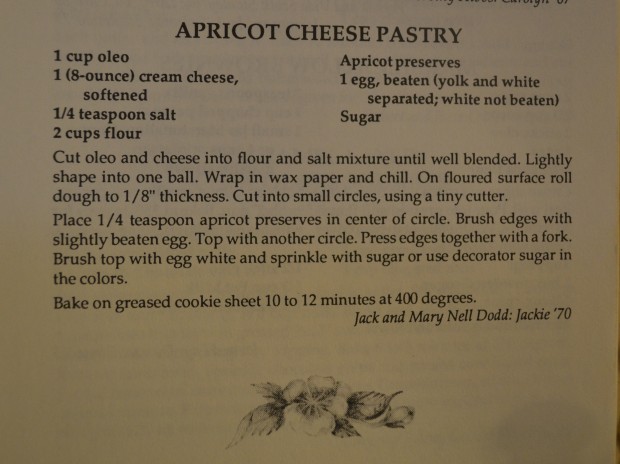 On page 201 of A+ in Cooking, you can find this recipe.  It is easy peasy, but it does take a little time – making the dough, cutting out the dough, putting filling on each round, brushing edges with egg yolk, topping with another circle of dough, sealing the edges with a fork, brushing tops with egg white, sprinkling the cookies with sugar, and finally baking the pastries.  But, I am here to tell you.  These gems are worth the effort.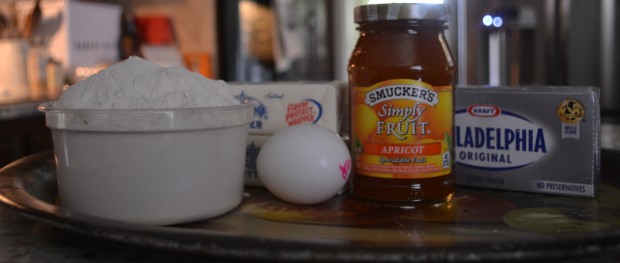 The ingredients are simple – butter (the recipe calls for oleo), cream cheese, flour, egg, apricot preserves, salt (not shown), and a little sugar (not shown).
Cut butter and cream cheese into the flour/salt mixture.  I used my hands, but often I use the food processor.  I like using the food processor.  That is all there is to making the dough.  How easy is that?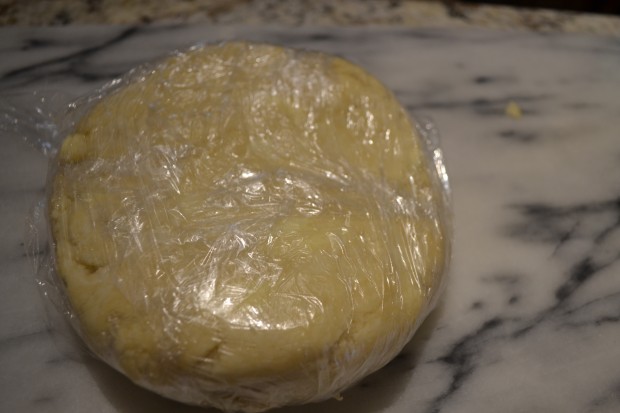 The dough is rather soft, and it is best to wrap the dough and chill it in the refrigerator for a while.  True confession – sometimes I am in a hurry and do not chill the dough.  It is doable.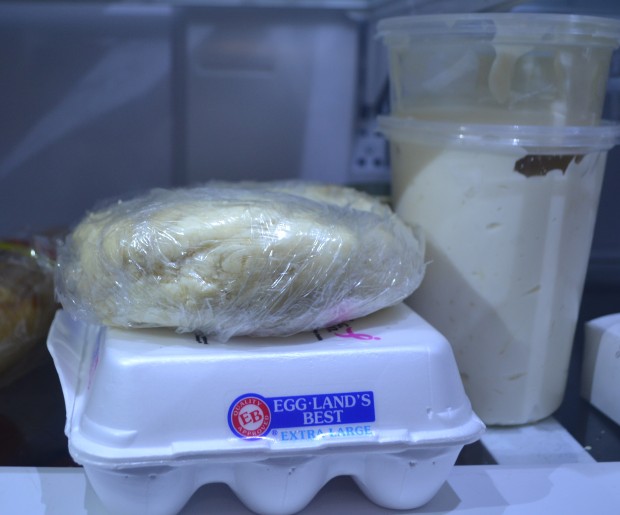 This time I did chill the dough, and it was a good thing.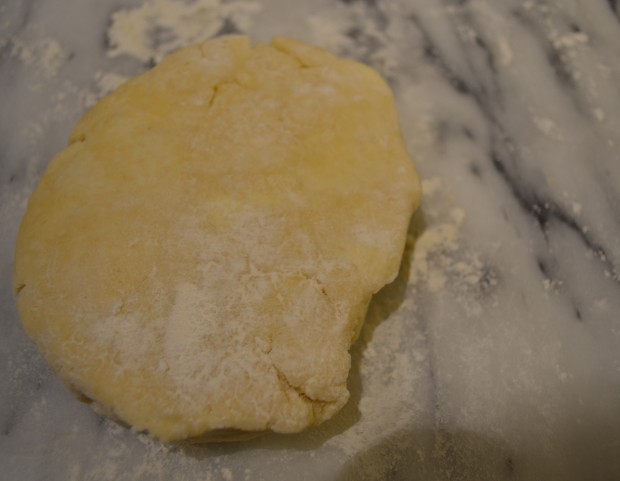 Using about half of the dough at a time, roll out the dough on a floured surface.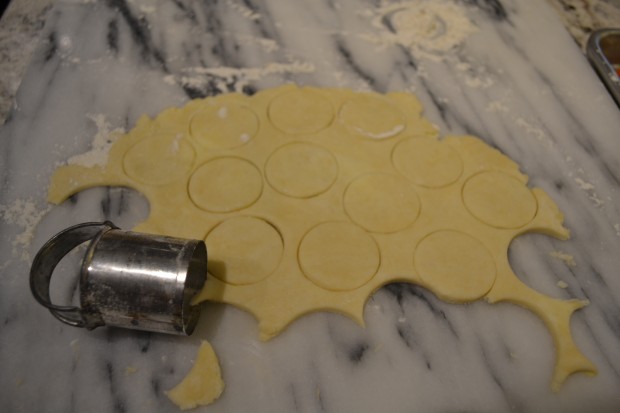 When rolled out, the dough should be about 1/8th inch thick. Using a small cutter, cut round circles.  I used a small biscuit cutter that was about 1 1/2 inches in diameter.  You can re-roll the scraps of dough.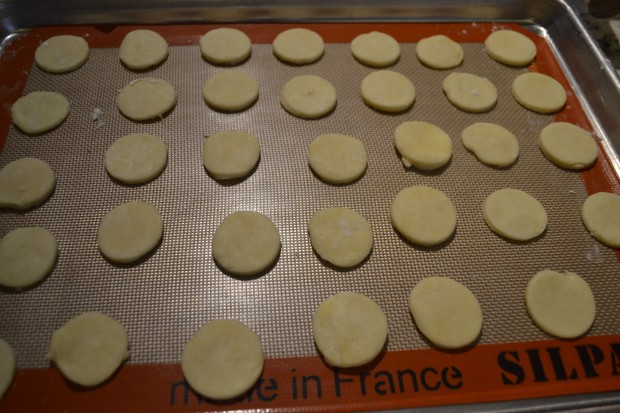 Place dough circles on a cookie sheet lined with parchment paper or a Silpat mat.  The recipe suggest buttering the cookie sheets, but it is easier to clean the pans if parchment paper or the Silpat mats are used.  Baked on apricot preserves can be difficult to clean.  (Voice of experience.)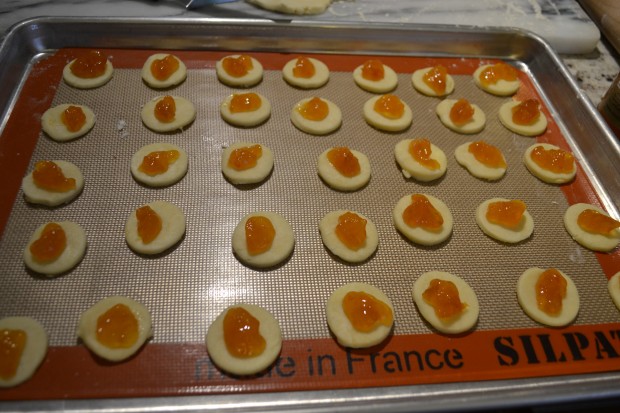 Top each dough round with a small amount of apricot preserves.  Most of these have too much apricot on them.  Don't do like I did.  You can do better.  Brush (I used my finger.) the edges of these with beaten egg yolk – helps top round stick to bottom round.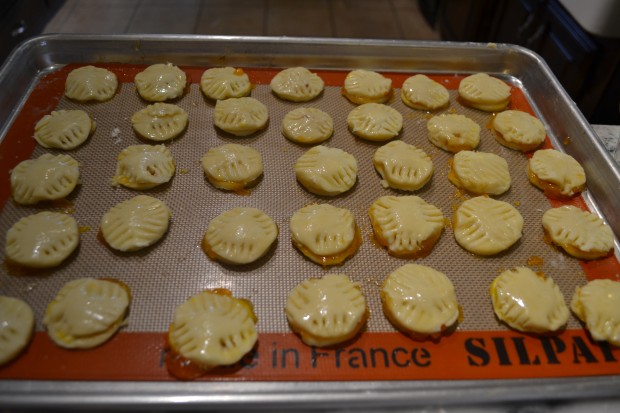 Roll and cut out the other half of the dough.  Place the second rounds on top of the first rounds and the filling.  Understand?
Then, use a fork to press the edges together.  This does take a little time.  The fork marks do not have to be perfect.
Then you brush the tops of the tiny pies with unbeaten egg white and sprinkle with sugar.  (Makes them purdy.)  I used vanilla sugar, but any sugar will do.

Bake in a pre-heated 400F oven for 10 -12 minutes. Tops should be a light golden color when done.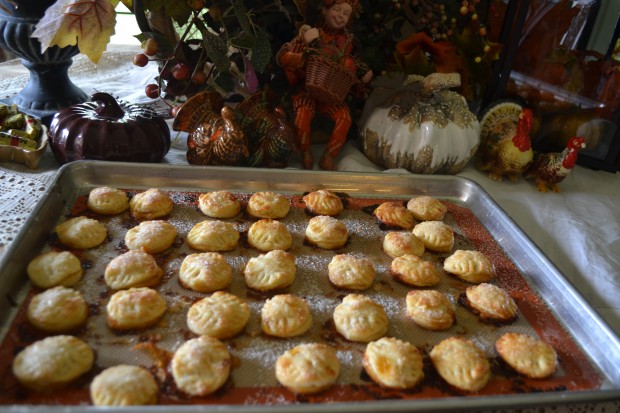 The oozy apricot filling will bake on the mat and stick to the outside of the cookies.  You can easily trim it off.  Apricot Cheese Pastry cookies are delicious and pretty.  I could eat the entire pan.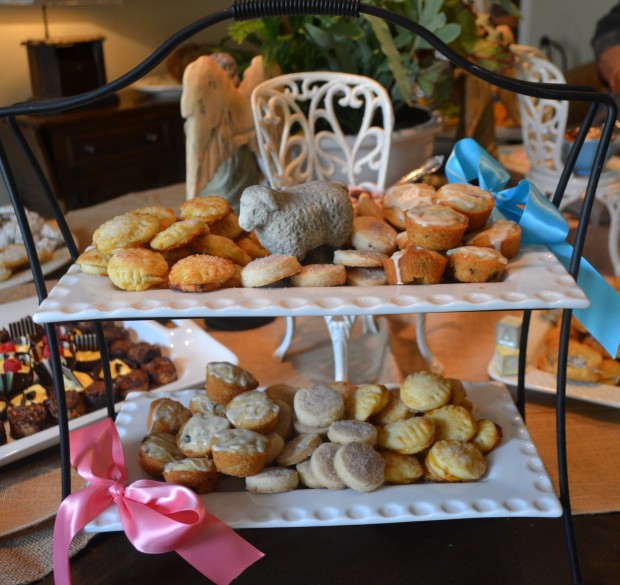 Blessings to you and yours.
Go to lanabird.com to see and print the recipe.  The Print button is under the Share button.
Apricot Cheese Pastry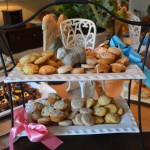 By Lana Published: October 3, 2013
Yield:

3 dozen

Prep:

30 mins

Cook:

10-12 mins

Ready In:

1 hr 10 mins
Tiny little pies filled with apricot filling. Delicious!
Ingredients
1 cups

Butter 2 sticks ; the recipe calls for oleo

1 8 ounce package

Cream Cheese

2 cups

All Purpose Flour

1

Egg separated; yolk beaten, white unbeaten

Apricot Preserves you can use any flavor you like

1/4 teaspoons

Salt

Sugar for sprinkling on top of copies
Instructions
Mix salt into the flour. Stir
Cut butter (or oleo) and cream cheese into the flour/salt until well blended.
Shape dough into a ball and wrap in wax paper or plastic wrap. Chill for 30 or more minutes.
While dough is chilling, preheat oven to 400F. Line cookie sheets with parchment paper or Slipat mats.
Roll half of the dough out on a floured surface. You can re-roll dough as needed.
Cut into small circles using a small cutter. (I used a 1 1/2 inch cutter.)
Place 1/4 teaspoon (or less) apricot preserves in the center of each circle of dough. (Use any flavor of preserves that you like.)
Brush edges with slightly beaten egg yolk.
Roll out the other half of the dough and cut more circles. Place these dough rounds on top of circles of dough topped with preserves.
Press edges together with a fork.
Brush tops with unbeaten egg white and sprinkle with sugar (You can use regular sugar, decorator sugar, or vanilla sugar.)
Bake in a preheated 400F oven for 10 - 12 minutes. Cookies should be a light golden color.
When pastries are done, trim excess preserves from the edges of the cookies. Enjoy!