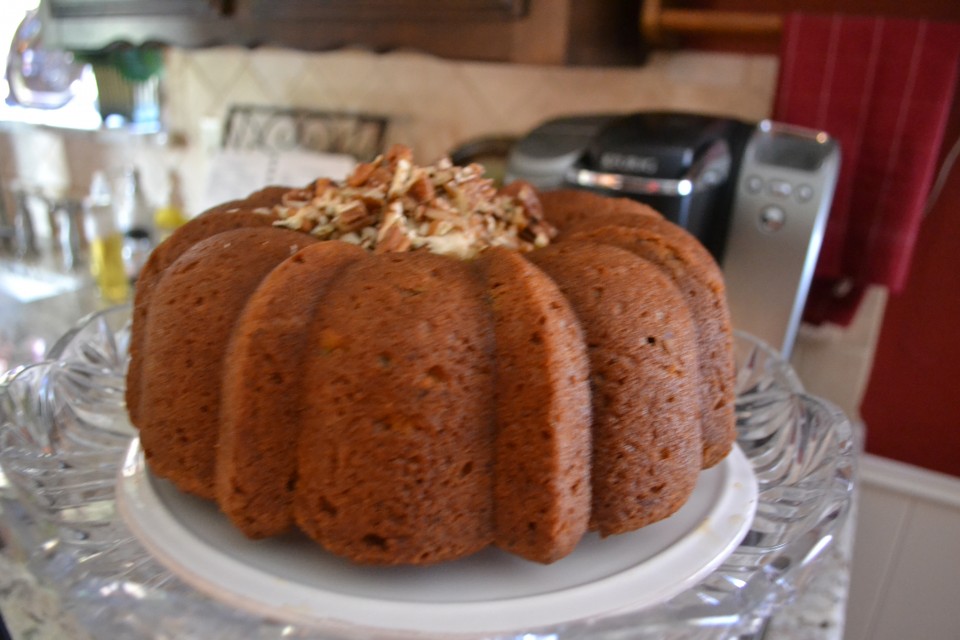 Mrs. Ralph recently reminded me about the pumpkin bread recipe from my mother's cookbook A+ in Cooking.  She had made it, and was pleased how well it turned out.  Well, just the mention of this recipe spurred me into action.  Since I enjoy sharing recipes from Mother's cookbook, and pumpkin bread is a perfect fall treat, I wanted to make pumpkin bread also.  When some friends from Wallace were coming for coffee, I decided I would take that opportunity to make and serve pumpkin bread.  The bread was so good that I have even made it again for another occasion.  Not only is it delicious – it is super easy to make.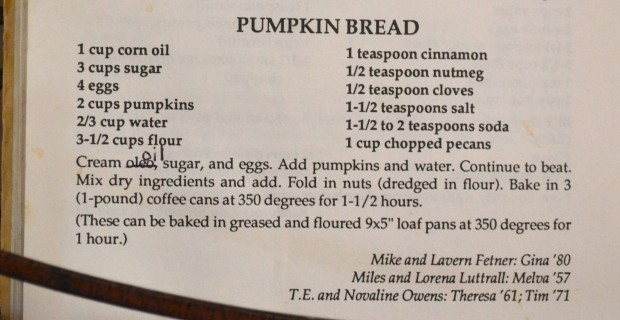 When you see this many names under a recipe, you know the recipe is good.  Yes, three families recommended this as a favorite family recipe.  The original recipe called for making the pumpkin bread in three 1 pound coffee cans. (I remember when this was the thing to do.)  Since metal coffee cans are harder to come by these days, I opted to bake the bread in a bundt cake pan.  You can also make loaves, or I am sure you could make muffins. (I have never tried muffins.)  Be sure to adjust cooking times.
You probably have most of these ingredients in your pantry – flour, baking soda, salt, sugar, eggs, pumpkin puree (NOT pumpkin pie filling), oil, ground cinnamon, ground nutmeg, ground cloves, and chopped pecans.  The water is not shown.  There is no chance that you will ever think that I am one of those bloggers that have it all together.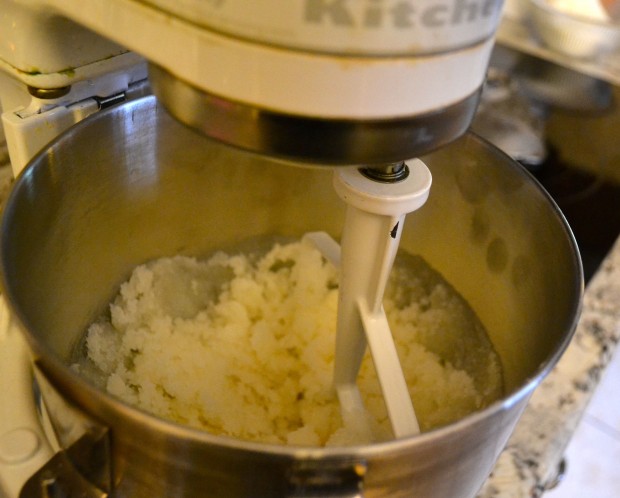 Cream together the sugar and the oil.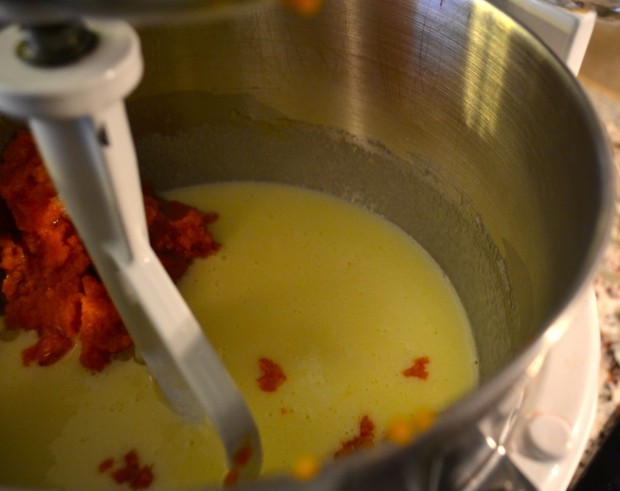 Add the eggs and beat well.  I added the eggs one at a time.  Yes, I almost forgot to take a picture of the egg step.  When a recipe is this easy, it is difficult to slow down for pictures.  (I am not sure that makes any sense.)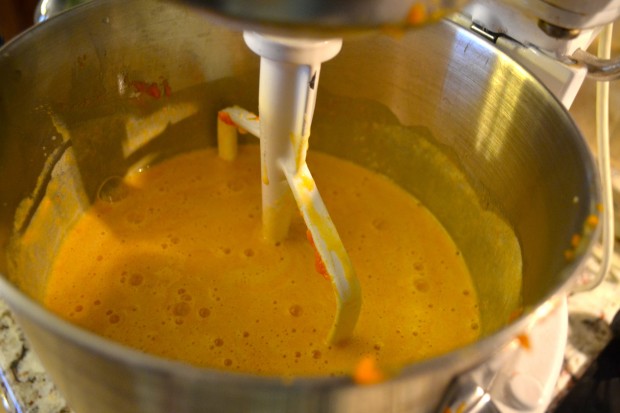 Then add the pumpkin puree (NOT pumpkin pie filling) and water.  Continue beating until well combined.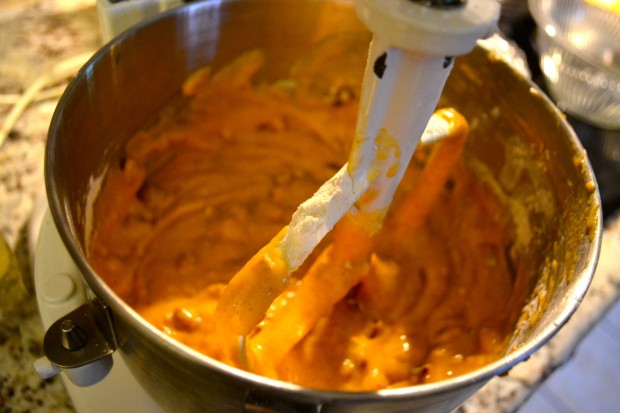 Mix together the dry ingredients (flour, salt, and spices).  I think you could use pumpkin pie spice blend instead of the separate spices.  Add the dry ingredients to the pumpkin mixture and mix well.
Dredge the nuts with a little flour and fold them into the batter.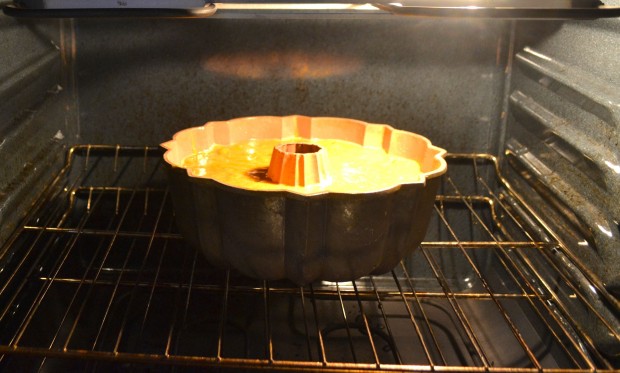 Be sure your pan is well greased and floured.  (I used PAM with flour.)  Bake at 350F degrees for about an hour until a cake tester comes out clean.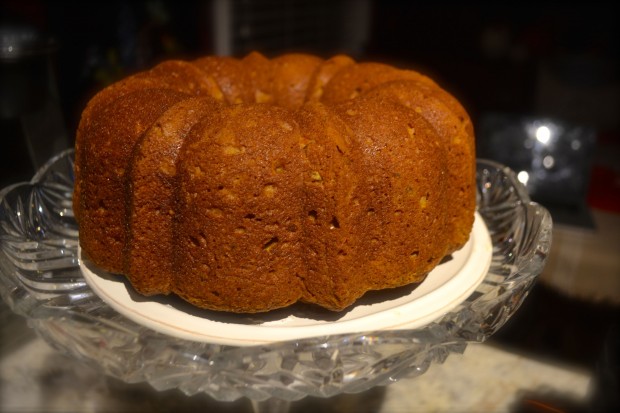 Isn't it purity!  The house smelled divine, and I was almost ready for a gathering.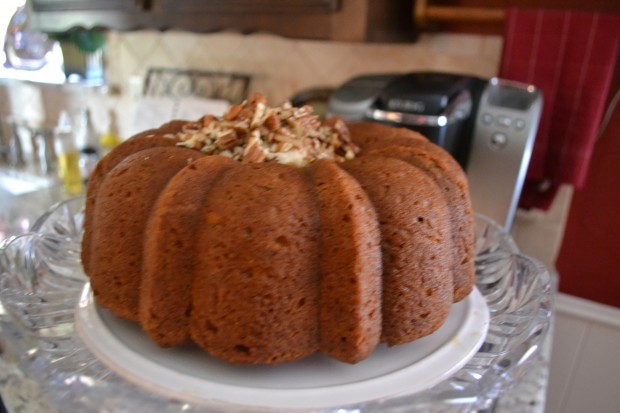 For the coffee, I made a simple icing from cream cheese and powdered sugar.  Then I filled the center well with the icing.  A sprinkling of pecans made a nice garnish.  (Mrs. Ralph told me she did this, so I copied her.)  It does dress up the pumpkin bread.
Enjoy!
Blessings to you and yours,
Neva says Hills Brother's Coffee still comes in metal cans.   You could still use coffee cans for this bread.
To print the recipe, go to Lanabird,com or click on the title of this post.  The print button is under the share button.
Pumpkin Bread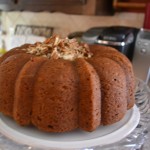 By Lana Published: October 28, 2014
Yield:

1 10 inch bundt cake

Prep:

15 mins

Cook:

60 mins

Ready In:

1 hr 15 mins
An easy and delicious recipe for pumpkin bread.
Ingredients
Instructions
Preheat oven to 350F degrees
Grease and flour or use baking spray on the pans you choose to use. - coffee cans, loaf pans, or a bundt pans. I used a 10 inch bundt cake pan.
Mix dry ingredients - flour, soda, salt, and spices. Set aside.
Cream oil and sugar.
Add eggs and beat well.
Add pumpkin puree and water. Continue beating.
Mix in the dry ingredients.
Dredge chopped nuts with a little flour and fold the nuts into the batter.
Pour the batter into the greased and floured baking pans.
Bake the bundt shaped pumpkin bread for about an hour until a cake tester comes out clean.
Cool in the pan for 5 to 10 minutes before removing the bread from the pan(s).
If you want to add icing, mix 1 package of cream cheese with 1/2-1 cup powdered sugar. Put the icing in the well of the cake/bread. Garnish with chopped nuts.
Enjoy.