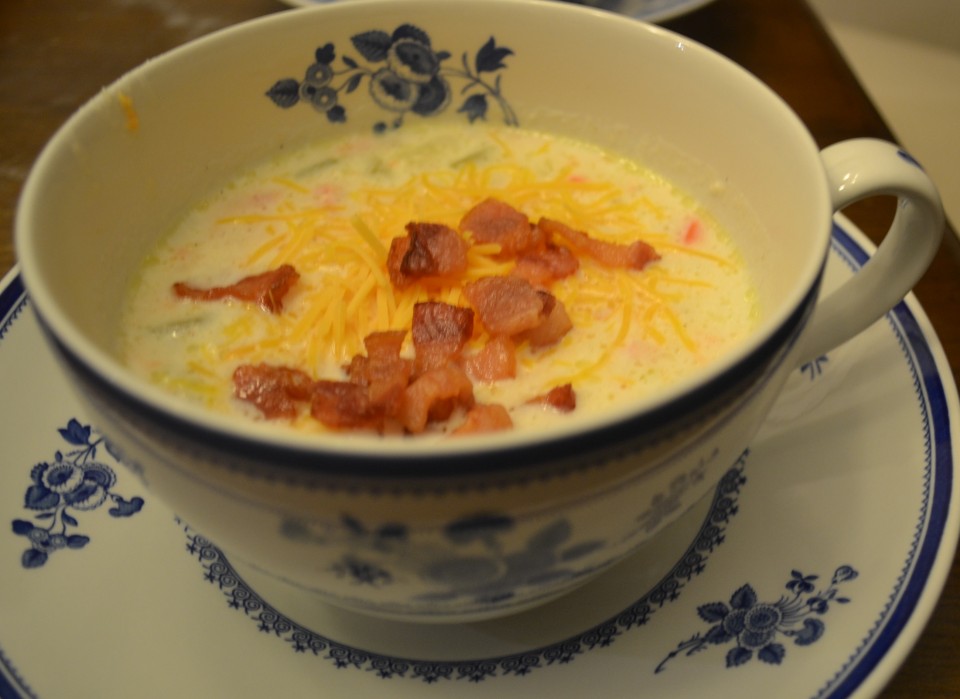 My love affair with potato soup began many, many, many years ago.  Although many, many, many years ago I did not know it was potato soup.
Back story:  Aunt Nela was my mother's sister.  To say that she was a fantastic cook would be an understatement.  Sweet Mother of Pearl!  Could she ever cook, bake, and can.  it was always a treat to visit her and to eat her good cooking.  She also made eating fun.  When we poured Brer Rabbit Syrup over our morning pancakes, she had me convinced that Uncle Mac and provided a rabbit for her to make the syrup.  It was such a fun game.
"Bear Soup" was one of her specialties.  Even though bears did not inhabit the High Plains of Texas, she spun the tale that Uncle Mac had been lucky enough to capture a bear for our soup.  We giggled and squealed with delight at her stories, and we gobbled up the delicious soup.  "Bear Soup" was high on my request list when visiting Aunt Nela.
When the temperature begins to dip, Bear Soup appears on our table often.  I like it.  I love it.  Ever-Lovin' likes it.  He loves it.  Many times I will basically boil the potatoes and add a little onion, and milk for a simple dish.  The recipe I am going to share with you is a little heartier and oh so divine.  Trust me.  It is worth the extra chopping.  Back in 1979 when we were having luncheons for Baptist Women, someone (I think it was Linda) shared this recipe for us to use at the January meeting.  Be Still My Heart!  It is still one of my favorite recipes.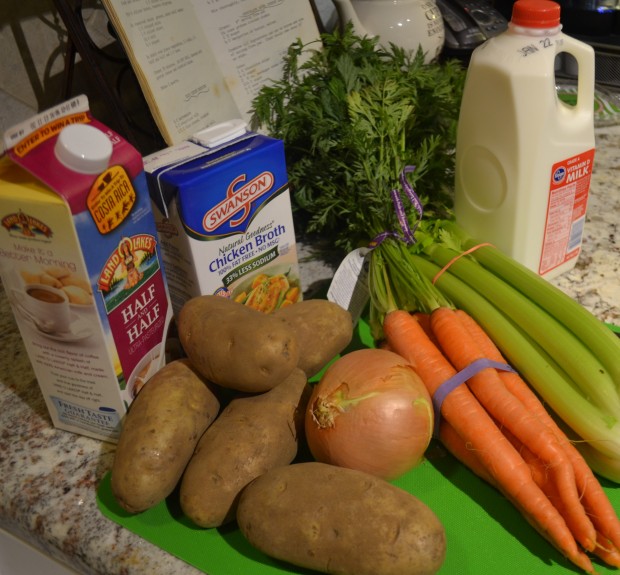 Here are the ingredients:  potatoes, onion, carrots, celery, half-half, milk, and broth.  Simple.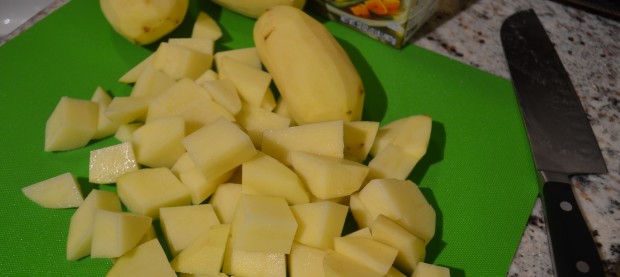 Peal the potatoes, and chop them into cubes.  The smaller the cubes, the faster they will cook.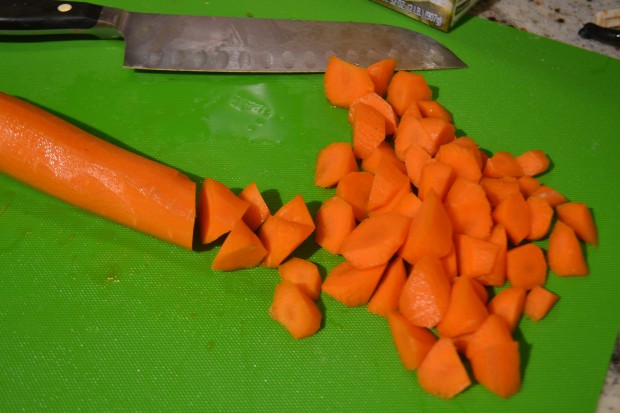 Then do the same with the carrots – peal and slice.  If you turn the carrot a quarter turn each time you slice it, you will get nice triangular pieces of carrots.  (That is what I learned at the school – the cooking school that is.)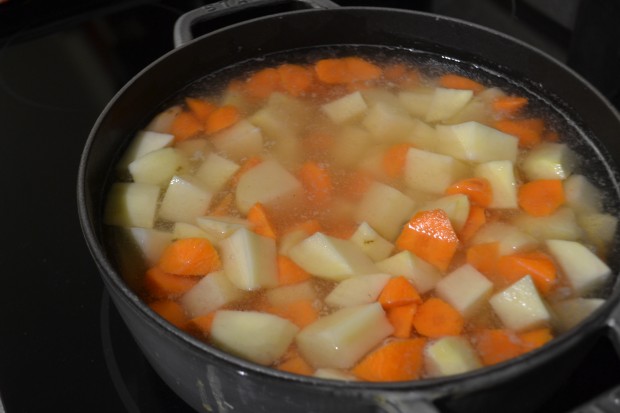 In a large Dutch oven cover the potatoes and carrots with lightly salted water.  Bring the carrots and potatoes to a boil and cook until the potatoes and carrots are tender.  I cover the pan, because my mother covered her potatoes and carrots when she cooked them.  According to her if the vegetables grew underground, you covered them to cook them.  I do not know if this is true or correct.  It is just the way I do it.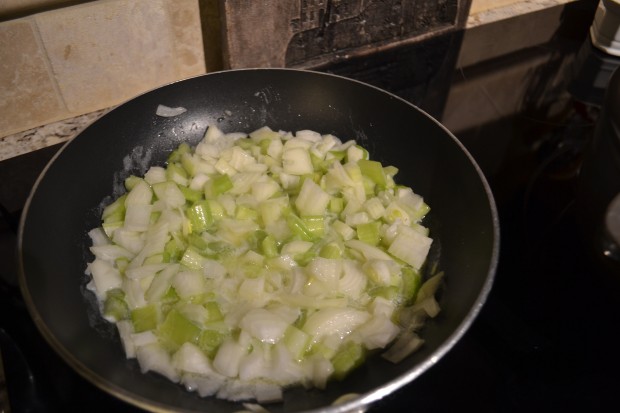 While the potatoes and carrots are boiling, dice the onions and celery.  Melt a little butter in a skillet and sauté them until tender.  The original recipe calls for bacon grease, but I like butter, so….   You do what you like.  It is really okay.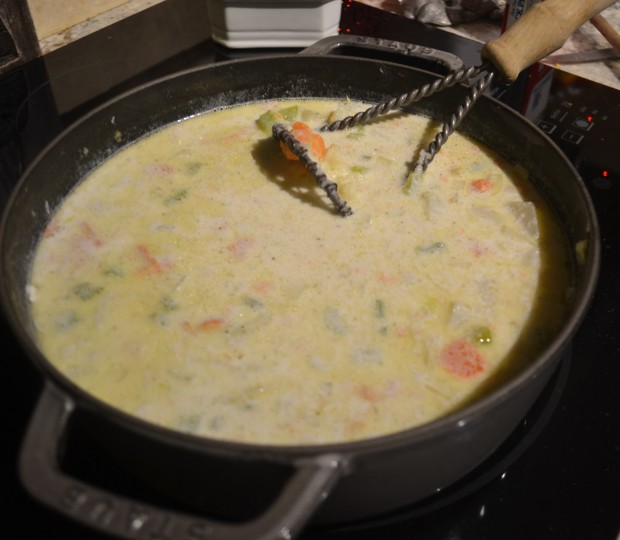 Drain the carrots and potatoes.  Return to the Dutch oven and add the sautéd onions and celery, milk, half-half, chicken broth (or beer).  The original recipe called for beer, and we and served the potato soup made with beer  to those Baptist Women.  I usually do not have beer, and the chicken broth works well. You will also need to add salt and pepper to taste.  As you simmer the soup (don't boil), use a potato masher to mash the vegetables.  Mash them as much or as little as you like.  As you can see, there are still some chunks left in our soup.  I had to thin mine with more broth and milk because I thought it was too thick.  Again, make it like you like it.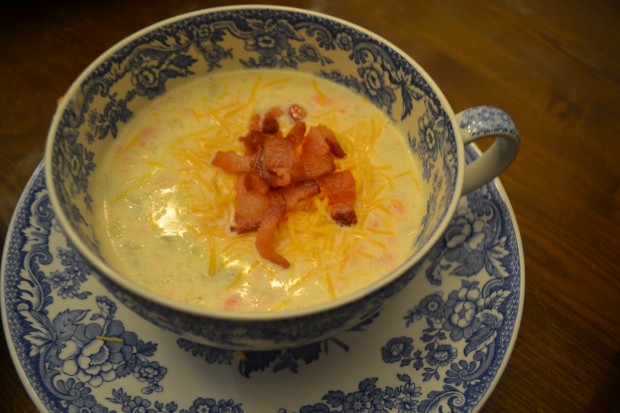 While the soup was simmering, I fried some diced bacon.  Garnish the soup with grated cheddar cheese and crumbled bacon.
Ever-Lovin' proclaimed this "good stuff".  It is delicious and satisfying.
Enjoy!
Blessings to you and yours,
How I wish I could be eating some of Aunt Nela's cooking right this minute.  I miss her, and not just her cooking.
Potato Soup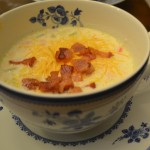 By Lana Published: January 9, 2013
A hearty and delicious potato soup.
Ingredients
Instructions
In a Dutch oven, place diced potatoes and carrots. Cover the potatoes and carrots with lightly salted water. Cook until tender.
While potatoes and carrots are cooking, sauté diced onions and celery in butter. (You can use bacon grease rather than butter.)
Drain cooked potatoes and carrots.
Return the drained potatoes and carrots to the Dutch oven, and add the sautéed onions and celery.
Add the milk, half and half, and broth or beer.
Season to taste with salt and pepper.
Simmer soup for about 30 minutes. Do not boil. While soup is simmering, mash vegetables with a potato masher. Thin with more milk or broth if needed.
Garnish with grated cheese and crumbled bacon.